Vegetable curries are a fun and healthy way of packing in a ton of vegetables (and the many health benefits they have) into one-pot dishes that have a flavor palette that impresses even picky veggie eaters.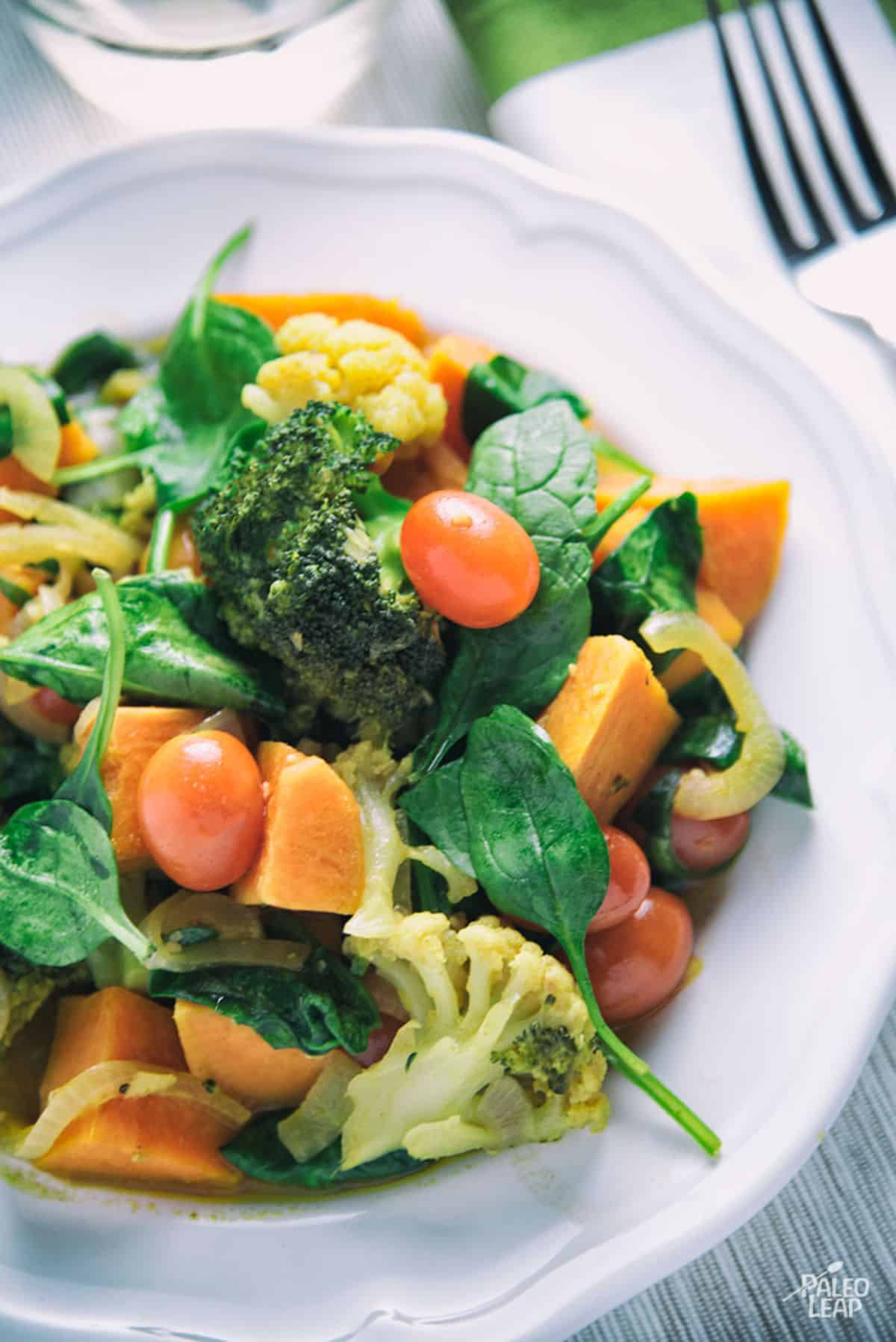 They are extremely versatile and work well with a variety of proteins, and they are awesome for making large batches of and freezing for office lunches.
This vegetable curry is lightly spiced – while there is a bit of heat, it definitely won't be overwhelming. If you really prefer a mild dish, don't discount curry altogether – most of the heat comes from the inclusion of cayenne pepper, which you can leave out if you'd like.
Probably the only downside to a vegetable-heavy dish like this one is the prep time – with the inclusion of so many fresh vegetables, it can definitely be a lot of washing and chopping.
Some ways you can save time with this task are to use a food processor or purchase frozen versions of the broccoli and cauliflower florets (in our experience, these tend to be the biggest pain when prepping, and frozen versions can work just as well).
And in case you're feeling overwhelmed by the ingredients list, just remember that most of these items are spices and should already be on hand in your pantry.
Vegetable curries provide a complex mixture of flavors, so pair it with a main course item that goes a bit easier on the spices. You can try a more simple baked chicken to serve alongside this dish – or add your protein into the veggies after cooking to help integrate the flavors a bit.
Hearty Vegetable Curry Recipe
Serves: 4 Prep: 20 min Cook: 45 min
Ingredients
1 cauliflower, chopped into florets
1 broccoli head, chopped into florets
2 sweet potatoes, peeled and diced
1 cup grape tomatoes, sliced in half
4 cups baby spinach
1 onion, sliced
4 garlic cloves, minced
1 thumb-size piece of fresh ginger, minced
Juice and zest 1 lime
1 tbsp. ground coriander
1 tsp. ground cumin
1 tsp. ground turmeric
½ tsp. cayenne
2 tbsp. tomato paste
2 cups vegetable stock
1 cup coconut milk
Fresh cilantro (to garnish)
Cooking fat
Sea salt and freshly ground black pepper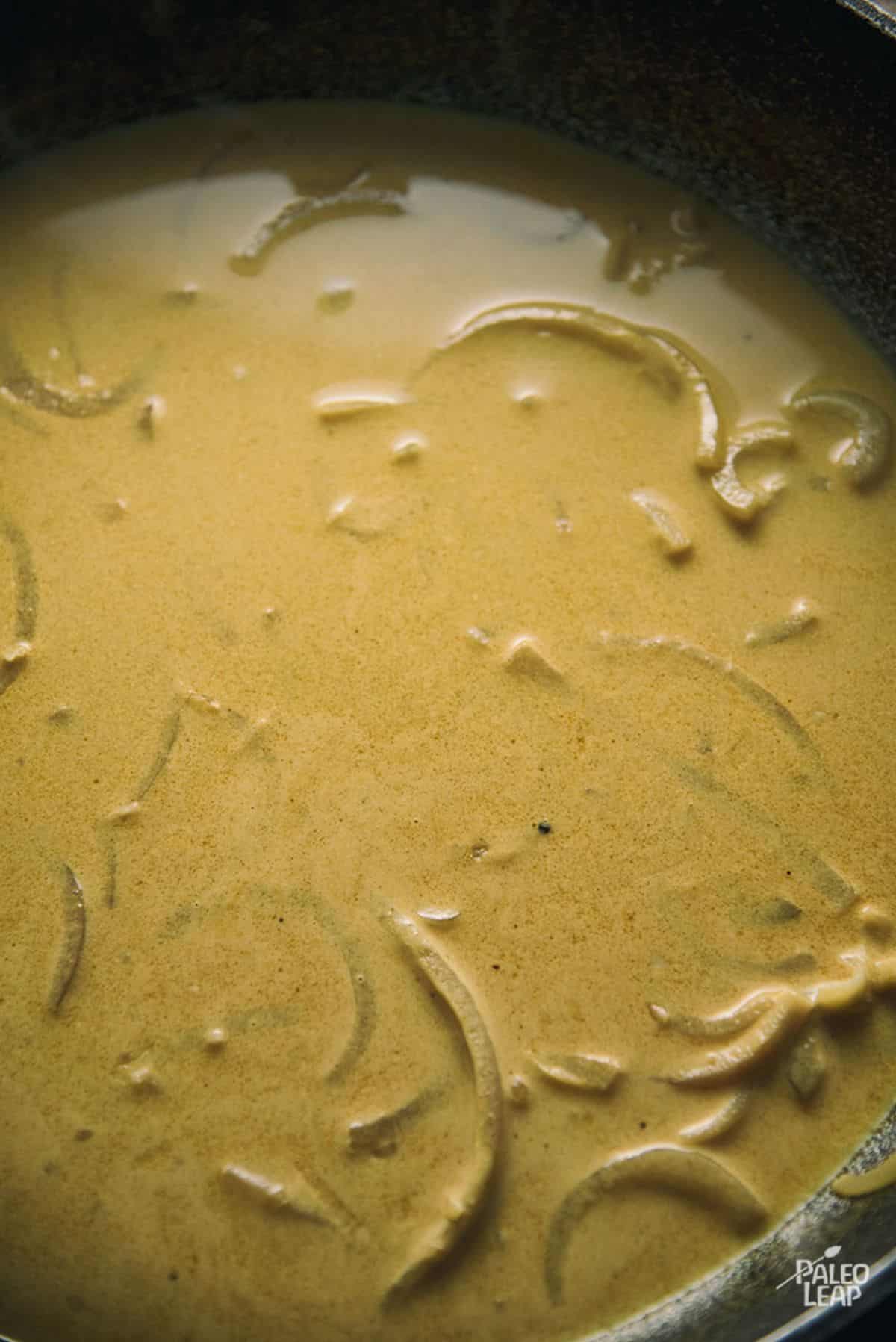 Preparation
Heat the cooking fat in a skillet over medium-high heat.
Add the onion and cook until soft, about 2 minutes.
Reduce heat and add the garlic and ginger; cook another 2 minutes.
Add the tomato paste and spices; toss everything until well blended and cook until fragrant (about 2 minutes).
Add the cauliflower, broccoli, and sweet potatoes; cook for 4 to 5 minutes.
Pour in the broth and coconut milk; season with salt and pepper to taste; bring to a light boil.
Add the grape tomatoes, cover, and simmer for 15 to 20 minutes or until the vegetables are soft.
Stir in the lime juice and lime zest and cook an additional 2 to 3 minutes, mixing well.
Add the spinach and cook until wilted (2 to 3 minutes).
Adjust the seasoning as needed, and serve garnished with cilantro.
📖 Recipe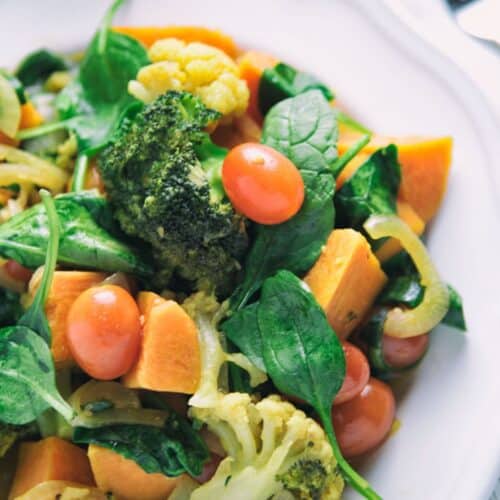 Hearty Vegetable Curry Recipe
Enjoy a Paleo and vegetarian friendly side dish with this curry, chock full of healthy vegetables.
Instructions
Heat the cooking fat in a skillet over medium-high heat.

Add the onion and cook until soft, about 2 minutes.

Reduce heat and add the garlic and ginger; cook another 2 minutes.

4 garlic cloves,

1 thumb-size piece of fresh ginger

Add the tomato paste and spices; toss everything until well blended and cook until fragrant (about 2 minutes).

Add the cauliflower, broccoli, and sweet potatoes; cook for 4 to 5 minutes.

1 cauliflower,

1 broccoli head,

2 sweet potatoes

Pour in the broth and coconut milk; season with salt and pepper to taste; bring to a light boil.

1 cup coconut milk,

Sea salt and freshly ground black pepper

Add the grape tomatoes, cover, and simmer for 15 to 20 minutes or until the vegetables are soft.

Stir in the lime juice and lime zest and cook an additional 2 to 3 minutes, mixing well.

Add the spinach and cook until wilted (2 to 3 minutes).

Adjust the seasoning as needed, and serve garnished with cilantro.

1 tbsp. ground coriander,

1 tsp. ground cumin,

1 tsp. ground turmeric,

½ tsp. cayenne,

Fresh cilantro,

Sea salt and freshly ground black pepper,

2 cups vegetable stock
Nutrition
Calories:
319
kcal
Carbohydrates:
45
g
Protein:
12
g
Fat:
14
g
Saturated Fat:
11
g
Polyunsaturated Fat:
1
g
Monounsaturated Fat:
1
g
Sodium:
696
mg
Potassium:
1756
mg
Fiber:
13
g
Sugar:
12
g
Vitamin A:
13928
IU
Vitamin C:
227
mg
Calcium:
222
mg
Iron:
7
mg