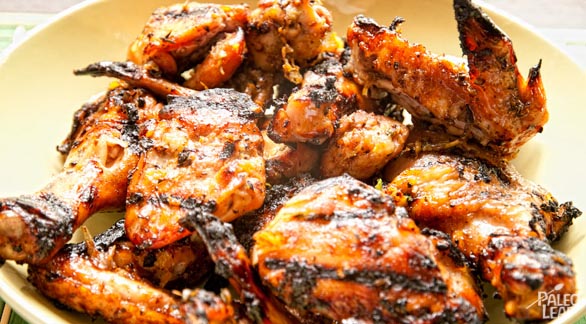 A real treat for spice-lovers everywhere, the full jerk chicken experience makes your mouth sting and your eyes water – and that's what makes it so special. On the other hand, not everyone craves a spice mix quite that intense. If you prefer a slightly milder flavor, you can tame this chicken down by reducing the allspice or bonnet pepper. You can also experiment with this recipe by changing the meat. I like to buy different pieces of chicken, but you could also use a whole bird and cut it into pieces yourself.
Instead of the typical soy sauce in this recipe, I used coconut aminos, a Paleo-friendly soy sauce alternative made from the sap of the coconut tree. If you can't find any coconut aminos, you could always substitute gluten free tamari sauce. It still contains soy, so it's not ideal, but at least it's better than getting soy and gluten.
Since jerk is originally a Jamaican spice mixture, a fitting side dish for this chicken would be fried plantains. The bigger, starchier cousins of standard grocery-store bananas, plantains are often available in ethnic Caribbean markets, and delicious simply fried in coconut oil with a little salt. There's really no need to get fancy with the side dishes when the chicken already packs such a punch; keep it simple so you can focus on the delicious, tongue-burning heat of the main event.
Jerk Chicken Recipe

SERVES: 4

PREP: 2 hrs.

COOK: 50 min.
Values are per portion. These are for information only & are not meant to be exact calculations.
Ingredients
4 to 5 lbs. of chicken pieces; (drumsticks, thighs, and/or wings)
Half of a nutmeg seed;
1 cinnamon stick;
1 tbsp. coriander seeds;
1 tsp. cloves, whole;
6 Jamaica peppers; (allspice)
1 tsp. black peppercorns;
3 green onions, chopped;
1 large onion, roughly chopped;
2 to 3 Scotch Bonnet peppers; (optional)
10 sprigs of fresh thyme, leaves picked;
10 garlic cloves;
½ cup freshly squeezed lime juice;
1 cup of coconut aminos;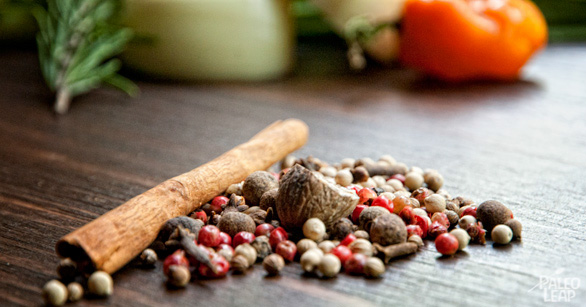 Preparation
Heat up a dry skillet over a medium high, and toast the nutmeg, the cinnamon stick, the coriander seeds, the cloves, the Jamaica peppers and the black peppercorns. Then crush them all with a mortar and pestle until you get a nice powder.
In a food processor or a blender, combine the green onions, the large onion, the bonnet peppers, the thyme leaves, and the garlic cloves until you get a puree.
In a big bowl, combine the spice powder and the puree, then add the lime juice and the coconut aminos and whisk it all well.
Place the chicken in a non-metallic container and pour the mixture all over it. Cover the dish, and marinate in the refrigerator for about 2 hours or overnight.
Preheat your oven to 350 F.
Place the chicken in the oven and cook for 30 minutes.
When the 30 minutes is almost up, preheat a BBQ or grill to medium high.
Remove the chicken from the oven, and finish it off with a turn on the grill.