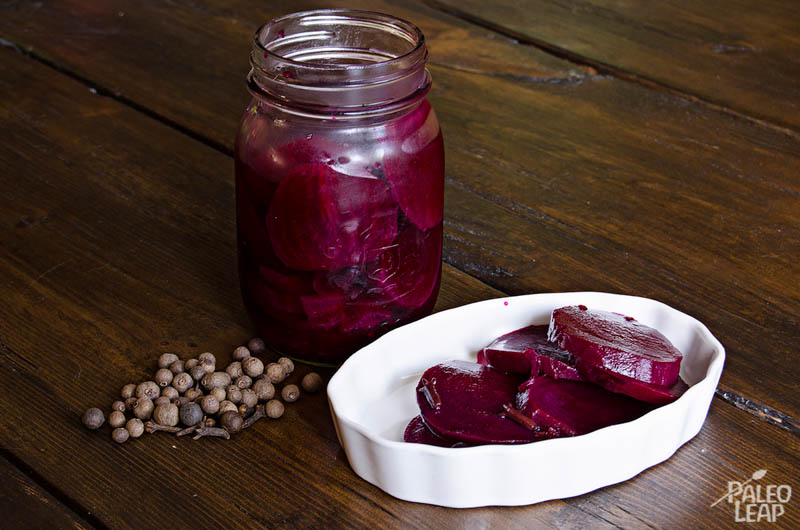 There's nothing better than having a jar of beets handy in the fridge to go alongside your favourite BBQ'd dish. The problem is, store-bought marinaded beets tend to contain high amounts of sugar, among various other preservatives that would not be considered Paleo at all. Many people assume that making your own jarred vegetables would be quite time consuming and complicated, but it doesn't have to be. In fact, I share this recipe with you specifically because it's so easy and requires very little time and attention. The beets are ready to serve up after just one day of marinating. This is very minimal, as most other recipes require that the seal of the jar not be broken for at least 3 weeks.
You don't need much for this recipe (obviously aside from the ingredients). If you already have a stash of mason jars, then you're all set. Like most jarred preserve recipes, it's always better you prepare these beets when they are in season. It makes such a big difference in taste. The fresher and riper a beet is, the more flavor it will absorb from the marinade. I also always like to throw in some onions. Any sweet onion will do and it gives a nice bite to the finished product. Be sure to use fresh herbs instead of the dried ones, this also makes for way better results. In addition, most jarred recipes call for sugar, as this acts as a preservative, but it also works to counter the sourness from the vinegar. Of course I never use sugar, but you may find you need a sweetener mixed throughout. If this is the case, I would only use a little bit of raw honey. Finally, feel free to go about properly vacuum sealing the jars so that they last longer and do not have to be kept refrigerated until after opening. I opted out of this process since I was completely out of them and only made a small batch. Once you do open a jar, it will still keep for weeks in the refrigerator.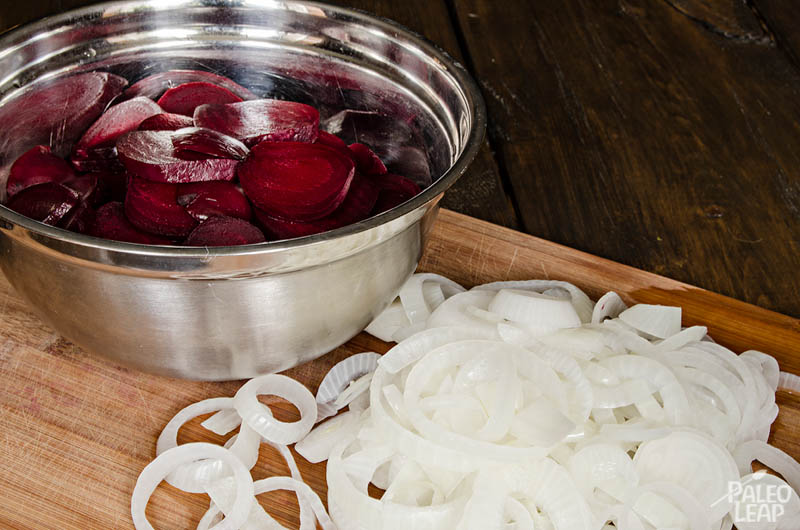 Beets are not only delicious, but they're also a great source of safe starch as well as potassium, magnesium, folate and manganese. Be careful when handling them as the vibrant red pigment can stay your fingers or your clothes. A lot of people like to use rubber gloves to handle them to avoid getting those red fingers.
Marinaded Beets Recipe
Makes 2 quarts

Values are per portion. These are for information only & are not meant to be exact calculations.
Ingredients
3 lbs beets;
1 tbsp Paleo cooking fat, melted;
a few sprigs of fresh thyme and/or savory;
2 onions, sliced in thin rounds;
1/2 tsp salt;
1 cup white wine vinegar;
1/4 tsp black peppercorns;
6 whole cloves;
6 whole allspice berries;
2 wide strips lemon zest;
2 sprigs fresh dill;
One quart jars, 2 of them;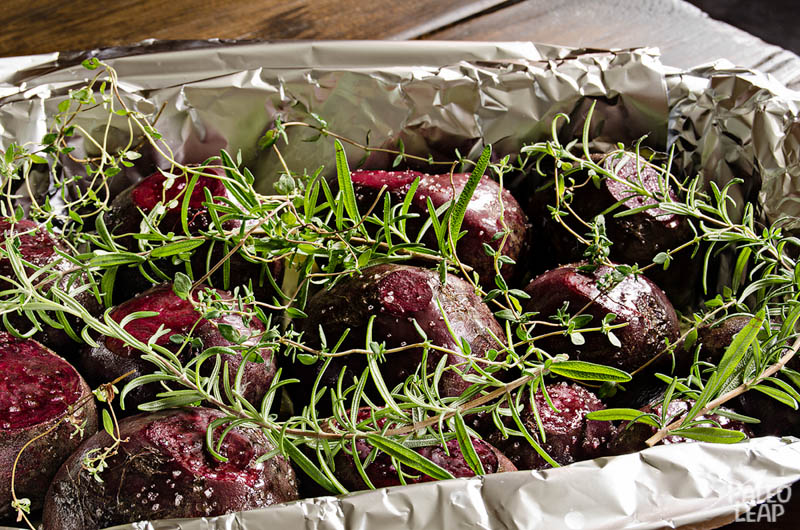 Preparation
Preheat your oven to 400 F.
While the oven heats up, prepare the beets by scrubbing them clean of any excess dirt. Also remove the stems and root tip.
Line a large baking dish with aluminium foil to cover both the bottom and enough to fold over the top of the beets. Place the beets atop the foil and drizzle with the cooking fat. Cover with thyme and savory. Fold the excess foil over the beets and seal them in, as if you were creating an envelope. Roast for 1 to 1 1/2 hours, until tender.
Once the beets have cooked, remove them from the oven and allow them to cool enough so that they can be handled, but still warm. This is key, as they need to be warm in order to easily remove the skin. Remove the skin and allow them to cool off completely.
Place the sliced onions in a large bowl and cover with boiling water. Set them aside like this for 10 minutes. This will make them tender, which will stimulate the marinading processes.
Once the beets have cooled, slice them in 1/4″ rounds.
As soon as 10 minutes has passed, begin layering the onions and beets in the jars.
In a small bowl, combine the vinegar with the salt, peppercorns, cloves, allspice berries and lemon zest. Stir well and then pour half the mixture into each jar, trying to make sure that the spices are split in equal portions in each jar.
Seal the jars and place them in the fridge for at least one day before serving.