Hold the spaghetti, but keep the meatballs coming! These quick little bundles of flavor have a spicy kick from the red pepper flakes and lemon zest in the tomato sauce: if you want it even hotter, you can always add more pepper flakes or a dash of fresh chili powder.
Don't forget the other spices, either: cinnamon, cumin, ginger, and garlic give you a rich background flavor without the typical blend of basil and oregano.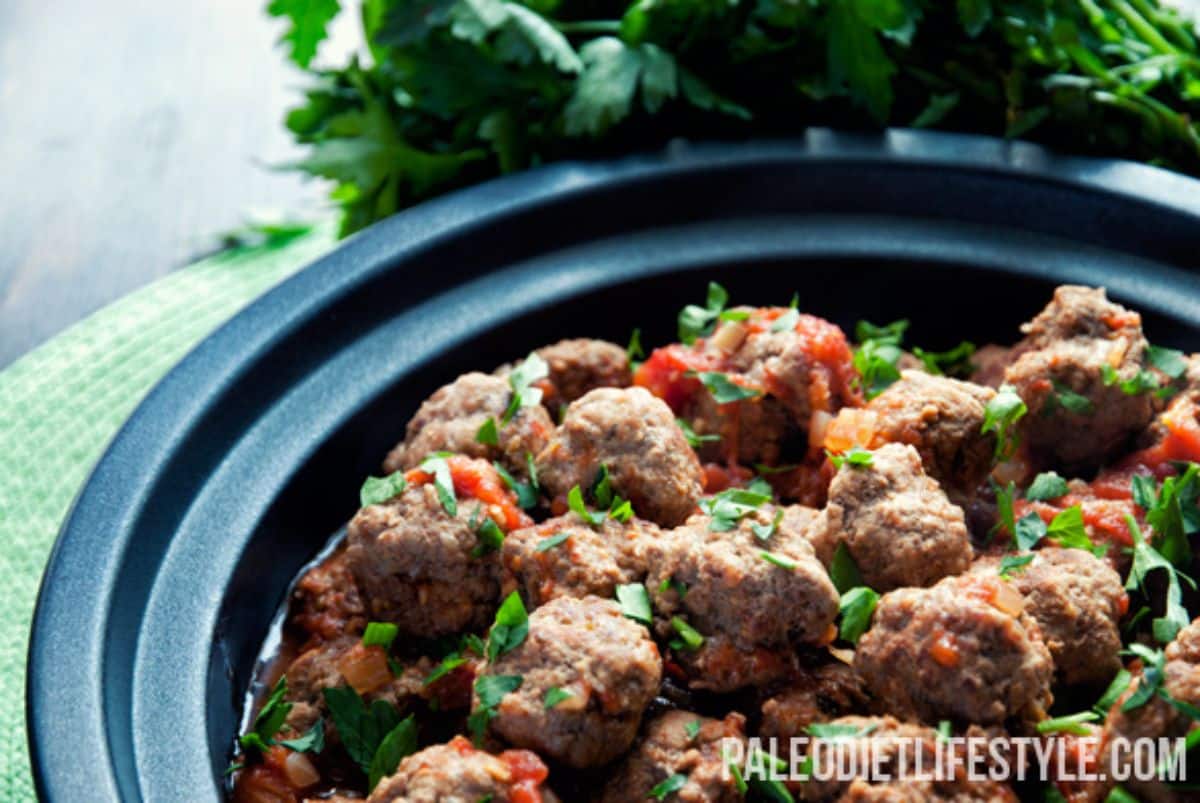 Meatballs usually involve some kind of breadcrumbs, but using almond meals instead keeps the whole affair Paleo-friendly: the result is an exciting change from the Italian-style meatballs you'll usually get at restaurants.
Dish them up over a pile of spaghetti squash, pile them on a salad, or grab a few for a snack on the run. Kids also love them (maybe because they're nicely finger-food-sized), so this is a good standby recipe for any picky eaters or family friends who are used to "normal" food.
Meatballs are delicious hot out of the pan. But they're also one of the best recipes to make extra and freeze. If you cook up a double batch and save the uneaten meatballs in individual servings, you'll always be just 5 minutes of defrosting away from a quick snack or the meat portion of a meal.
It takes barely any extra time to make 2 batches instead of one, and planning ahead like this can help you stick to Paleo even when the going gets tough.
You might not see the need now, but sometime down the line, when you can't muster up the energy to cook, you'll be thankful to have such a delicious family favorite all packed up and ready to go.
Meatballs With Spicy Tomato Sauce Recipe
Serves: 4 Prep: 15 min Cook: 35 min
Ingredients
1 egg;
1 lb. ground beef;
2 tbsp. tomato paste;
2 tbsp. fresh cilantro, finely chopped;
1 tbsp. fresh ginger, minced;
1 tbsp. ground cumin;
1 clove garlic, minced;
A pinch of ground cinnamon;
⅓ cup almond meal;
4 tbsp. coconut oil;
4 tbsp. fresh parsley leaves, chopped;
Sea salt and freshly ground black pepper, to taste;
Spicy Tomato Sauce Ingredients
½ small onion, diced;
2 cloves garlic, chopped;
Zest from 1 lemon;
¾ cup chicken stock;
2 cups diced tomatoes;
1 tsp. dried red pepper flakes;
A pinch of ground cinnamon;
2 tbsp. clarified butter;
Sea salt and freshly ground black pepper to taste;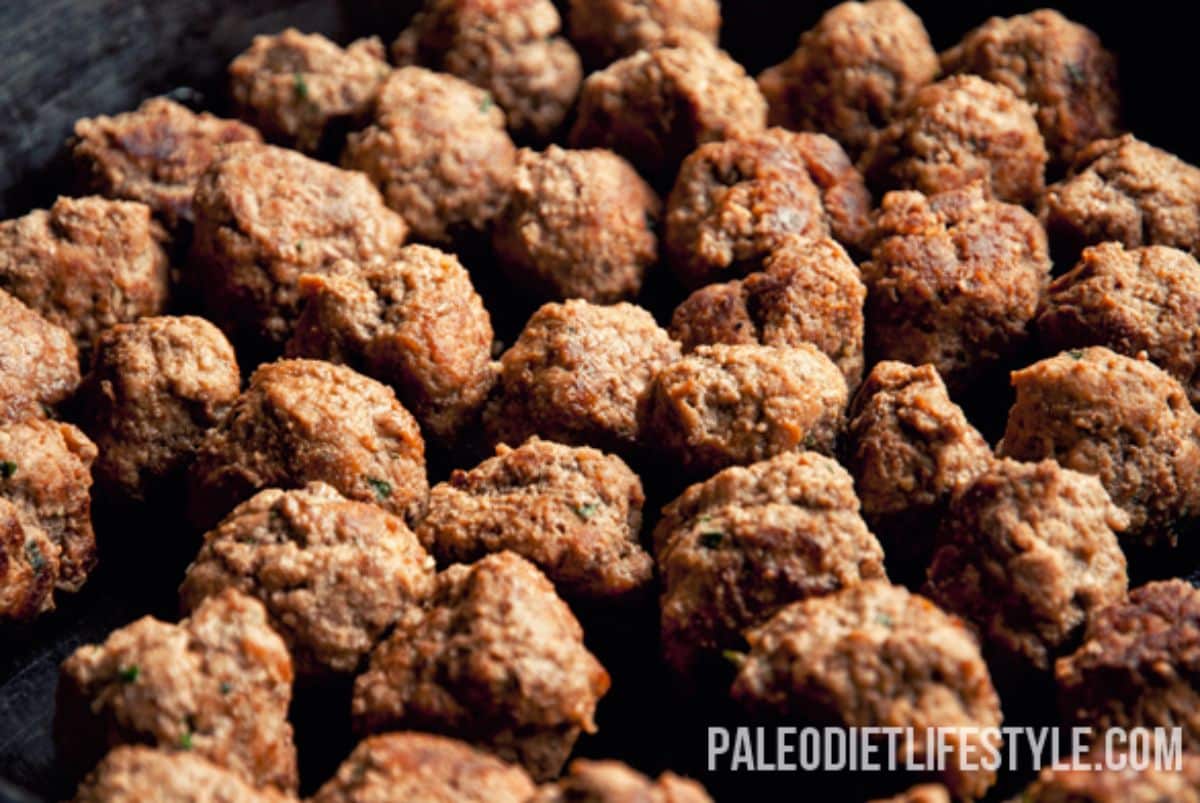 Preparation
In a bowl, combine the egg and tomato paste and mix until smooth.
Add the cilantro, ginger, cumin, garlic, and cinnamon and combine until well blended.
Stir in the ground beef and almond meal, and season to taste with salt and pepper.
Roll the mixture with your hands to make small meatballs about 1 inch in diameter.
In a large skillet, heat 3 tbsp. of coconut oil over medium heat. Brown the meatballs until golden on all sides and set aside.
In a large saucepan, heat the clarified butter over medium heat and sauté the onion and garlic until soft, about 4 minutes.
Add the lemon zest and cook for 1 minute.
Add the chicken stock, diced tomatoes, red pepper flakes, and cinnamon, and let simmer for about 7 minutes.
Season the sauce with sea salt and black pepper to taste.
Transfer the meatballs to the pan with the sauce and let it simmer for 20 minutes. Sprinkle with fresh parsley and serve.
📖 Recipe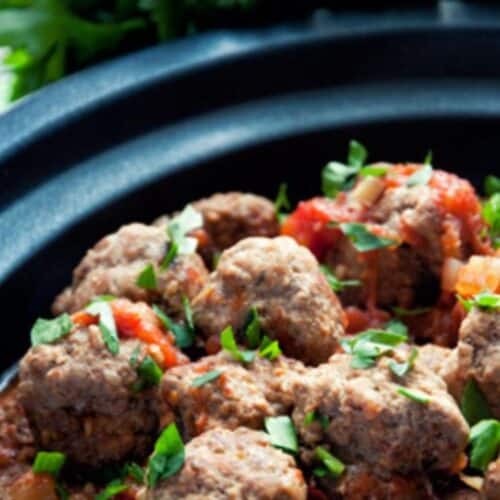 Meatballs With Spicy Tomato Sauce Recipe
Love meatballs, but getting a little tired of oregano? Expand your palate with a new and different take on seasonings.
Ingredients
Spicy Tomato Sauce Ingredients
½

small onion

diced

2

cloves

garlic

chopped

Zest from 1 lemon

¾

cup

chicken stock

2

cups

diced tomatoes

1

tsp.

dried red pepper flakes

A pinch of ground cinnamon

2

tbsp.

clarified butter

Sea salt and freshly ground black pepper to taste
Instructions
In a bowl, combine the egg and tomato paste and mix until smooth.

1 egg,

2 tbsp. tomato paste

Add the cilantro, ginger, cumin, garlic, and cinnamon and combine until well blended.

2 tbsp. fresh cilantro,

1 tbsp. fresh ginger,

1 tbsp. ground cumin,

1 clove garlic,

A pinch of ground cinnamon

Stir in the ground beef and almond meal, and season to taste with salt and pepper.

⅓ cup almond meal,

Sea salt and freshly ground black pepper,

1 lb. ground beef

Roll the mixture with your hands to make small meatballs, about 1-inch in diameter.

In a large skillet, heat 3 tbsp. of coconut oil over a medium heat. Brown the meatballs until golden on all sides and set aside.

In a large saucepan, heat the clarified butter over a medium heat and sauté the onion and garlic until soft, about 4 minutes.

½ small onion,

2 tbsp. clarified butter,

2 cloves garlic

Add the lemon zest and cook for 1 minute.

Add the chicken stock, diced tomatoes, red pepper flakes, and cinnamon, and let simmer for about 7 minutes.

¾ cup chicken stock,

2 cups diced tomatoes,

1 tsp. dried red pepper flakes,

A pinch of ground cinnamon

Season the sauce with sea salt and black pepper to taste.

Sea salt and freshly ground black pepper to taste

Transfer the meatballs to the pan with the sauce and let it simmer for 20 minutes. Sprinkle with fresh parsley and serve.

4 tbsp. fresh parsley leaves
Nutrition
Calories:
626
kcal
Carbohydrates:
15
g
Protein:
27
g
Fat:
53
g
Saturated Fat:
27
g
Polyunsaturated Fat:
2
g
Monounsaturated Fat:
15
g
Trans Fat:
1
g
Cholesterol:
142
mg
Sodium:
266
mg
Potassium:
915
mg
Fiber:
4
g
Sugar:
6
g
Vitamin A:
2470
IU
Vitamin C:
36
mg
Calcium:
155
mg
Iron:
8
mg