You've heard of steak tartare, but have you ever considered doing the same thing with a fresh fillet of wild-caught salmon? It's not for everyone, but if you're a fan of the beef version (or if you're interested in experimenting with raw meat), salmon tartare might just be the dish for you.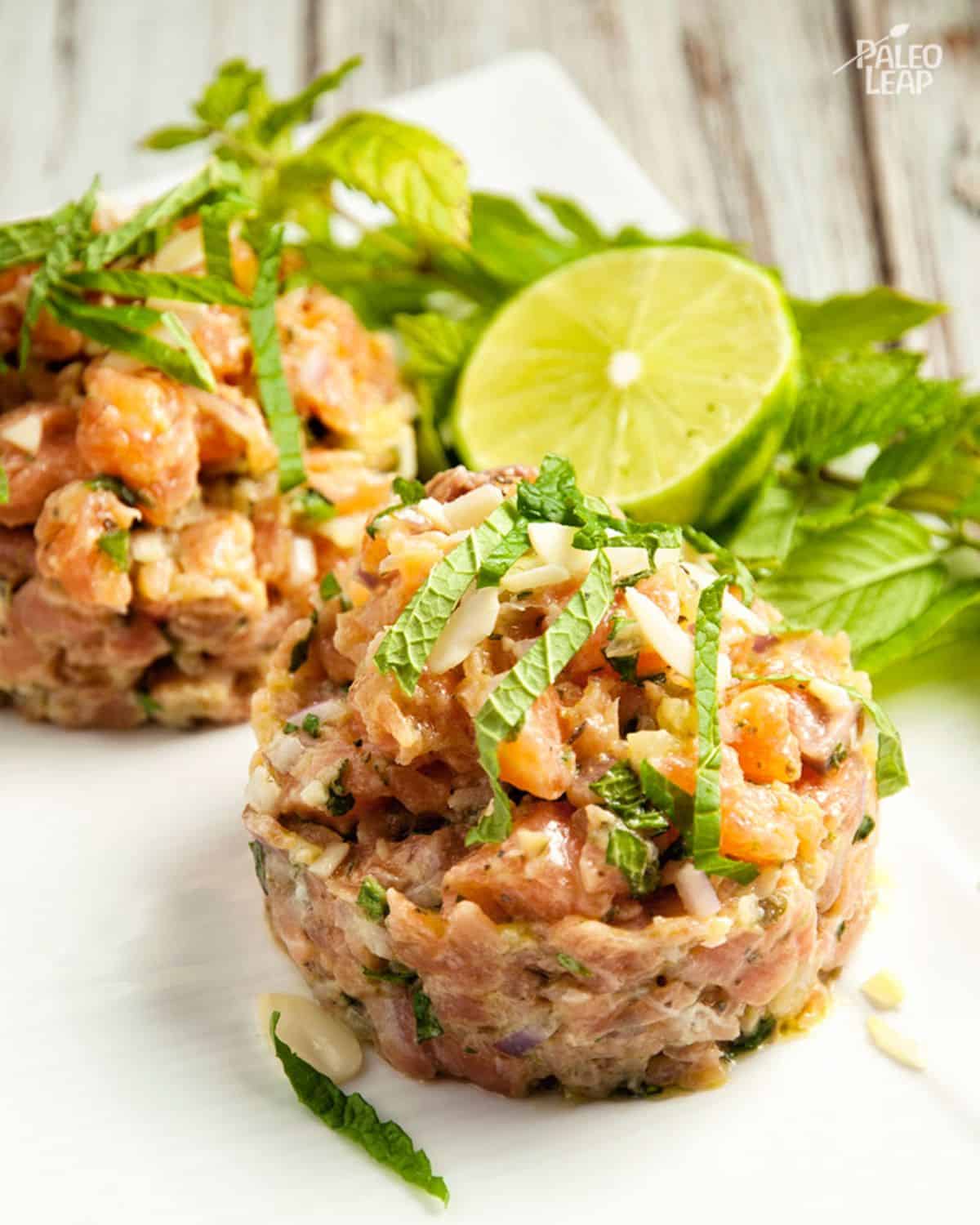 To ramp up the flavor, here the completely raw salmon is mixed in with some smoked salmon, not to mention a crisp, fresh seasoning blend of herbs, olive oil, and crunchy red onions. After all, eating raw fish doesn't mean you have to scarf it down straight out of the stream!
Salmon tartare is raw, so you'll want to make sure you get the very best quality fish you can (here's a guide to finding good salmon). Just take reasonable precautions about hygiene and temperature, and serve the fish right away after you mix it up – don't let it hang out on the counter warming up.
If you're not comfortable with eating your fish raw, or if you can't get fish you really trust, maybe you could use the dressing here on a cooked salmon salad instead – it wouldn't be tartare by any means, but it would still be tasty.
Mediterranean Salmon Tartare Recipe
SERVES: 4 PREP: 15 min
Ingredients
14 oz. wild salmon filet, cut into small chunks;
7 oz. smoked salmon, minced;
3 tbsp. red onion, minced;
2 tbsp. pickled cucumber, minced;
1 garlic clove, minced;
Zest and juice of 1 lemon;
2 tbsp. fresh basil, minced;
2 tbsp. fresh mint, minced;
2 tsp. dried oregano;
5 tbsp. extra virgin olive oil;
2 tbsp. Dijon mustard;
Sea salt and freshly ground black pepper;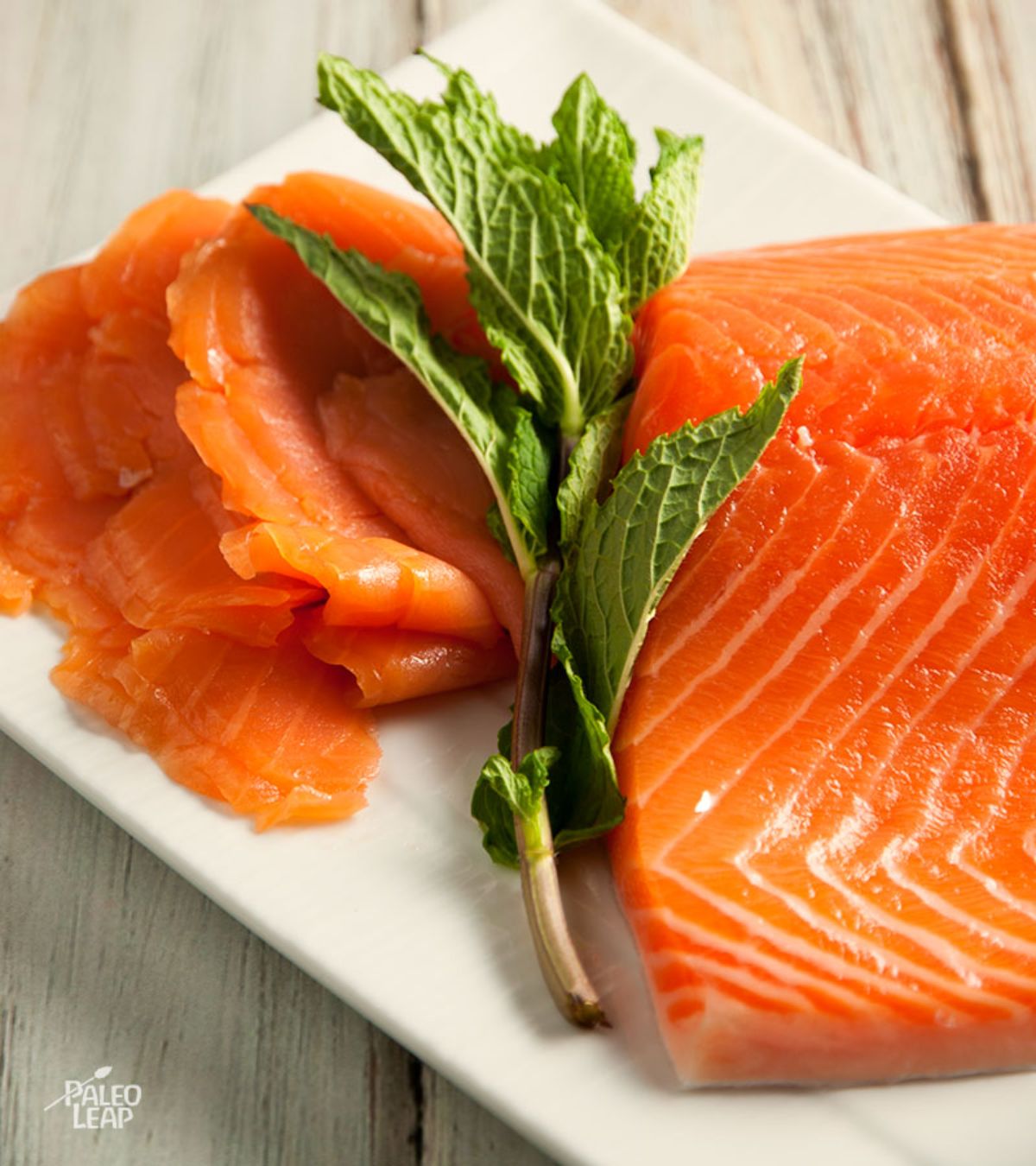 Preparation
In a bowl, combine all the ingredients except for the salmon or the smoked salmon. Stir to combine.
Add both the fresh salmon and the smoked salmon to the bowl, and stir again.
Season to taste with salt and pepper, and serve right away with lime wedges and extra mint on top as optional garnishing.
📖 Recipe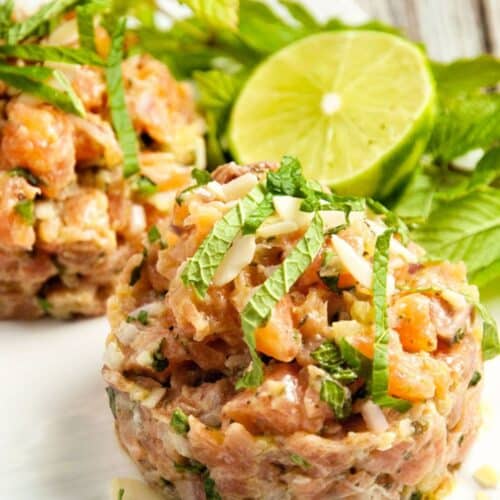 Mediterranean Salmon Tartare Recipe
A dish for adventurous foodies: salmon tartare with a fresh, Mediterranean dressing.
Instructions
In a bowl, combine all the ingredients except for the salmon or the smoked salmon. Stir to combine.

3 tbsp. red onion,

2 tbsp. pickled cucumber,

1 garlic clove,

Zest and juice of 1 lemon,

2 tbsp. fresh basil,

2 tsp. dried oregano,

5 tbsp. extra virgin olive oil,

2 tbsp. Dijon mustard

Add both the fresh salmon and the smoked salmon to the bowl, and stir again.

14 oz. wild salmon filet,

7 oz. smoked salmon

Season to taste with salt and pepper, and serve right away with lime wedges and extra mint on top as optional garnishing.

Sea salt and freshly ground black pepper,

2 tbsp. fresh mint
Nutrition
Calories:
387
kcal
Carbohydrates:
5
g
Protein:
30
g
Fat:
27
g
Saturated Fat:
4
g
Polyunsaturated Fat:
5
g
Monounsaturated Fat:
17
g
Cholesterol:
66
mg
Sodium:
518
mg
Potassium:
708
mg
Fiber:
2
g
Sugar:
1
g
Vitamin A:
839
IU
Vitamin C:
5
mg
Calcium:
98
mg
Iron:
3
mg