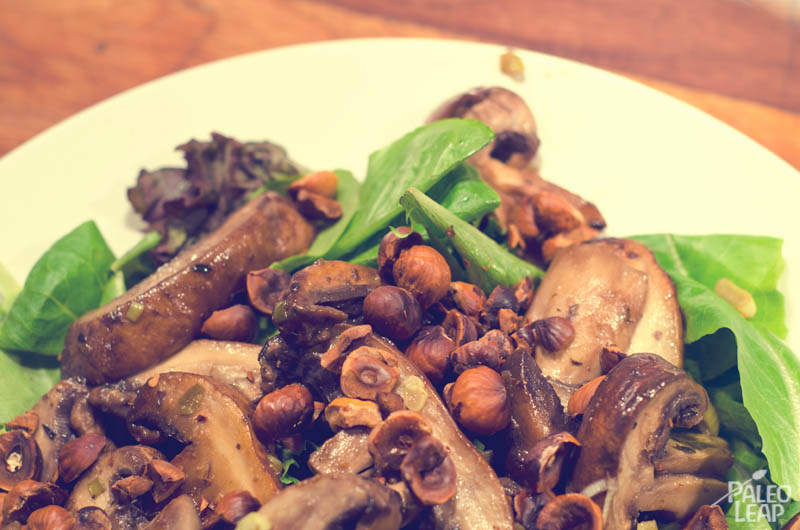 Do you ever have that one dish that you can't get enough of? I'm sure you have. You know, it's the one that you make way too often and you're boarder-line getting sick of it, but you still just can't stop! That's what this salad is for me. It's not just any salad though, it's more like a hearty meal in itself. Big juicy marinaded and sauteed mushrooms on top of a bed of fresh greens. I have to admit, the actual greens are not the attraction of this dish, its all in the mushrooms. That being said, the greens certainly complete the dish and add some great color to it.
You can use any type of mushrooms for this salad. I've used them all and my favorite have to be Portabello, followed by wild mushrooms. Because I like this salad so much, I've become really obsessive with how I want my mushrooms to be, even down to their size. The Portabellos work best because they are huge and meaty! Its like a big sponge to soak up every last drop of marinade, making them so flavorful. I don't usually chop the mushrooms, I simply slice them so that they are about 3/4" thick.
Roasted hazelnuts are added to the salad and bring a nice crunchy taste to an otherwise rather mushy salad. The hearty taste of hazelnuts also goes perfectly with that of the mushrooms. The vinegar used for the vinaigrette in this recipe is rice vinegar, but feel free to use another vinegar like lemon juice or apple cider vinegar if you don't have any rice vinegar handy. Shallots are also used here instead of the habitual onions, but feel free to use onions instead. The shallots do bring a unique flavor that's somewhat different than onions though so it's a great idea to try to get them for this salad. They are often confused with green onions, but the real shallots are used extensively in French cuisine and are quite similar, but smaller than regular onions.
As mushrooms are often forgotten in paleo recipes, this is the occasion to enjoy them in all of their glory. In terms of nutritional value, if we take the portabello mushrooms, they are a good source of cooper, selenium, riboflavin and niacin.
Mushroom salad recipe
Serves 4

Values are per portion. These are for information only & are not meant to be exact calculations.
Ingredients
½ cup hazelnuts;
2 tbsp shallots, finely chopped;
3 tbsp rice vinegar;
9 tbsp extra-virgin olive oil;
2 pounds mushrooms (I used Portabello), sliced thickly;
2 tbsp butter or clarified butter;
6 oz fresh greens (arugula or baby spinach are two great options);
1 tsp fresh thyme;
¼ cup shallots, finely chopped;
Sea salt and freshly ground black pepper to taste;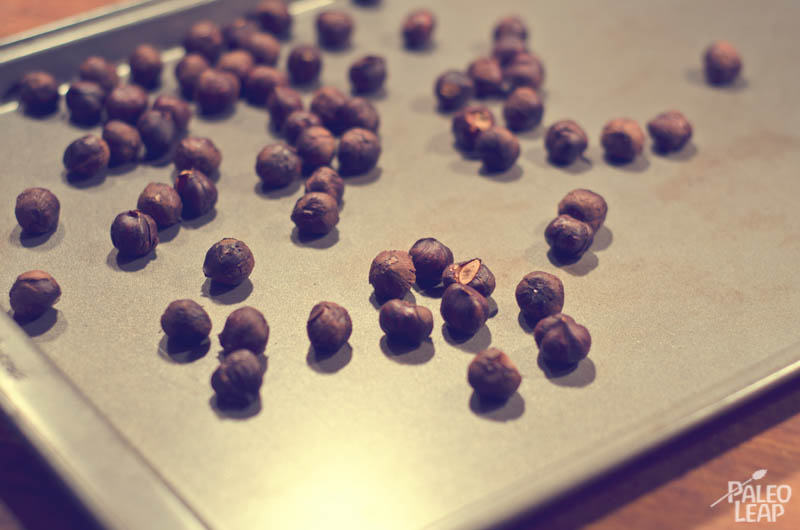 Preparation
Preheat your oven to 375F. This step is only necessary if your hazelnuts still have the skin membrane on them. Spread the hazelnuts out on a baking sheet and roast them in the oven for about 8 minutes. You will know they are ready, as the skin will have already started to rise off the nut. Allow them to completely cool and then roll them through your hands so that the skin falls apart. Set aside.
As the hazelnuts are roasting, you'll have time to prepare the marinade/vinaigrette. In a small bowl, combine the 2 tbsp of shallots, vinegar and a dash of sea salt. Whisk the mixture together and set aside for 5 minutes. This will allow the shallots to absorb the vinegar. Once the 5 minutes has elapsed, you can go ahead and whisk in 7 tbsp of the olive oil. Set aside for later use.
In a large skillet over a medium-high heat, melt the butter or clarified butter and add the remaining 2 tbsp olive oil. Throw in the mushrooms and sprinkle with the thyme and some salt and pepper to taste. The cooking time will very depending on what type of mushrooms you decided to go with. For the Portabellos, they need anywhere from 8 to 10 minutes, just until they have begun to turn golden and have shrunk in size quite a bit. At this point, you can add the remaining 1/4 cup shallots in with the mushrooms and continue cooking for another few minutes, until the shallots are soft.
Fill a large plate or bowl with the fresh greens. Transfer the mushrooms from the skillet on top of the greens. Pour over the vinaigrette and top with the hazelnuts (you may prefer to crush the hazelnuts). Eat and enjoy every last bite!