Sweet and crunchy, with just enough spicy zip to make it interesting, this recipe is the Paleo answer to Chinese takeout on Friday night.
For a healthier version of fried chicken, it uses almond flour as the "breading" to get that crispy exterior and coconut oil for the fat.
No vats of mysterious "fryer oil" that you can literally use to fuel a car; no questionable meat or gloopy sauces, just real, fresh-tasting food.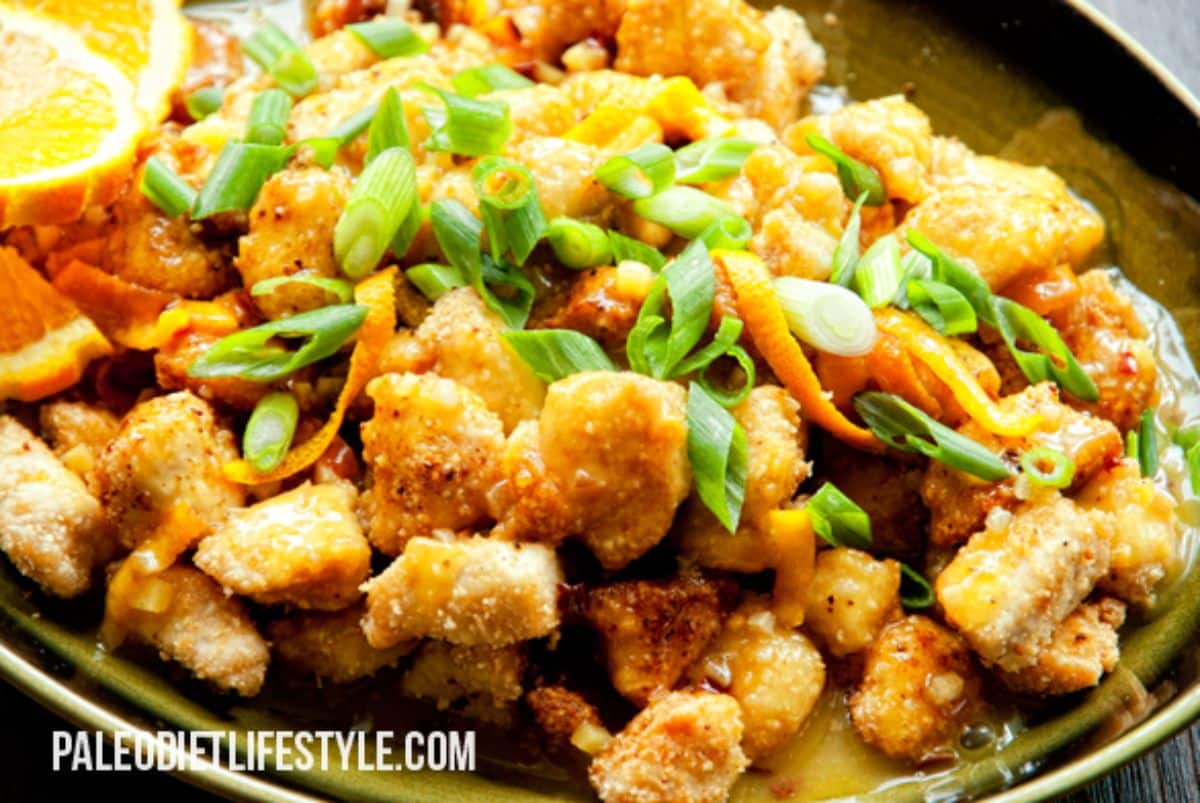 There are a couple of ingredients in this recipe that you'll have to get in a package (orange juice and fish sauce), so make sure to check the labels to see what's inside, and refer to the food additives guide if you see something suspicious.
You can usually find paleo-friendly versions of these items even in a standard grocery store, but sometimes it takes a little label-reading.
Serve this chicken with egg drop soup for an Asian-themed dinner party or a simple vegetable side that doesn't require a lot of preparation.
For dessert, Asian pears stuffed with grapes and almonds would make a sophisticated and appropriately-themed alternative to fortune cookies.
This is a fun recipe especially for people who aren't used to Paleo and need a little convincing before they dive in: the only risk is that all your friends might abandon their takeout habit in favor of your cooking!
Orange Chicken Recipe
SERVES: 4 PREP: 20 min COOK: 25 min
Ingredients
1 lb. chicken breast, patted dry and cut into ½-inch pieces;
2 eggs;
1 cup almond flour;
Coconut oil;
Ingredients for the orange sauce
½ cup freshly pressed orange juice;
The zest of 1 orange;
2 tbsp. tapioca starch;
1 tbsp. coconut oil;
2 cloves garlic, minced;
2 tsp. fresh ginger, minced;
¼ tsp. crushed red peppers;
1 tbsp. fish sauce;
1 tsp. white wine vinegar;
1 tbsp. honey; (optional)
2 green onions, thinly sliced (for garnishing);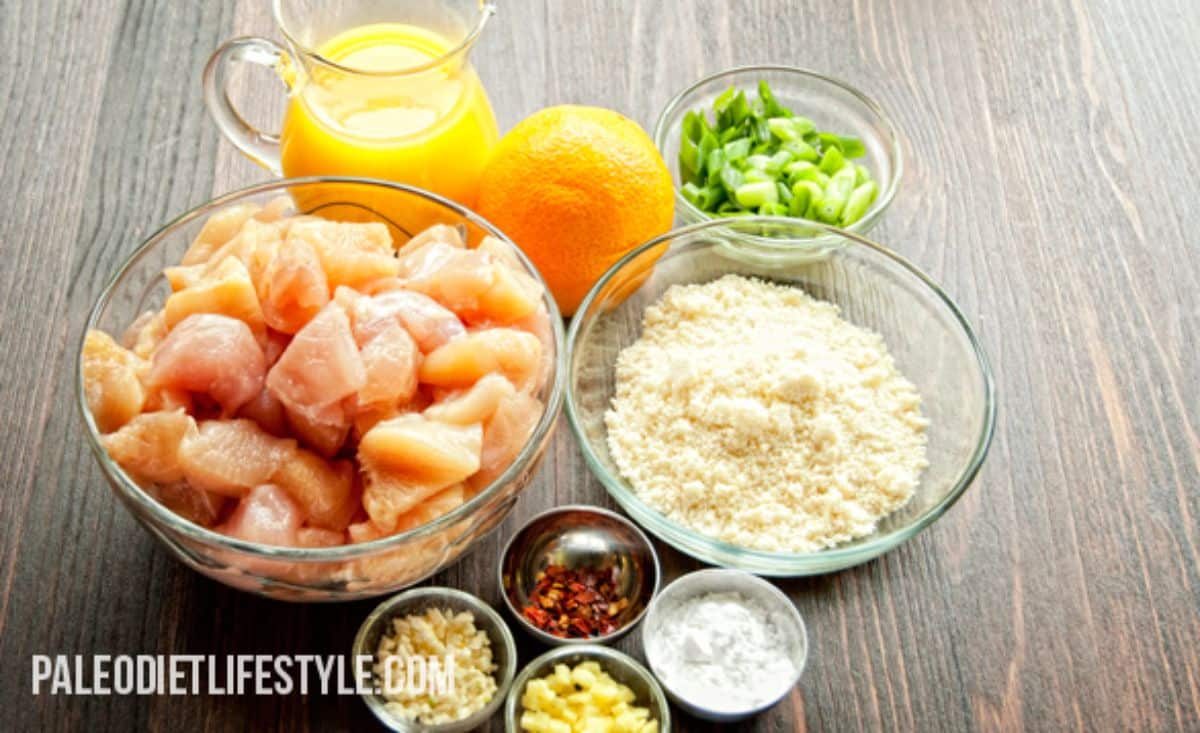 Preparation
In a small bowl, mix the orange juice with the tapioca starch and whisk until the starch is all dissolved.
To prepare the sauce, preheat 1 tbsp. coconut oil in a skillet over medium heat, and add the garlic, ginger, crushed red peppers, and half of the orange zest. Cook until golden, about 1 minute.
Once the oil and spices are golden, add the fish sauce, the white wine vinegar, and the honey, if using, and cook for about 10 seconds. Then add the orange juice and starch mixture to the skillet and bring to a boil, stirring constantly. Reduce the heat and simmer for a minute or two. Remove the mixture from the heat, but leave it in the skillet.
Break the two eggs into a bowl and whisk them together. Dunk each piece of chicken in the raw eggs and coat them with almond flour.
Pour coconut oil into a big skillet until it's about ½ an inch deep. Heat it to at least 365 F.
Add the pieces of chicken to the coconut oil, and cook until golden on each side, about 5 minutes. Transfer the cooked chicken pieces to a paper towel for a few minutes, then transfer them to a serving dish.
Once the chicken is fried, place the skillet containing the sauce back on medium heat and warm it up. When it's warm, pour it over the chicken pieces and mix to get them nicely coated with the sauce.
To serve, garnish with the remaining orange zest and the sliced green onions.
📖 Recipe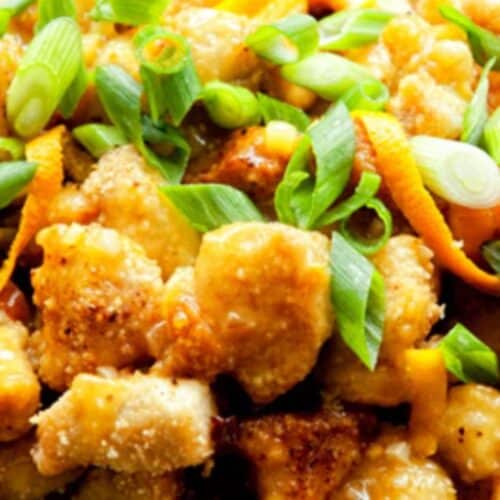 Orange Chicken Recipe
A crispy, spicy-sweet Asian-inspired chicken recipe that will leave your friends begging for seconds
Ingredients
Ingredients for the orange sauce
Instructions
In a small bowl, mix the orange juice with the tapioca starch and whisk until the starch is all dissolved.

½ cup freshly pressed orange juice,

2 tbsp. tapioca starch

To prepare the sauce, preheat 1 tbsp. coconut oil in a skillet over a medium heat, and add the garlic, ginger, crushed red peppers, and half of the orange zest. Cook until golden, about 1 minute.

1 tbsp. coconut oil,

2 cloves garlic,

2 tsp. fresh ginger,

¼ tsp. crushed red peppers,

The zest of 1 orange

Once the oil and spices are golden, add the fish sauce, the white wine vinegar and the honey, if using, and cook about 10 seconds. Then add the orange juice and starch mixture to the skillet and bring to a boil, stirring constantly. Reduce the heat and simmer for a minute or two. Remove the mixture from the heat, but leave it in the skillet.

1 tbsp. fish sauce,

1 tsp. white wine vinegar,

1 tbsp. honey,

½ cup freshly pressed orange juice

Break the two eggs into a bowl and whisk them together. Dunk each piece of chicken in the raw eggs and coat them with the almond flour.

2 eggs,

1 cup almond flour

Pour coconut oil into a big skillet until it's about ½ an inch deep. Heat it to at least 365 F.

Add the pieces of chicken to the coconut oil, and cook until golden on each side, about 5 minutes. Transfer the cooked chicken pieces to a paper towel for a few minutes, then transfer them to a serving dish.

Once the chicken is fried, place the skillet containing the sauce back on medium heat and warm it up. When it's warm, pour it over the chicken pieces and mix to get them nicely coated with the sauce.

To serve, garnish with the remaining orange zest and the sliced green onions.

2 green onions,

The zest of 1 orange
Nutrition
Calories:
400
kcal
Carbohydrates:
17
g
Protein:
33
g
Fat:
23
g
Saturated Fat:
5
g
Polyunsaturated Fat:
1
g
Monounsaturated Fat:
2
g
Trans Fat:
0.02
g
Cholesterol:
154
mg
Sodium:
455
mg
Potassium:
560
mg
Fiber:
3
g
Sugar:
4
g
Vitamin A:
287
IU
Vitamin C:
19
mg
Calcium:
87
mg
Iron:
2
mg