Welcome back to Part 2 of a series on answering the "Paleo debunkers" (if you missed it last week, Part 1 tackled arguments about evolution and hunter-gatherers). Nutritional objections are on the menu this week, including everyone's favorite questions about fiber, calcium, carbohydrates, and of course, saturated fat and cholesterol.
Bear in mind that this guide isn't a scientific analysis of every study relevant to Paleo nutrition. That would take a lifetime of work, and probably fill several books, and it's not really relevant to most people's daily needs. It's incredibly important to have researchers working on these questions, but if you're arguing with someone over the dinner table, you can't really get into the molecular structure of cholesterol or pull out a list of PubMed citations to prove your point. It's more important to have a line of reasoning that makes sense to the other person; that way, they can remember your argument and think about it the next time they go to buy food.
What's more, you don't need a Ph.D. in biochemistry to understand why most of these objections aren't valid. The Paleo rebuttals in this section include some resources for learning more if you're really interested, but the basic logic of each argument gives you a solid leg to stand on even if you don't want to spend your afternoon combing through the studies.
Saturated fat and cholesterol cause heart disease
This is probably the first objection you'll get from people with no particular nutrition background. It's usually a conflation of the diet-heart hypothesis (saturated fat raises blood cholesterol, causing heart disease) and the lipid hypothesis (elevated blood cholesterol for any reason causes heart disease). This is a tricky one to answer because in all honesty, nobody really understands how cholesterol works yet (unfortunately that doesn't stop conventional doctors from writing knee-jerk statin prescriptions on the assumption that it must be evil!). The real difference between Paleo dieters and the medical establishment isn't that we know the whole truth about cholesterol; it's that we're willing to accept how much we don't know.
All the mistaken dogmas about saturated fat, cholesterol, and heart disease would take several books to debunk (and several books actually have been written about them). Leaving aside the question of whether high blood cholesterol is healthy or not, below are some arguments taking on the accusation that dietary cholesterol and saturated fat are dangerous.
Paleo Rebuttals:
Dietary saturated fat does not raise blood cholesterol or cause heart disease for any other reason. In most people, dietary cholesterol doesn't raise blood cholesterol either. The vast majority of cholesterol is produced endogenously (within the body), not absorbed from food like vitamins and minerals. In other words, high blood cholesterol indicates a problem with how your body metabolizes cholesterol, not a problem with the cholesterol in your diet.
The American Heart Association started recommending avoiding saturated fat and cholesterol in the 1960s, but this wasn't based on any new scientific discoveries – the studies at the time were inconclusive and actually suggested that vegetable oils might be less healthy than saturated fat. The change was political: the committee in charge of the recommendations was reshuffled to include more researchers who had built their careers around demonizing cholesterol (for the full story, see this article in the New York Times). This isn't definitive proof that the recommendations are wrong, but it's cause to be very skeptical.
There are so many problems with the studies "proving" that saturated fat and cholesterol cause heart disease that it's hard to know where to start.

Many are population surveys, so they're prone to all the same limits and problems as the studies on red meat and cancer (see below). Essentially, they only prove correlation, not causation. People who care about their health avoid saturated fat and cholesterol, so the people who do eat them tend to not take care of themselves at all: they also drink more, smoke more, are more overweight, and eat more junk food. The higher rates of heart disease in this group could be due to any one of these factors.
Some of the earliest studies were done in rabbits, which are naturally herbivores – this doesn't prove anything about humans, who are naturally omnivores.
Many human intervention studies replace saturated fat in the diet with unsaturated fat, which independently lowers blood cholesterol. So it's important to be very careful drawing conclusions from these studies: proving that unsaturated fat lowers cholesterol is not the same as proving that saturated fat raises it.

Blood cholesterol can vary due to many causes, including weight loss, recovery from fatty liver disease, menopause, pregnancy and menstruation, and thyroid health. Diet is not even close to the only factor involved.
People living in hunter-gatherer societies around the world eat a high proportion of calories from saturated fat and cholesterol, but develop heart disease very rarely, if at all. Many of them also have low blood cholesterol. For example, the Maasai eat mostly milk, meat, and blood, but have famously low blood cholesterol. This indicates that fat and cholesterol aren't dangerous in the context of a whole-foods diet (but might still be bad in the context of the standard American diet).
For a more complete overview of the Paleo stance on cholesterol, Chris Masterjohn's website is far and away the most comprehensive source of information.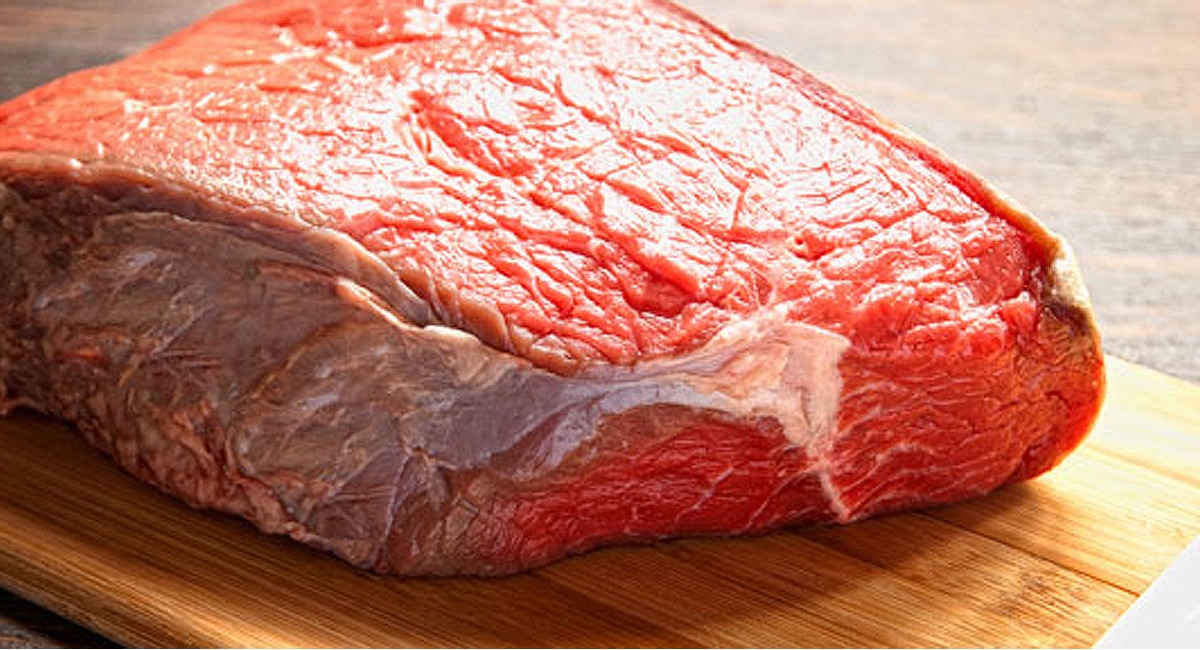 Red meat causes heart disease and/or cancer.
If only the media would stop looking at studies the prove correlation and assuming that they prove causation, nobody but the most short-sighted vegetarians would even be bringing this up. But as it is, you're almost certainly going to hear it. The link between red meat and heart disease is usually put down to any saturated fat and cholesterol, not just in red meat (see above for a full rebuttal of that argument), but it's also sometimes attributed to TMAO, the most recent media scapegoat.
Paleo Rebuttals
Most of the studies linking red meat to diseases (usually heart disease or colon cancer) are epidemiological studies that show correlation. So people who eat more red meat tend to get sicker. But that doesn't prove the red meat causes the disease. First of all, a lot of these studies use food frequency questionnaires (just asking people how much of what they ate), which are notoriously unreliable. Secondly, red meat-eaters also participate in more unhealthy behaviors in general. They tend to eat their red meat in the form of fast food (accompanied by all kinds of rancid fryer oils, refined flour, processed sugar, and weird chemicals). They're more likely to be smokers. Basically, because everyone is so convinced that red meat is unhealthy, the people who eat the most are the people who care least about their health, in every aspect of their lives. It's no wonder they get sick, but that doesn't prove it's the meat.
Most people in these studies also ate red meat from grain-fed, factory-farmed animals, which is not the same in nutritional terms as red meat from pasture-raised animals. For example, grain-fed meat doesn't contain conjugated linoleic acid, which has powerful anti-cancer properties. Assuming grass-fed meat will have the same effect as grain-fed meat is like assuming an apple will have the same effect as a fruit roll-up.
The TMAO study (linking red meat to heart disease) was interesting, but isn't enough to prove anything. The sample size was tiny (one vegan and five meat-eaters), the study ignores the fact that seafood raises TMAO more than red meat (and yet seafood is constantly trumpeted as the "heart-healthy" choice), and the conclusion that "red meat causes heart disease by raising TMAO" ignores the important role of gut flora in mediating TMAO production.
Plenty of traditional populations eat a large amount of red meat, but have very low rates of cancer and heart disease. This indicates that the meat itself is not to blame – although again, the factory farmed red "meat" you can buy at McDonald's is another question entirely.
A great source of further reading on this topic is Chris Kresser's series on red meat.
Meat rots in your colon (or stomach) for 5 years.
The most disgusting of all the vegetarian food myths, this is nothing but a scare tactic.
Paleo rebuttals:
The "stomach" argument is the easiest to debunk. Rotting requires the activity of bacteria; the stomach has a pH of around 2. Nothing can rot in there.
Some food does "rot" (if you want to think about it that way) in your colon, in the sense that it's digested by your gut flora instead of by the enzymes that your own digestive system produces. But this is perfectly natural and nothing to worry about – it's more of a problem if it doesn't happen, because that indicates a serious dysfunction of the gut flora. And gut flora don't eat meat at all; they digest carbohydrates (fiber, sugar, and starch).
Eating fat will make you fat.
Oddly enough, the very same people who trumpet this piece of nonsense to the skies also support the completely contradictory theory that calories tell the whole story, and that weight gain and loss is purely a function of calorie intake vs. expenditure.
Paleo rebuttals:
If eating fat makes you fat, why did obesity rates start rising with the advent of the low-fat nutritional guidelines, and why have they kept rising as Americans dutifully replaced fat in their diet with carbohydrates?
Just to cite one study (there are several, but this one is fairly readable and available for free), a review from the American Journal of Clinical Nutrition concluded that "Diets high in fat do not appear to be the primary cause of the high prevalence of excess body fat in our society, and reductions in fat will not be a solution."
Fat can actually help you lose weight, because it keeps you full for longer, and doesn't create the kind of sugar highs and crashes that carbs by themselves do. A ketogenic diet (relying mainly on fat for energy) is a very effective weight loss tool.
The USDA's dietary guidelines classify solid fats (like beef tallow and butter) as "empty calories" that don't add any nutrition to the diet, but this couldn't be further from the truth. Fat allows you to absorb certain vitamins and minerals (fat-soluble vitamins like A, D, and K), and it often comes packaged with others (like the choline in egg yolks). Fat isn't a guilty pleasure; it's a valuable and health-promoting nutrient.
Whole grains have vital nutrients – if you don't eat them, you'll be deficient.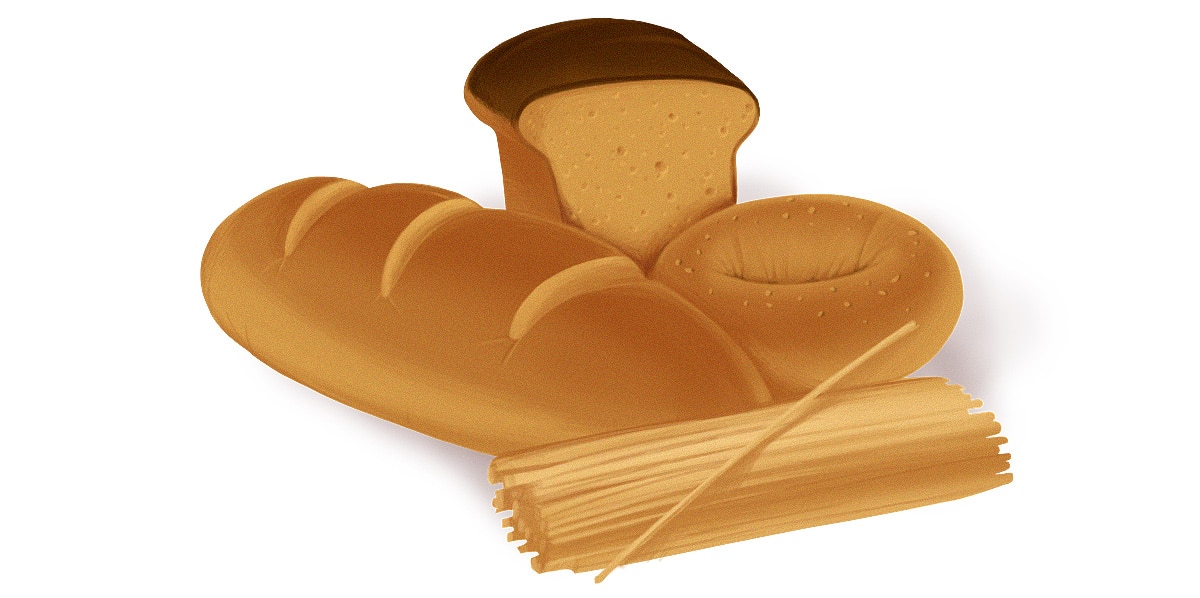 Most of the time, this piece of nutritional mythology comes from people repeating the USDA's claim that eliminating any single group of foods is the sign of an unhealthy crash diet. But this is just another example of how flawed USDA's "balanced diet" is: that recommendation was really put there by the food industry, to make sure people keep buying all the different kinds of food. There are no magical nutrients in whole grains that you can't also get from Paleo foods.
Paleo Rebuttals:
Whole grains do have some important nutrients, but vegetables are much more nutrient-dense per calorie. For example, 100 calories of whole wheat flour contains 10% or more of the RDA of 5 nutrients: fiber (14%), magnesium (10%), phosphorus (10%), manganese (53%), and selenium (28%). For half that many calories in broccoli, you get 10% or more of: fiber (16%), vitamin A (19%), vitamin C (224%), vitamin K (192%), riboflavin (10%), vitamin B6 (13%), folate (24%), phosphorus (10%), potassium (14%), and manganese (16%).
The nutrients in whole grains are less available to the body than they seem, because they're bound to a chemical called phytic acid. Animals that are designed to eat seeds and grains, like rodents or birds, have an enzyme called phytase to break it down, but humans only produce a tiny amount of phytase, not nearly enough to unlock the nutrients.
There are absolutely no nutrients that are only found in grains. Check out the Whole Grains Council's list of nutrients in whole grains, together with the Paleo foods that supply the same ones:

Fiber: fruits and vegetables (see the section below especially on fiber).
Iron: liver, oysters, and any cut of beef, turkey, or chicken. Meat is a much better source of iron than any kind of plant food, because it contains a more easily absorbable form (heme iron, as opposed to the non-heme iron in plants).
Magnesium: vegetables and nuts. Almonds, spinach, cashews, and potatoes are particularly good sources.
Phosphorus: fish, meat, and dairy.
Zinc: oysters, and any other meat or seafood.
Copper: organ meats (especially liver), oysters, dark green leafy vegetables, and coconut.
Manganese: nuts, shellfish, pineapple, and green tea.
Selenium: seafood of any kind, turkey, lamb, and Brazil nuts.
B Vitamins: red meat, mussels or any other shellfish.
It's not healthy to avoid carbohydrates.
Low-carb is the Paleo "zombie myth:" every time you think you've gotten rid of it for good, it comes right back to life! No matter how many times you explain that it's not about macronutrients, you'll always come across people who think of Paleo as just the all-natural version of Atkins.
Paleo Rebuttals:
The very first versions of the diet were hung up on the idea that humans evolved to eat a low carb diet, but after re-examining the evidence from hunter-gatherer groups around the world, it's pretty clear that humans are well adapted to eat a wide range of carbs. So Paleo isn't about macronutrient ratios; it's about eating lots of nutrients and avoiding toxins. Potatoes, sweet potatoes, plantains, and white rice are all examples of Paleo carb sources.
Some carbohydrate-dense foods, like wheat, come packaged with toxins, so we avoid those foods. But this doesn't indicate that the starch itself is the problem. Other sources of carbs, like potatoes, don't have any toxins, so they're perfectly healthy and we eat them all the time.
It is true that some people prefer to eat a low-carb or ketogenic version of Paleo, and that's perfectly fine – it can be very helpful for weight loss and treating some diseases. But the basic diet doesn't require any set of macronutrient ratios.
For more information on a Paleo carbs, the Perfect Health Diet can't be beat.
But you can't get enough calcium without dairy.
First of all, there's nothing wrong with eating some dairy if you tolerate it well, especially if it's grass-fed, fermented dairy. Paleo is not automatically dairy-exclusive. But 65% of people in the world are lactose intolerant, and for them, it is important to get a non-dairy source of calcium. Fortunately, a diet without dairy doesn't have to be deficient in calcium.
Paleo rebuttals:
Think about why we eat calcium. It's not just for the sake of getting more calcium. The real goal is to build strong bones and teeth. And it's not only calcium that's important for that – bones are also made of many other minerals, including magnesium and potassium. In fact, just getting more and more calcium might do more harm than good: the USA has one of the highest calcium intakes in the world, but also one of the highest rates of osteoporosis.
Vitamins A, D, and K2 are also important, because they increase the absorption of calcium from food. A diet rich in these vitamins (as Paleo is) reduces the need for dietary calcium, because you can absorb more of it and don't need to eat as much to get the same benefit.
There are plenty of non-dairy calcium sources. Green leafy vegetables like broccoli and kale, seaweed, bone-in fish (like sardines and salmon), nuts and seeds, and bone broth all contain calcium. Some brands of mineral water are also good sources.
There's nothing wrong with gluten if you're not Celiac.
This is a common misconception – people think that as long as they're not observing an acute reaction that they aren't reacting at all. But in fact, chronic problems (low-level damage in the long term) can be just as serious.
Paleo rebuttals:
Just because you don't notice a chronic problem doesn't mean it's not there. If you've been eating grains at every meal since childhood, you don't even know how you feel without them. But one of the most common stories from people who go Paleo is that they didn't know how good they could feel until they tried it. They could only notice the way grains affected their digestion when they re-introduced them after a month or two of elimination.
The absence of digestive symptoms isn't necessarily a sign that gluten isn't affecting you at all. For example, one study found that non-Celiac gluten sensitivity could cause neurological damage even in patients without any gut symptoms.
That much protein is bad for your kidneys.
It's not a common objection, but still occasionally raised by people who haven't quite let go of the '90s yet. The idea that dietary protein is dangerous to the kidneys is true – but it's only true at levels of protein that no Paleo diet would ever recommend.
Paleo rebuttals:
This is mostly a confusing topic because of the way people talk about "high-protein diets." In order to avoid the negative associations of a "high-fat diet," some people refer to Paleo as a "high-protein diet." This gives the incorrect impression that the majority of calories come from protein, which isn't true at all. Even the most high-protein versions of Paleo don't recommend anything over 30% of energy from protein, and the vast majority of Paleo dieters eat closer to 10-20% protein. For healthy people, kidney toxicity doesn't begin until 35-40% of calories, so Paleo is nothing to worry about.
It's actually very difficult to get a dangerous amount of protein, because your body has a built-in system for making sure you don't get too much: you stop being hungry for more. The real dangers of eating too much protein are only relevant to people who eat extremely lean meats without any accompanying fat, or people who eat a lot of processed protein shakes and protein powders (neither of which are Paleo). Unless you're deliberately ignoring your body's hunger signals in an attempt to eat low-fat and low-carb, protein toxicity is not going to happen.
You can't get enough fiber without grains.
You really have to admire the marketing forces behind the grain industry: they've done an amazing job of convincing everyone that grains are nutritional superheroes. Now if only small family farms had the money to employ these advertising teams: if they can make pretzels look healthy, imagine what they could do with food that's actually nutritious!
Paleo rebuttals:
Fiber isn't all sunshine and roses: some people with Irritable Bowel Syndrome and other gut conditions can actually benefit from reducing certain types of fiber in their diet.
Grains are not the only source of fiber! Fruits and vegetables have plenty of it. The full article on fiber goes into more detail on this, but a fairly typical day of Paleo meals contains plenty of fiber to meet the standard recommendations without any extra supplements or even a special effort to eat lots of fiber-rich food.
Sugar doesn't make you gain weight unless you're eating a calorie surplus.
This is a perfect example of how focusing only on calories can lead to chronic malnutrition, since people think it's fine to eat junk food as long as it's "portion controlled."
Even if this is true (debatable, but it's unlikely that we'll see a clear consensus as long as the sugar industry keeps funding half the research), it doesn't prove that sugar has any place in a healthy diet. A diet isn't healthy just because it doesn't cause weight gain. If every calorie of sugar displaces a calorie of actually nutritious food, the sugar clearly makes the diet less healthy.
If you can carefully measure out your sugar to avoid a calorie surplus, it might not cause weight gain, but sugary foods are intentionally designed to overwhelm your best efforts at portion control: most of us really can't eat just one. It's not a sign of weakness; it's a sign that your body's sensory apparatus wasn't designed to eat "food" cooked up in a lab.
Conclusion
Hopefully, this guide gave you some useful answers for all the critics who try to convince you that your Paleo diet is killing you slowly (or quickly). Stay tuned next week for the final installment: a round-up of miscellaneous objections from "Paleo isn't sustainable" to "Paleo is too expensive." And if there's anything you'd like to see addressed, let us know on Google+!