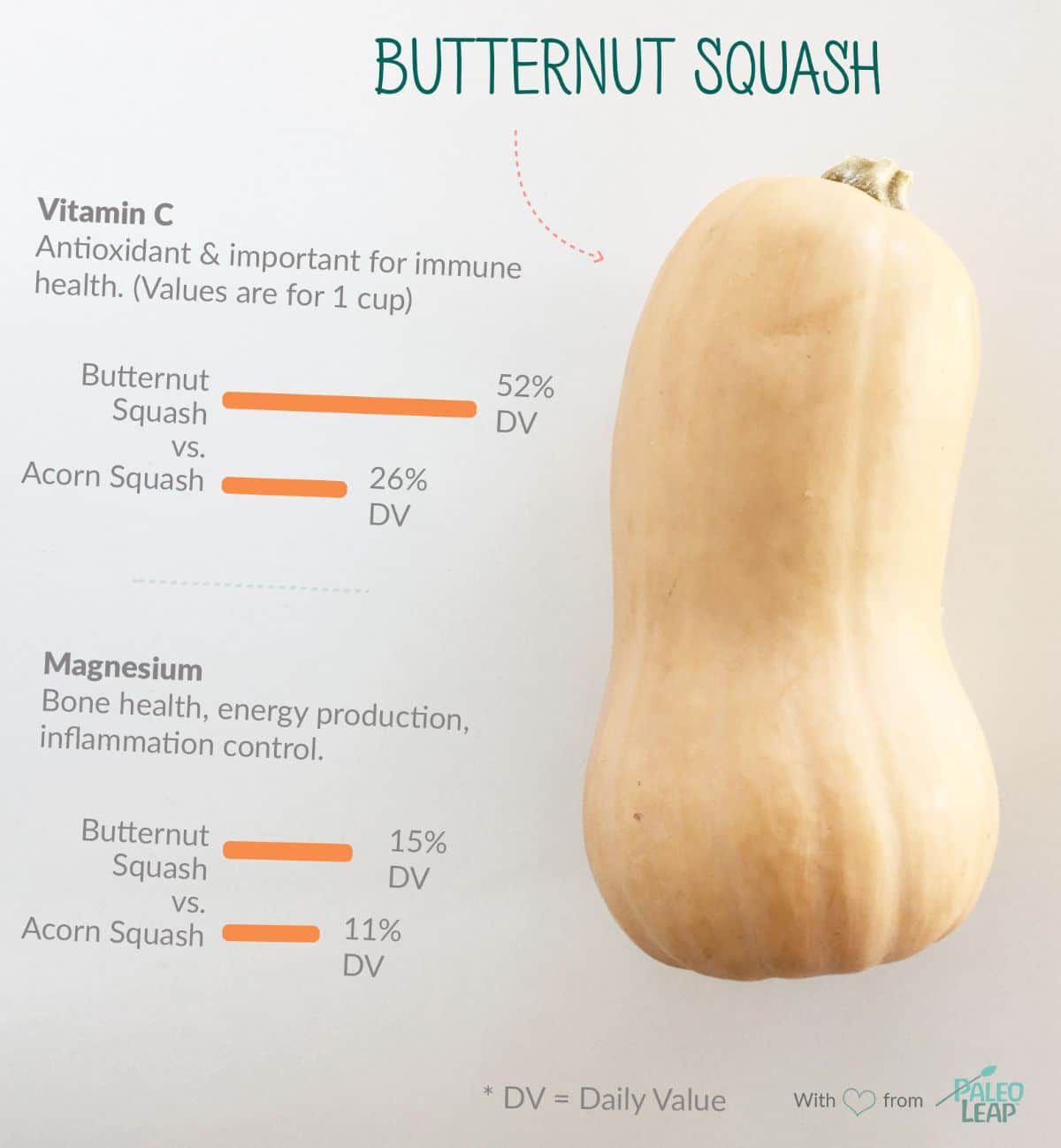 Butternut squash is a beloved winter squash -- they're one of the sweetest varieties of winter squash, and and they have a slightly nutty taste, similar to that of pumpkin. Butternut squash is a good source of Vitamin A (the pre-Vitamin A form), Vitamin C, minerals and carbohydrate.
The shape of a butternut squash makes it slightly difficult to cut. One of the easier ways to cut and dice a butternut squash is to cut it in half with a large knife and a steady hand, scoop out the seeds, peel the exterior skin and dice into cubes.
Butternut squash can be a less starchy alternative to a sweet potato. Substituting potatoes for butternut squash in a soup or stew, casserole or a batch of fries can be a good option for low-carbers.
Nutrition Details
Macros in Context
Here's how 1 cup of butternut squash stacks up in the context of a typical Paleo meal:
Blue bars show the typical range in grams for a Paleo meal. For example, a Paleo meal usually includes 30-60 grams of fat, but where you personally fall in that range will depend on your preference.
Orange dots show how 1 cup of butternut squash fits into the typical nutrient profile of a Paleo meal.

Buy It
FRUIT OR VEGETABLE: A butternut squash is actually a fruit! However, in day-to-day life, it's lumped into the starchy vegetable category.
SEASON: Peak harvest for butternut squash are the fall and winter seasons.
TASTE: When ripe, the flesh of a butternut squash turns deep orange, and tastes even more sweet.
Cook It
ROAST
Cut open a butternut squash, remove the seeds and chop into bite-sized cubes. Coat in a Paleo cooking fat, sprinkle with spices, then roast in the oven until it's soft enough to be poked with a fork.
SOUP
Oven-roast the butternut squash, then use as a base for a soup or puree.
STUFFED
Halve the butternut squash, stuff with meat and vegetables, then roast in the oven.
FRIES
Cut squash into wedges, coat with a cooking fat and spices, then bake up some fries!
Recipe Ideas