A slow cooker is a Paleo-eater's best friend. This sweet, creamy, and aromatic soup takes full of advantage of all that the slow cooker offers -- a slow, moist heat with a hands-off approach to cooking. The addition of coconut milk makes this pureed soup very rich and satisfying.
Plus, because butternut squash is a hearty starch and the coconut milk contains healthy fat, this soup will keep you satisfied, even if you have it on its own.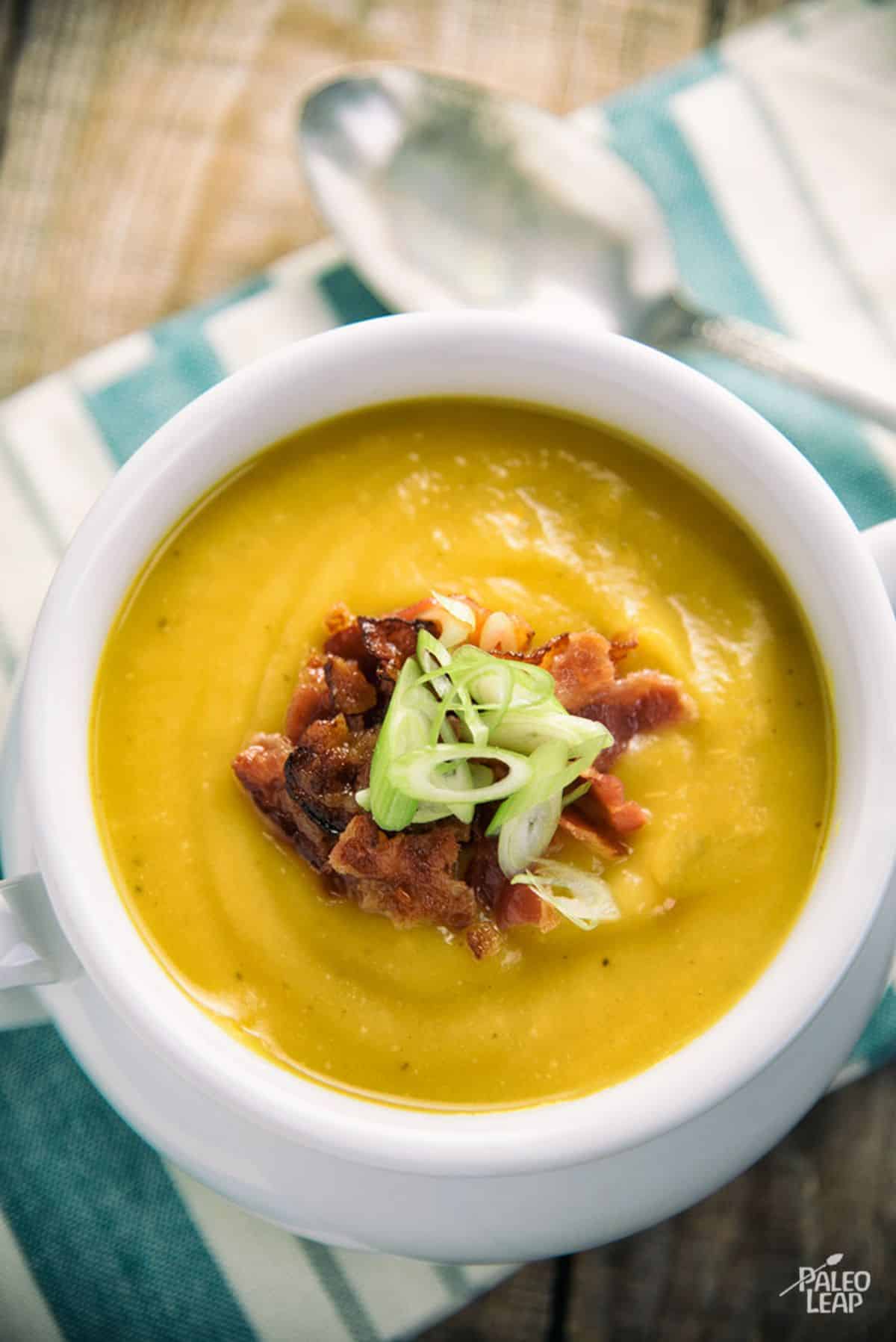 While this recipe can seem quite fancy, the ingredients and cooking process are last minute-friendly. Winter squashes like butternut squash keep for a long time.
So, if you have a butternut squash that's been sitting on the counter for a week or two, just peel, dice and toss it in. Most Paleo kitchens have an onion and sweet potato handy, and the spices are common, too.
Serve this for dinner with a bit of leftover protein and some greens, like a big, leafy salad. Drizzle coconut milk over the top and serve with crumbled bacon and sliced green onions, if you have some handy.
Slow Cooker Butternut Squash And Apple Soup Recipe
Serves: 4 Prep: 20 min Cook: 6 h
Ingredients
1 butternut squash, peeled, seeded, and diced
1 sweet potato, peeled and diced
1 apple, cored and diced
1 onion, diced
4 garlic cloves, minced
1 sprig of fresh sage
½ tsp. chili powder
⅛ tsp. ground cinnamon
⅛ tsp. ground nutmeg
2 cups vegetable or chicken stock
½ cup canned coconut milk
Sea salt and freshly ground black pepper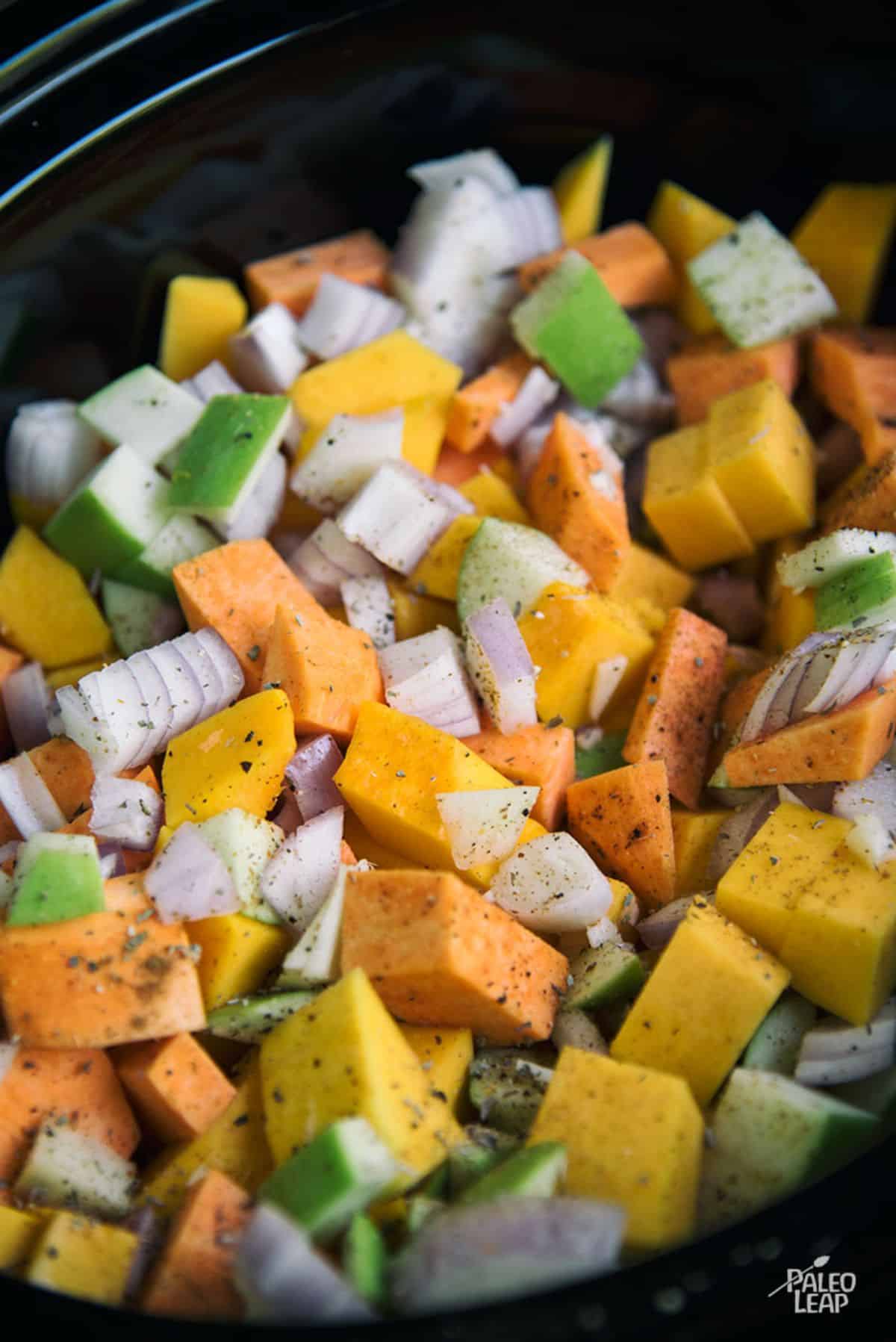 Preparation
Place all the ingredients in a slow cooker except the coconut milk.
Stir everything and cook on high for 3 to 4 hours or on low for 6 to 8 hours.
Remove the sage leaves, and pulse the butternut mixture using an immersion blender. Purée until smooth.
Add in the coconut milk and pulse until well blended.
Cook on high for another 20 minutes, season to taste, and serve.
📖 Recipe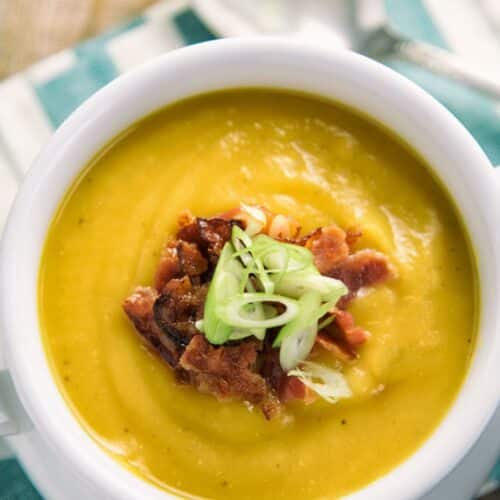 Slow Cooker Butternut Squash And Apple Soup Recipe
A rich and satisfying slow-cooker soup made with butternut squash, apple, coconut milk and lots of aromatic spices.
Instructions
Place all the ingredients in a slow cooker except the coconut milk.

1 butternut squash,

1 sweet potato,

1 apple,

1 onion,

4 garlic cloves,

1 sprig of fresh sage,

½ tsp. chili powder,

⅛ tsp. ground cinnamon,

⅛ tsp. ground nutmeg,

2 cups vegetable or chicken stock

Stir everything and cook on high for 3 to 4 hours or on low for 6 to 8 hours.

Remove the sage leaves, and pulse the butternut mixture using an immersion blender. Purée until smooth.

Add in the coconut milk and pulse until well blended.

½ cup canned coconut milk

Cook on high for another 20 minutes, season to taste, and serve.

Sea salt and freshly ground black pepper
Nutrition
Calories:
250
kcal
Carbohydrates:
47
g
Protein:
4
g
Fat:
8
g
Saturated Fat:
6
g
Polyunsaturated Fat:
0.3
g
Monounsaturated Fat:
0.3
g
Sodium:
525
mg
Potassium:
1045
mg
Fiber:
8
g
Sugar:
15
g
Vitamin A:
28418
IU
Vitamin C:
47
mg
Calcium:
131
mg
Iron:
2
mg