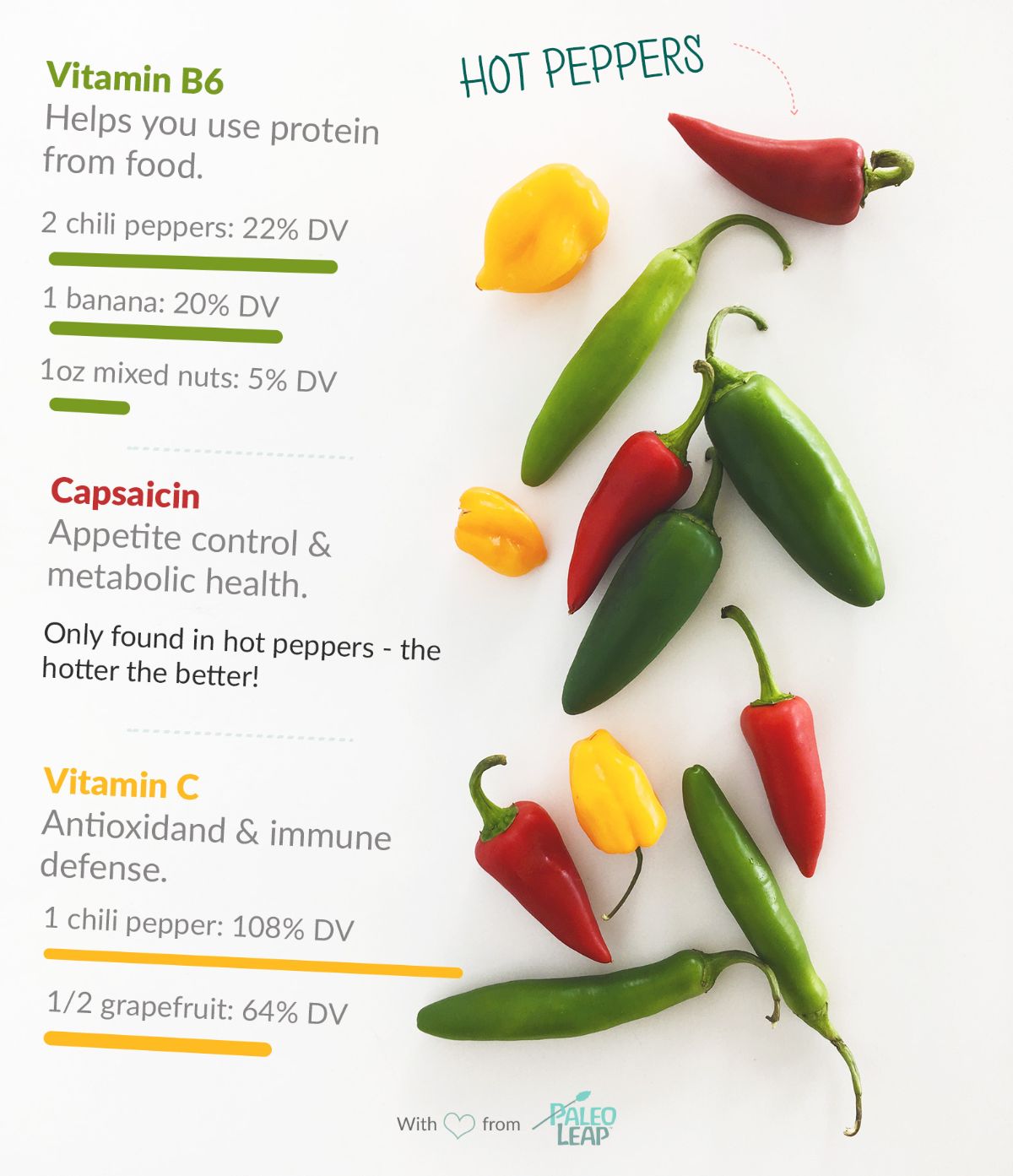 There's nothing quite like the mouth-burning fire of a good chili pepper - but did you know about all their nutritional benefits?
Nutrition Details
Chili peppers are also rich in capsaicin, the chemical that gives them their burning-hot flavor. In some studies (like this one and this one), capsaicin showed benefits for weight and metabolic health/insulin sensitivity.
The hotter the pepper, the more capsaicin it has.
Macros in Context
Here's how a serving of 2 chili peppers stacks up in the context of a typical Paleo meal:
Blue bars show the typical range in grams for a Paleo meal. For example, a Paleo meal usually includes 30-60 grams of fat, but where you personally fall in that range will depend on your preference.
Orange dots show how 2 chili peppers fit into the typical nutrient profile of a Paleo meal.

Buy It
Buy chilies fresh or dried, depending on how you want to use them.
VARIETIES: There are hundreds of varieties of hot chili peppers. Some of the most common are cayenne peppers, habanero chilis, and jalapeno peppers.
FRESH OR DRIED: Fresh chili peppers work well in salsa or appetizers. Dried peppers can add a rich chili flavor to soups and braises.
HEAT: The heat of chili peppers is measured in Scoville heat units (SHU). The more SHU, the hotter the pepper. Here are a few you might recognize:
Cook It
RAW
Chop into very small pieces and mix with other salsa ingredients for a spicy twist.
OVEN
Stuff jalapeno peppers with sausage, almond cheese, or another favorite filling and roast as appetizers or snacks (see recipes below).
GRILL
Chop peppers into small pieces and use as a marinade or steak, chicken, or pork before grilling.
SKILLET
Toss a few hot peppers into an omelet or frittatta for extra punch.
Recipe Ideas