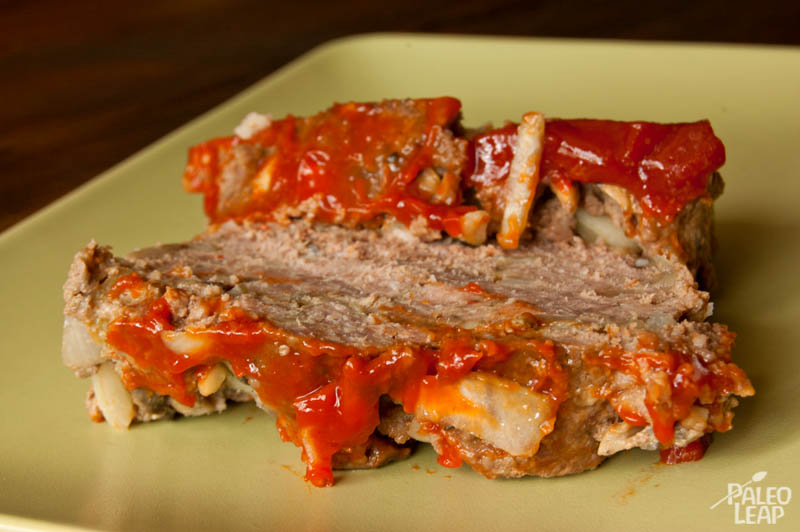 Meatloaf resonates some very fond memories for me. It takes me back to my childhood years at grandmother's, where life was so much more comfortable at times. For many, a meatloaf recipe will travel through many generations of a family, always remaining the same. I would love to say that this recipe originated decades ago in my family; however, if it did, it would contain ingredients such as flour and bread-crumbs, things not suitable for my health and a Paleo lifestyle.
When my cravings for meatloaf began, I immediately faced the challenge of finding ingredient(s) that I would be able to use that would act as the bonding agent for the loaf. In traditional recipes, these ingredients would most commonly be flour and eggs. As we know, there are many healthy substitutes to wheat flour that we could use successfully like almond or chestnut flour for example; however, I try as often as possible to avoid this, especially since I'm limiting my nut consumption. What I chose to use instead was mushrooms and it was quite successful! An egg and mushrooms was all that was needed to prepare a delicious and juicy meatloaf that would hold well together.
A sauce of homemade ketchup, honey and Worcestershire sauce was prepared to spread on top of the loaf while it was cooking to give it an extra touch of sweet and salty taste. Worcestershire sauce often contains some soy sauce and honey is high in fructose, but the amount used is small enough not to be an issue. If you'd prefer to stay away from those two items however or if you just don't have them handy in your kitchen, feel free to only use some homemade ketchup or other tomato based sauce to spread on the loaf for an equally pleasing result.
The meatloaf is quite filling by itself so it can simply be served with a light and simple salad on the side.
Meatloaf with mushrooms recipe
Serves 5

Values are per portion. These are for information only & are not meant to be exact calculations.
Ingredients
2 lb ground beef (you may substitute with ground pork)
1 ½ tsp sea salt
1/2 tsp ground black pepper
1 egg
1 medium onion, finely chopped
2 cups white button mushrooms, finely chopped
1/2 – 1 tsp chili pepper flakes, optional
3 tsp fresh thyme, minced
1 tsp fresh oregano, minced
3 cloves garlic, minced
½ cup homemade ketchup;
1 tbsp honey, optional
½ tbsp Worcestershire sauce, optional
1 tbsp paleo cooking fat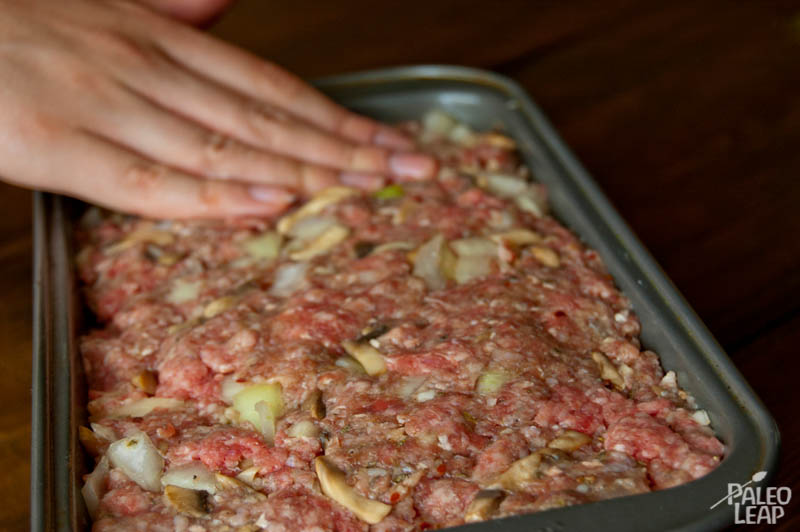 Preparation
Preheat your oven to 350 F.
In a medium-sized skillet placed over medium heat, melt the cooking fat, add the mushrooms and sauté for 2 to 3 minutes, or until soft.
In a large bowl, combine the meat, salt, pepper, egg, onion, mushrooms, chili pepper, thyme, oregano and garlic. Mix well, making sure to break-up the meat. Add the cooked mushrooms as well. It's very important that the mushrooms are evenly distributed to ensure the loaf bonds well.
Lightly grease loaf pan with additional cooking fat and fill it with the meat mixture. Place in the oven and cook for approximately 15 minutes.
Meanwhile, in a small bowl, combine ketchup, honey and Worcestershire sauce to make the sauce for the top of the meatloaf.
After cooking for 15 minutes, gently spread the sauce on the top of the loaf.
Continue cooking for another 40 minutes.