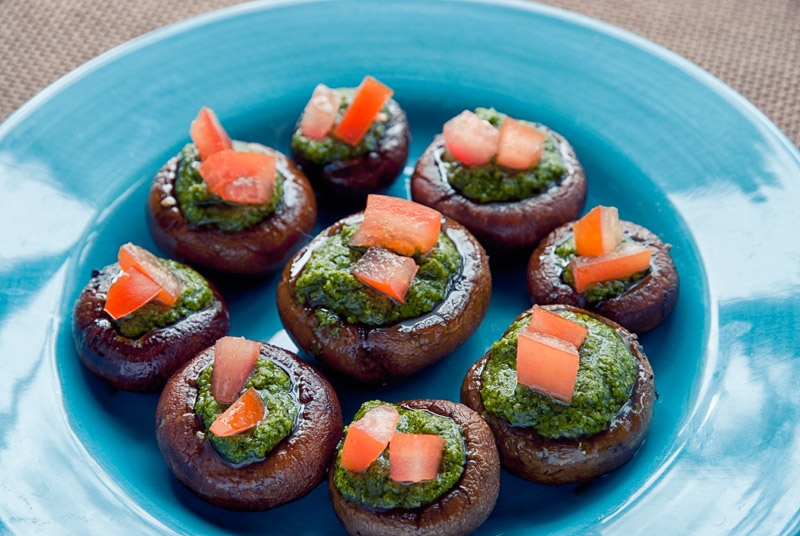 Pesto is a Paleo-friendly condiment boasting a fresh-from-the-garden taste, a solid dose of healthy fats, and an irresistible deep green color that just begs you to dig right in. But it also has a problem attached: what can you do with it that doesn't involve pasta?
One of many solutions: stuff it into mushrooms!
For this recipe, you can use either basic pesto or asparagus pesto (or any other favorite pesto recipe that you like to make). Once you have the pesto ready, the mushrooms are a breeze to cook up: a quick turn in the skillet softens them a little and brings out their flavor, and then they're ready to go. You can even make them in advance; just reheat them in the oven at 350 degrees for 10 minutes before you serve.
Between the pesto overflowing with basil and olive oil, the juicy ripe tomatoes, and the richer flavor of the mushrooms, this is an appetizer to go with any Italian-inspired food you can dream up. Why not follow it up with some porchetta? Or perhaps panzanella, if you'd prefer something slightly lighter after such a substantial first course. Alternately, just serve the mushrooms on their own as snack food or party nibbles: in a competition with chips and pretzels, these would definitely disappear first!
Pesto Stuffed Mushrooms

SERVES: 4

PREP: 10 min.

COOK: 10 min.

Values are per portion. These are for information only & are not meant to be exact calculations.
Ingredients
12 large crimini mushrooms, stems removed;
2 tbsp. extra-virgin olive oil;
Half a tomato, seeded and thinly diced;
¼ cup pesto;
Sea salt and freshly ground black pepper;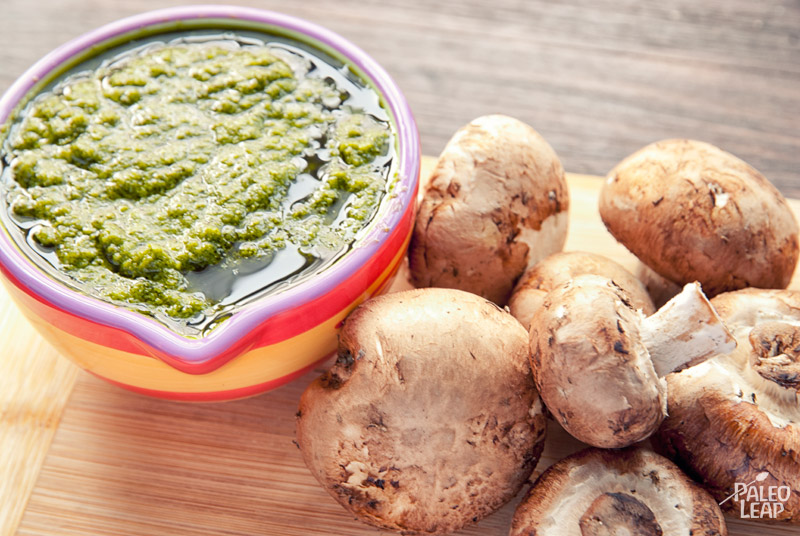 Preparation
Brush the mushrooms on both sides with olive oil and season with sea salt and black pepper to taste.
Heat a large skillet over a medium heat and cook the mushrooms 5 minutes on each side, or until just tender.
Fill each mushroom with about a teaspoon of pesto sauce.
Top with the diced tomato.
Serve immediately!