A 1982 guide to picking a pineapple starts off by calling it a "stately leaf-crowned, prickly-skinned fruit with [a] luxurious, juicy, sweet-sour interior" – that's a little hyperbolic, but fresh pineapple slices do make a nice dessert.
This ultra-simple preparation won't win you any prizes for the fanciest recipe in the house, but it's easy to stack the pineapple rings so that it looks elegant, and sometimes a plate of fresh fruit is all you really want for a quick dessert.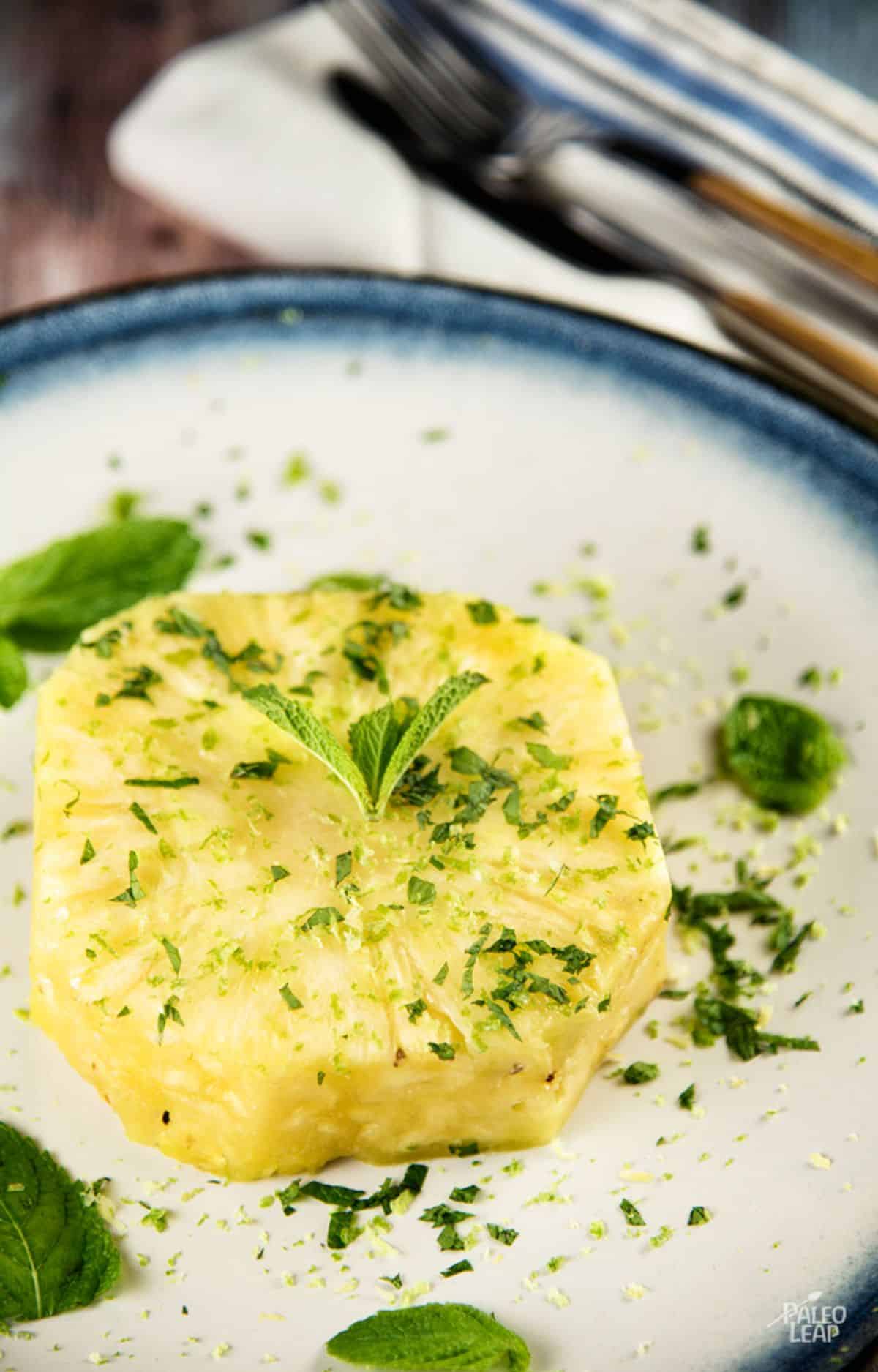 Nutritionally, the pineapple's biggest selling point is Vitamin C – if you make this recipe for four people, each person will get well over 100% of the RDA.
It's also got reasonable amounts of some of the B vitamins, potassium, magnesium, copper, and manganese. Being a tropical fruit, it's also relatively high in sugar, but if you're not on a very low-carb diet, you'll be fine.
This recipe would be a refreshing end to a big ribfest or another barbecue meal that gets a little heavy on fatty protein. Alternately, try it with brunch and watch it disappear: it's a nice alternative to mixed melons and a great way to add some color to the morning.
Pineapple with Lime and Mint Recipe
SERVES: 4 PREP: 15 min
Ingredients
1 fresh pineapple;
Zest and juice of 1 lime;
Fresh mint leaves, minced;
Preparation
Slice the top and bottom off of the pineapple. Stand the pineapple up, and slice the sides off.
Cut the pineapple into 4 thick slices.
Sprinkle the lime zest, lime juice, and minced mint over each pineapple slice and serve.
📖 Recipe
Pineapple with Lime and Mint Recipe
Juicy fresh pineapple slices go well with almost any meal, especially when they're dressed up with just a bit of mint and lime.
Instructions
Slice the top and bottom off of the pineapple. Stand the pineapple up, and slice the sides off.

Cut the pineapple into 4 thick slices.

Sprinkle the lime zest, lime juice, and minced mint over each pineapple slice and serve.

Zest and juice of 1 lime,

Fresh mint leaves
Nutrition
Calories:
113
kcal
Carbohydrates:
30
g
Protein:
1
g
Fat:
0.3
g
Saturated Fat:
0.02
g
Polyunsaturated Fat:
0.1
g
Monounsaturated Fat:
0.03
g
Sodium:
2
mg
Potassium:
247
mg
Fiber:
3
g
Sugar:
22
g
Vitamin A:
131
IU
Vitamin C:
108
mg
Calcium:
29
mg
Iron:
1
mg