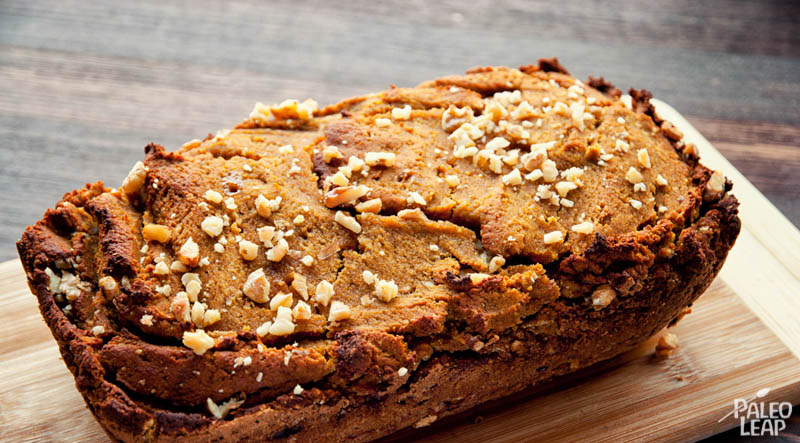 For those times when you want to come to the party with a traditional basket of baked goods, try your hand at this seasonal and delicious pumpkin banana bread! It's not the kind of food you'd eat every day for lunch, but it's a reasonable option for the times when you want something warm and doughy without the stomachache later. And it's tasty enough that even your non-Paleo friends might find they prefer it to the usual slew of store-bought cookies and coffee cake.
As with any grain-free bread, this one relies on some magic tricks of food science to really make it work, so you'll want to be cautious if you have to substitute any ingredients. Everything in the list is there to enhance the taste and texture of the bread, so changing the basic ingredients of the dough will inevitably change the result. Most importantly, you can skip the honey if you're trying to be really pure about sweeteners, but just remember that the recipe won't be quite the same. You can also choose between clarified butter (ghee) and almond butter: the almond butter will give the bread a more intensely nutty flavor, but the clarified butter makes the texture smoother.
That doesn't mean you can't adjust the recipe at all though: just do it with mix-ins instead of alterations to the dough. I suggested chopped pecans in the ingredients, but don't feel like you're limited to just that. Dark chocolate chips, dried cranberries, or any other type of nuts would also be good. Use a favorite standby, or take the chance to experiment with something new and different: one of the great advantages of baking at home is getting to customize crumb of the result. By creating your own unique combination, you're blowing the bakery section of Wal-Mart completely out of the water, not just in health value, but also in taste – and after all, isn't that really what treats are all about?
Pumpkin Banana Bread Recipe

1 BREAD

PREP: 15 min.

COOK: 45 min.

Values are per portion. These are for information only & are not meant to be exact calculations.
Ingredients
½ cup coconut flour;
½ cup almond flour;
½ cup very ripe banana, pureed;
½ cup pure pumpkin puree;
½ cup melted clarified butter or almond butter;
1 tsp. baking soda;
¼ cup raw honey;
4 eggs;
½ tsp. vanilla extract;
½ tsp. salt;
¾ cup pecans, chopped; (optional)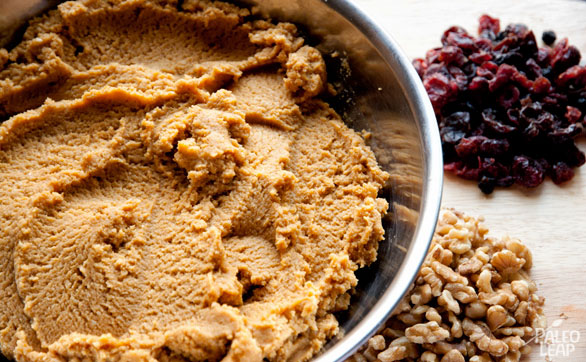 Preparation
Preheat your oven to 350 F.
In a large bowl, combine the almond flour, coconut flour, baking soda, and salt.
In a separate bowl combine the eggs, clarified butter, honey, ripe banana, pumpkin puree, and vanilla extract. Mix everything together until you get a smooth texture.
Pour the liquid ingredients into the dry ingredients and stir with a spoon until thoroughly combined. This is also a good time to add the chopped pecans if you're using them.
Pour the batter into a well-greased loaf pan and bake in the oven for about 45 minutes, or until a toothpick poked in the center comes out clean.
Let the pumpkin banana bread cool down for about 10 minutes before serving.