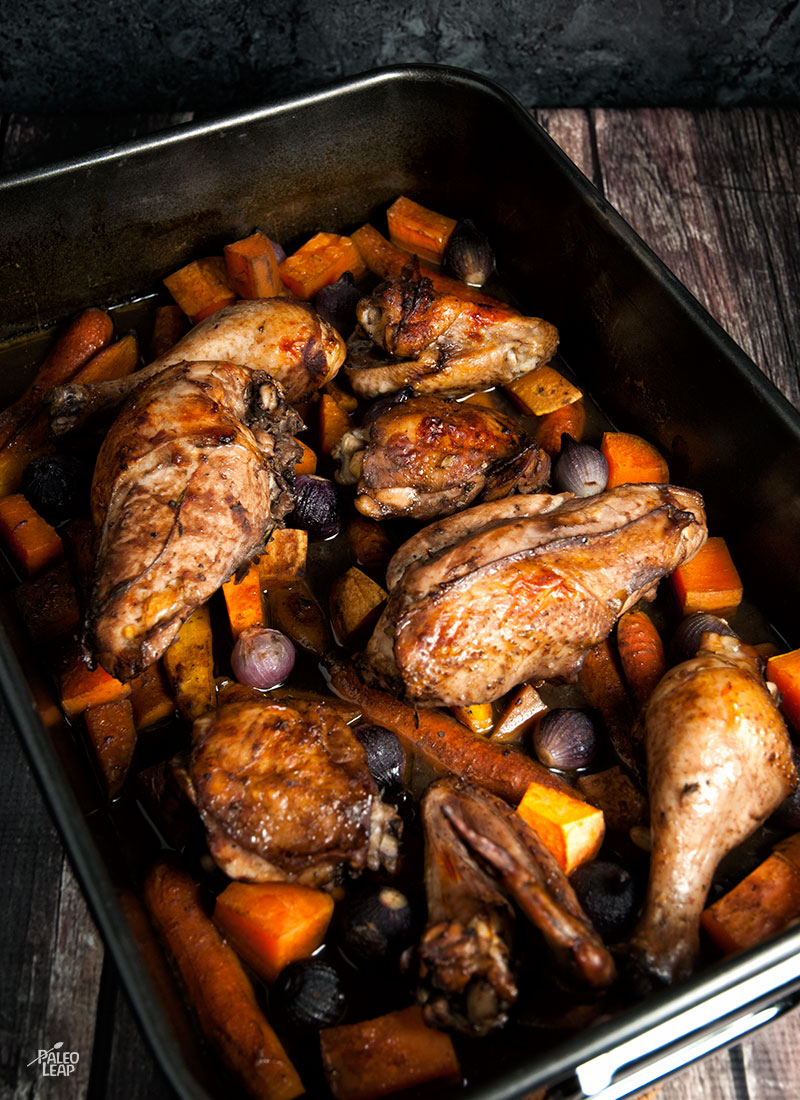 Here's some real comfort food for a rainy day: chicken roasted in a rich red wine sauce with savory vegetables and fresh herbs. You get the meat and the vegetables all in one pan, all soaked through with the same delicious flavors. And it's a nice way to use a whole chicken without having to actually roast the bird in one piece (if you don't have a whole bird, you could just as easily use any chicken parts you have – the recipe would work just as well with a package of thighs or legs).
Wine is a Paleo gray area, but if you're fine with having a little bit, this is definitely the way to do it. Red wine is full of antioxidants and other good stuff, so there's a strong case that it's a net positive for your health, especially considering that most of the alcohol cooks off while the chicken is in the oven. Just make sure you get good wine: cooking wine usually isn't great for cooking with because there's a huge amount of salt added, so much that it can easily ruin the flavor of the dish. It's basically a step down from vinegar: skip it and get a wine you'd drink.
This recipe makes one vegetable side right in the pan, but if you wanted another, an easy way to go would be a big leafy salad, to balance out the rich chicken and root vegetables with some fresh greens.
Red Wine Roast Chicken Recipe

SERVES: 4

PREP: 45 min.

COOK: 1 h.
Values are per portion. These are for information only & are not meant to be exact calculations.
Ingredients
1 whole chicken, cut into pieces;
2 sweet potatoes, peeled, and chopped;
3 onions, peeled and cut into quarters;
6 carrots, peeled and cut lengthways;
2/3 cup red wine;
4 tbsp. tomato paste;
3 sprigs of thyme, leaves picked off;
½ tsp. dried marjoram;
¼ cup. red wine vinegar;
Sea salt and freshly ground black pepper;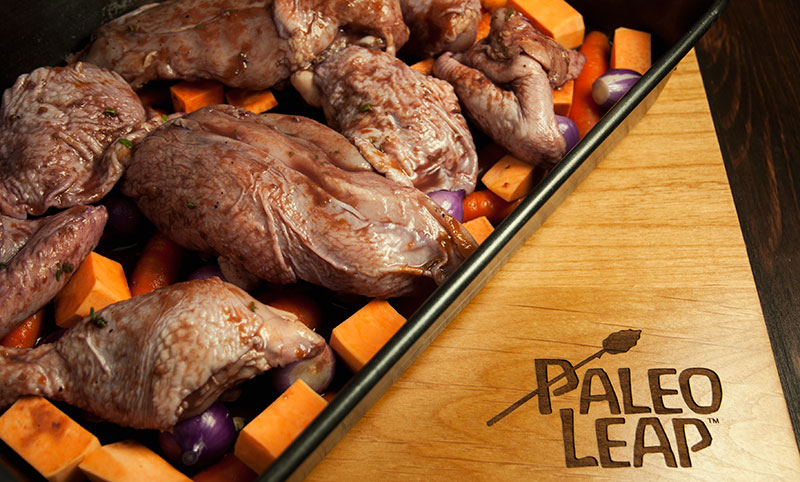 Preparation
Combine the red wine, tomato paste, thyme, marjoram, and red wine vinegar in a bowl.
Season each chicken piece with sea salt and black pepper to taste.
Place the chicken in a marinating dish (glass or plastic; no metal) with the wine mixture and marinate for at least 30 min.
Preheat your oven to 400 F.
Place the onions, carrots, and sweet potatoes in a baking dish, and pour ¼ cup of water over them.
Remove the chicken from the marinade and arrange the pieces, skin side up, on top of the vegetables.
Pour the remaining marinade over the chicken and vegetables.
Cover the whole pan with foil and roast in the oven 30 minutes.
Remove the foil and roast, uncovered, for another 30 to 45 minutes, basting every 15 minutes.