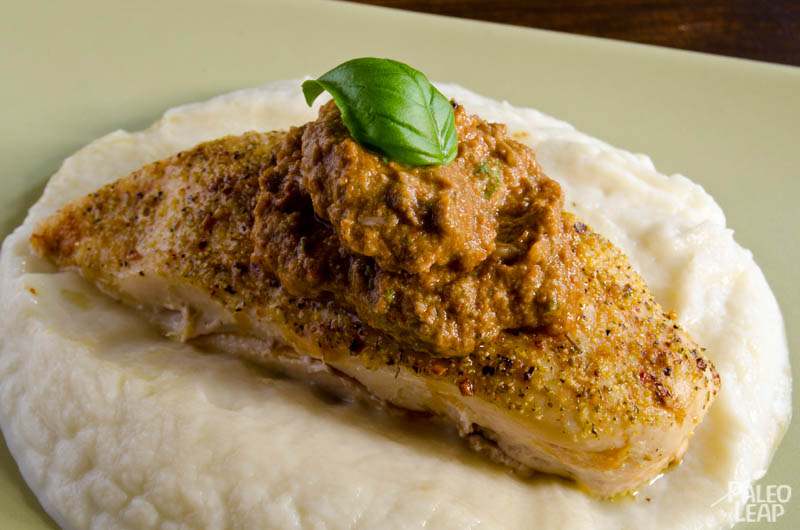 I made this dish without the intention of sharing it (hence the lack of more pictures); however, upon taking the first bite I knew I had to tell you all about it. It was one of those nights where I felt like making myself a comforting meal, but I was only willing to work with what I had in the fridge because going to the grocery store in search of ingredients was not an option. I knew it would be nothing special, but I had more than enough to work with to make something somewhat enjoyable.
I came up with the idea of making a cauliflower mash not too long ago when I was at a speciality food store that was selling frozen packages of the puréed vegetable. The idea was great, but in no way was I prepared to pay $7 for something that I could easily prepare myself at a fraction of the price. I then needed something to pair the vegetable with and the only meat option I had was chicken. Easy enough, as I figured I could season the chicken with some herbs and throw it in the oven. As much as this was all shaping together well, I felt like I needed a sauce or spread to have on the chicken for some additional flavor. It didn't take me long to decide on a pesto, as I have several basil plants growing at an unruly rate in my herb garden. In my mind, basil and sun-dried tomatoes makes for a perfect combo.
I prepared this recipe for myself only so I only cooked 1 chicken breast, but you can prepare as much as you'd like at once. Here I divided the three recipes, but the best way to prepare the whole dish is to place the chicken in the oven and prepare the cauliflower mash and sundried tomato pesto while the chicken is cooking.
This is a simple Paleo dish that everyone will enjoy very much and that you'll probably prepare time and time again. The cauliflower mash is a perfect addition of healthy carbohydrates and a good alternative to the good old sweet potato mash.
Roast Chicken with Sun-dried Tomato Pesto & Cauliflower Mash Recipe
Serves 1
Values are per portion. These are for information only & are not meant to be exact calculations.
Ingredients
1 boneless skinless chicken breast;
2 tbsp Paleo cooking fat;
A pinch or two of your favorite dried herbs;
Sea salt and freshly cracked black pepper to taste;
Roast Chicken Preparation
Preheat your oven to 375 F.
Place the chicken breast in baking dish and pierce the meat with a fork on both sides. Drizzle with the cooking fat and season with salt, peppers and dried herbs.
Bake for 35 to 45 minutes, or until the juices run clear.
Ingredients for the cauliflower mash (serves 4)
1 head cauliflower;
1/4 cup Paleo cooking fat;
1/4 cup coconut milk;
2 cloves garlic, minced;
Sea salt and freshly cracked pepper to taste;
Cauliflower mash preparation
Bring a large pot of water to a boil.
Cut the cauliflower into florets. Place in the boiling water and cook for anywhere from 10 to 15 minutes, until the cauliflower is tender. Check this by poking it with a fork.
Strain the cauliflower from the water and place back into the pot. Add the cooking fat, coconut milk, garlic, salt and pepper. Mash the mixture by using a hand blender, or pour everything into a blender. Blend until smooth in texture.
Sun-dried Tomato Pesto Recipe
Note: Make sure you buy a variety of sundried tomatoes that comes packed with healthy ingredients like extra-virgin olive oil ans herbs only. Avoid any brand that comes packed in a vegetable seed oil.
Serves 4
Ingredients for the sun-dried tomatoes
1 cup fresh basil;
1/2 cup sundried tomatoes;
1/4 cup walnuts;
2 cloves garlic;
Juice of 1/2 a lemon;
A pinch of red pepper flakes;
1/2 tsp sea salt;
1/4 cup oil from the sundried tomatoes;
Sun-dried tomatoes preparation
Place all the ingredients into a blender and blend until smooth.
Taste prior to serving to gauge if it requires more of any ingredient.
Smear atop the chicken breast to serve.