Some of us prefer a fresh, cold salad; others like vegetables that have been cooked. Why not try both? In this dish, a roasted vegetable medley tops your choice of mixed greens to create a salad bowl that's as unique as it is delicious.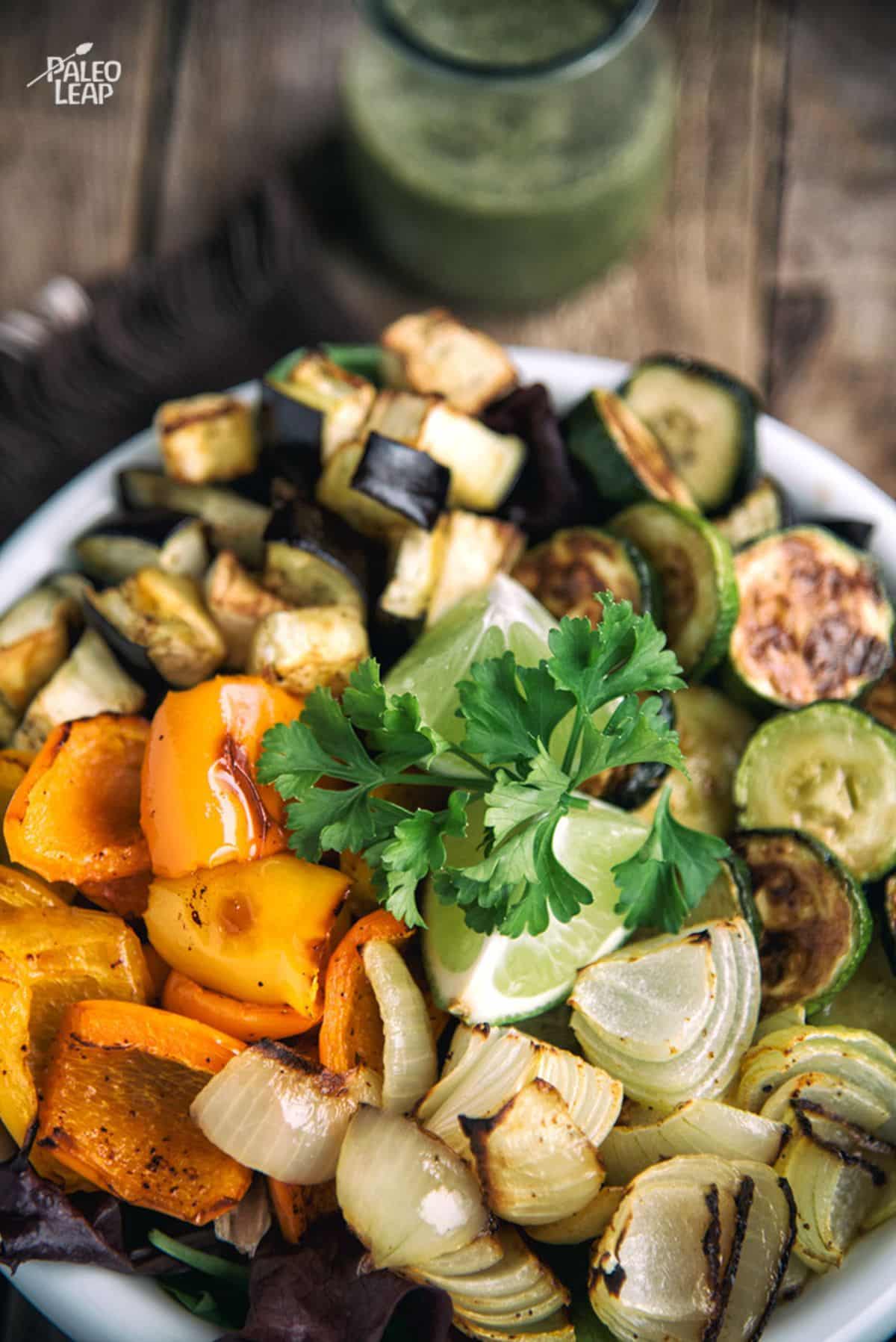 By adding a drizzle of homemade cilantro dressing, you'll have a salad that's an all-around treat for lunch or to add to a dinnertime meal. This salad shows once again that Paleo doesn't always mean including a meat protein – in fact, if you follow the ingredients list below, you'll have a vegan dish.
There's a bit of flexibility in the preparation of this salad. For one, you can pre-roast your vegetable medley and pre-make your dressing – this means you can quickly throw this salad together at the office versus going out for something that's way too expensive for what you get.
For your mixed greens, choose whatever best suits your taste! We love ingredients like kale and baby spinach, but if you're feeling adventurous, consider a green you may not have heard of before. Also, like any salad, customize your veggies based on taste and dietary requirements.
If you're finding this salad lacking in the fat or protein department, try adding some sliced avocado to add some extra fat, or take a look at the Cumin and Paprika Chicken Drumsticks – just pre-cook and cut off the bone to add to your salad. For dinner, try serving this salad with Carne Asada.
Roasted Vegetable Salad With Cilantro Dressing Recipe
Serves: 4 Prep: 20 min Cook: 25 min
Ingredients
1 zucchini, sliced;
1 small eggplant, diced;
1 onion, diced;
1 bell pepper, diced;
6 to 8 cups mixed greens;
3 tbsp. olive oil;
2 tbsp. fresh lime juice;
½ tsp. cumin;
Sea salt and freshly ground black pepper;
Ingredients for the Cilantro Dressing
1 cup fresh cilantro leaves;
½ cup almond or coconut milk;
¼ cup water;
2 garlic cloves, minced;
Juice and zest of 1 lime;
Sea salt and freshly ground black pepper;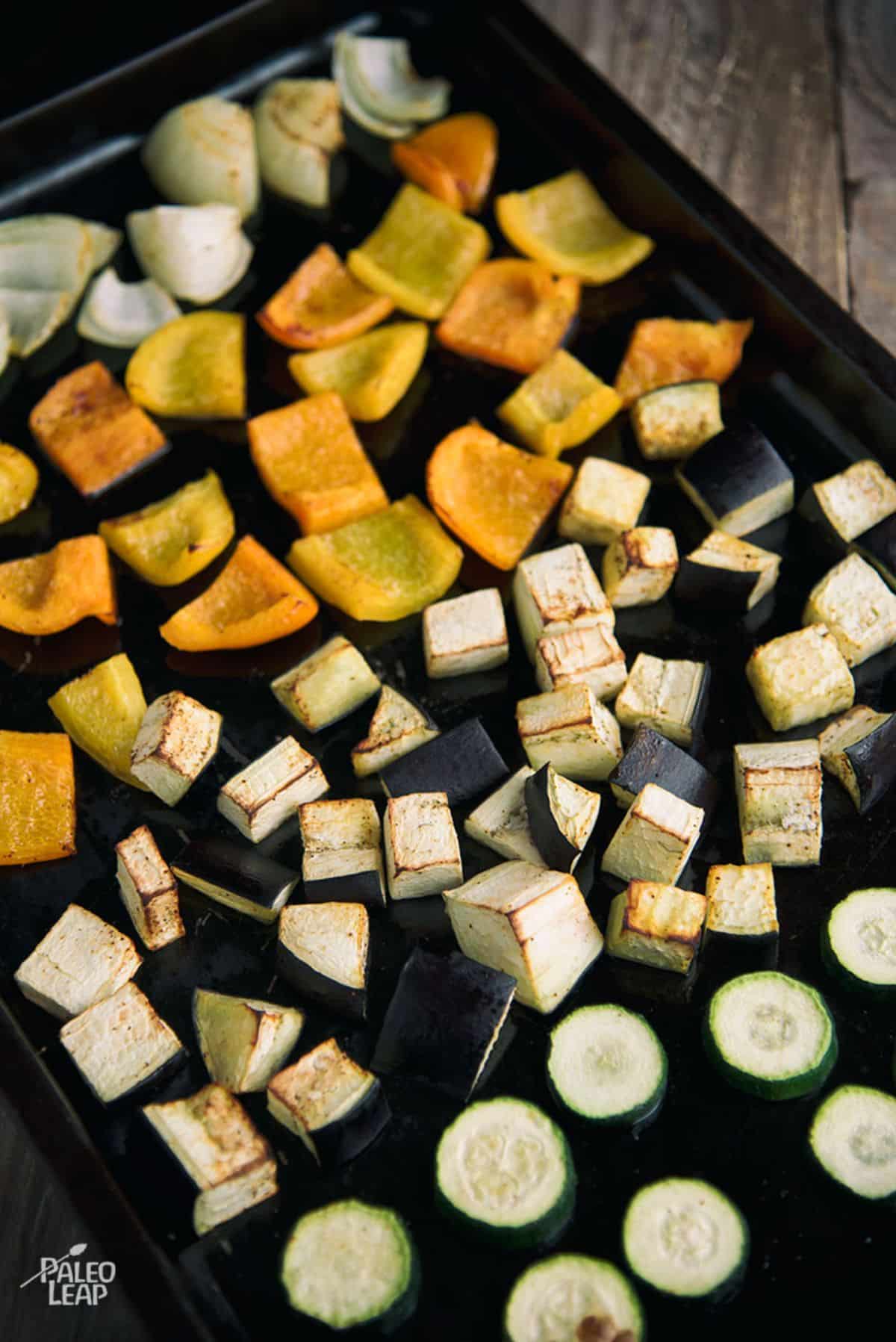 Preparation
Preheat oven to 400 F.
In a bowl, combine vegetables (except mixed greens), olive oil, lime juice, and cumin; season with salt and pepper to taste.
Toss everything until well combined.
Place the vegetables on a baking sheet and cook for 15 to 20 minutes in the oven.
Place all the ingredients for the cilantro dressing in a blender, season with salt and pepper to taste, and pulse until smooth.
Place the mixed greens in a salad bowl, top with the roasted vegetables, drizzle with the cilantro dressing, and gently toss.
📖 Recipe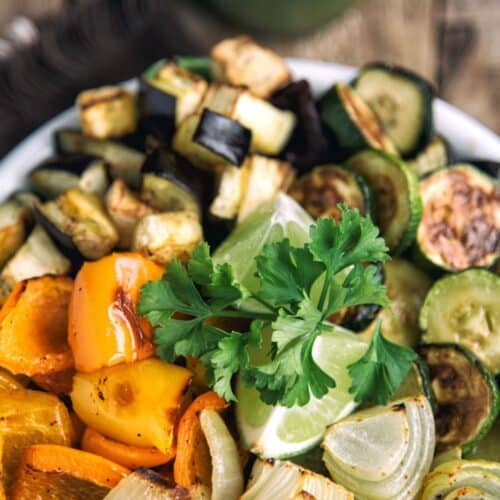 Roasted Vegetable Salad With Cilantro Dressing Recipe
This recipe combines a simple mixed green base with a wow-worthy roasted veggie medley - healthy and delicious!
Instructions
Preheat oven to 400 F.

In a bowl, combine vegetables (except mixed greens), olive oil, lime juice, and cumin; season with salt and pepper to taste.

1 zucchini,

1 small eggplant,

1 onion,

3 tbsp. olive oil;,

2 tbsp. fresh lime juice;,

½ tsp. cumin;,

Sea salt and freshly ground black pepper;,

1 bell pepper

Toss everything until well combined.

Place the vegetables on a baking sheet and cook for 15 to 20 minutes in the oven.

Place all the ingredients for the cilantro dressing in a blender, season with salt and pepper to taste, and pulse until smooth.

1 cup fresh cilantro leaves;,

½ cup almond or coconut milk;,

¼ cup water;,

2 garlic cloves,

Juice and zest of 1 lime;,

Sea salt and freshly ground black pepper;

Place the mixed greens in a salad bowl, top with the roasted vegetables, drizzle with the cilantro dressing, and gently toss.

6 to 8 cups mixed greens;
Nutrition
Calories:
229
kcal
Carbohydrates:
18
g
Protein:
4
g
Fat:
18
g
Saturated Fat:
7
g
Polyunsaturated Fat:
1
g
Monounsaturated Fat:
8
g
Sodium:
31
mg
Potassium:
716
mg
Fiber:
5
g
Sugar:
8
g
Vitamin A:
2074
IU
Vitamin C:
70
mg
Calcium:
52
mg
Iron:
3
mg