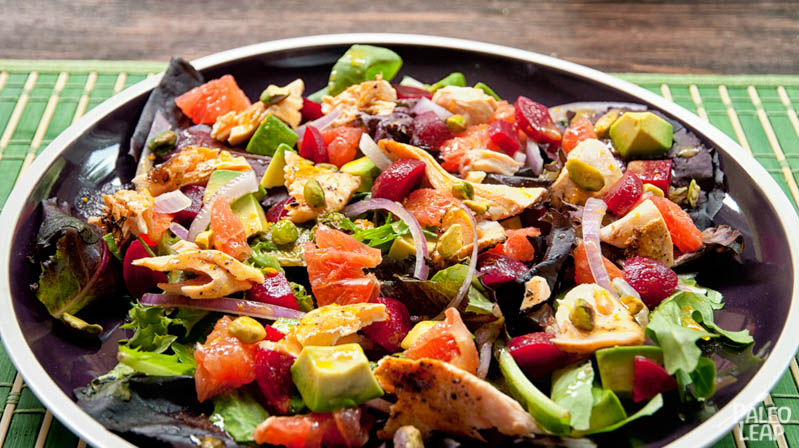 Take just one bite of crisp red onions, smoky roasted beets, and spicy vinaigrette, and you'll be hooked for good on this gorgeous, colorful salad. It's a delicious way to get extra mileage out of any leftover salmon and vegetables, or use canned salmon instead for a quick, no-cook lunch on a busy afternoon.
The ingredients list below calls for cooked beets – ½ cup is around 1 large beet or 2 small ones, but buy more, because when you smell them in the oven, you'll want to eat some right away. The easiest way to cook them is to simply toss them on a baking pan and roast them at 400 degrees until they're soft and tender (1-1 ½  hours, depending on the size of your beets). You don't even have to wrap them in foil, and in fact the flavor is even better if you don't. Enjoy some hot roasted beets for dinner, and keep a few aside to make this salad the next day.
I would advise buying unsalted pistachio nuts for this salad. As always, you'll also want to be picky about the orange juice, and go for a "clean" brand without any added sugar (or better yet, squeeze your own straight from the fruit). While it's not healthy to drink fruit juice instead of water, using a little bit in a dressing is nothing to worry about, and the hint of sweetness really brings out the spicy and savory flavors from the other ingredients
Salmon and Beet Salad Recipe

SERVES: 2

PREP: 10 min.

Values are per portion. These are for information only & are not meant to be exact calculations.
Ingredients
6 oz. cooked or canned salmon, flaked;
3 cups lettuce;
1/4 avocado, diced;
1/2 grapefruit or 1 large orange, roughly chopped;
1/4 small red onion, thinly sliced;
1/2 cup cooked beets, diced;
10 pistachio nuts, shelled and chopped;
Ingredients for spicy dressing
1 tbsp. extra-virgin olive oil;
2 tbsp. fresh orange juice;
2 tsp. white wine vinegar;
1/2 tsp. orange zest;
1/2 tsp. Dijon or homemade mustard;
½ or ¼ tsp. chili powder;
Sea salt and freshly ground black pepper to taste;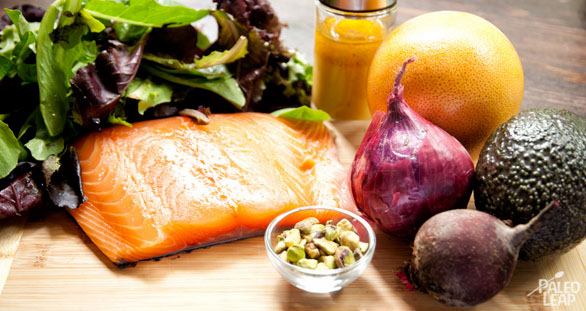 Preparation
In a small bowl combine all the ingredients for the dressing and whisk until smooth. Season to taste.
In a large bowl, combine the salmon, lettuce, avocado, grapefruit or orange, onion, and beets.
Drizzle the dressing on top of the salad and toss well.
Sprinkle the pistachio on top of the salad and serve.