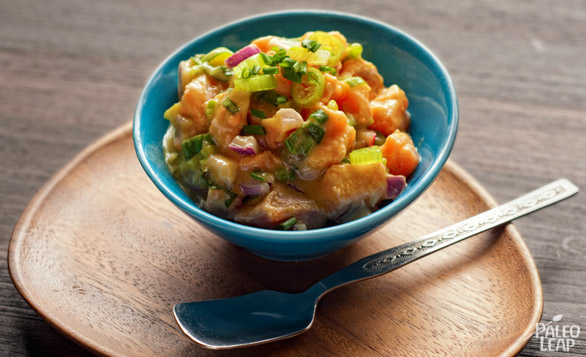 Tartare is traditionally made from raw beef or horse meat, but over the years tartare has evolved beyond just raw beef and is now made with a variety of other type of meat like salmon, tuna, venison, lamb, goat and many more. Tartare can be a frightening endeavour to some because of its use of raw meat. In this recipe nothing is cooked, it's all only fresh ingredients combined together. Needless to say that, since you'll be working with raw meat, it's really important to make sure to buy the freshest fish and to wash your hands after handling the fish.
It's always better to tell your butcher or your fishmonger about your intentions to prepare tartare. They'll usually give you the freshest meat in stock and they'll let you know if it has been previously frozen. It's a good idea to freeze the fish before doing anything because as it will kill the bacteria on the surface of the fish so that why you wouldn't want to buy fish that has been previously frozen. You don't want to freeze any fish or meat twice. If you really don't like the idea of eating raw fish, you can always cook it for a few minutes before combining all the ingredients, making sure not to overcook it. I've done this before myself and it won't be the same, but it will still taste great.
Since everything is raw and cold, it gives this recipe a fresh and light taste that's unmatched. It's a great appetizer to serve to friends before a meal. It's also perfect as a main course alongside a simple salad.
I wouldn't suggest preparing this recipe too much in advance since there's some lemon juice used that could start actually cooking the fish. If you do prepare it in advance, simply wait at the last minute before adding the lemon juice. What I occasionally like to do is to prepare everything in advance separately and combine everything 15 to 20 minutes before serving since it requires some time in the freezer. As opposed to a ceviche, where a larger amount of lime or lemon juice is used to basically cook the fish, a tartare is completely raw. Here some lemon juice is used, but only for taste. I'll soon as post a recipe for a great ceviche and you'll get to see how an acid like lime or lemon juice can basically cook the fish.
Salmon is always a fantastic fish to work with. I simply love it and especially when it's when prepared with a great combination of spices and herbs, as in this recipe. Wild salmon is also very nutritious and a really good source of selenium, omega-3 fat and vitamin D.
Salmon tartare with fresh herbs  recipe

SERVES: 4

PREP: 20 min.

 FREEZE: 15-20 min.

Values are per portion. These are for information only & are not meant to be exact calculations.
Ingredients
1 lb. wild salmon filet, skinless;
1 tbsp. chives, minced;
1 tbsp. fresh basil, minced;
½ red onion, minced;
2 green onions, minced;
1-2 tbsp. capers;
¼ cup extra-virgin olive oil;
Juice from a fresh lemon;
1 tbsp. Dijon or homemade mustard;
Sea salt and freshly ground black pepper to taste;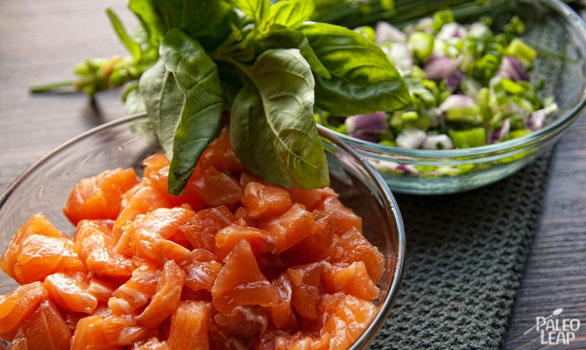 Preparation
Cut the salmon filet into small cubes of about ¼ inches. Store in the refrigerator.
In a small bowl, combine all the herbs and vegetables: the chives, basil, red onion, capers and green onions.
In a big bowl, add the olive oil, the mustard and the lemon juice. Combine well with a whisk.
Add the herbs and vegetables to the vinaigrette and combine well.
Add the salmon to the bowl and combine well again. Season with sea salt and freshly ground black pepper to taste.
Place the bowl in the freezer for 15 to 20 minutes, until very cold, but not frozen.
Place in small bowls to serve and add some fresh herbs on top to create a great presentation.