A recipe born from the vibrant mix of French, Spanish, African, and Native American cultures in southern Louisiana, gumbo is a thick, hearty soup cooked long and slow.
Traditionally, a gumbo recipe features meat, tomatoes, okra, and a widely varying mix of other vegetables, depending on what the cook has available.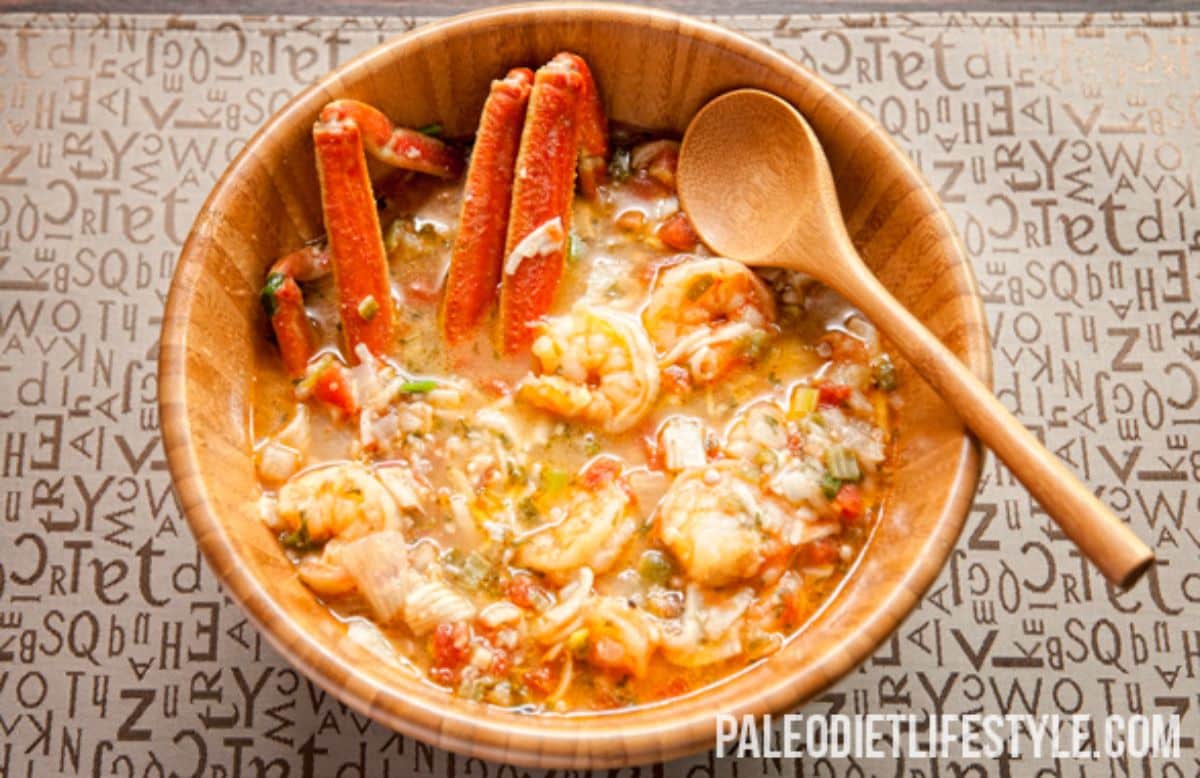 In this recipe, the selection of seafood is also up to your discretion: add whatever you think tastes good or anything you have on hand and need a recipe for.
One reason why the finished soup is so rich and savory is the roux, a thickener traditionally made from flour and butter. Here, I used duck fat, almond flour, and coconut flour, but you could also use any other combination of fat and flour – lard, tallow, butter, or coconut oil would also be fine.
Gumbo is one of those recipes that's easy to double or triple without much extra work – you'll just need bigger pots and pans. That makes it a great recipe for a potluck dinner or another social event where you have to cook for a crowd.
It's also a perfect candidate for a big batch recipe that you can freeze in portion-sized containers for quick reheating later on a busy night: easy, economical, and, most importantly, delicious!
Seafood Gumbo Recipe
Serves: 6 Prep: 20 min Cook: 50 min
Ingredients
2 lb. shrimp;
1 cup oysters;
1 cup crab meat;
Crab claws;
2 onions, chopped;
2 cups okra, chopped;
2 tbsp. Coconut oil;
1 can (14.5 ounces) diced tomatoes;
3 cloves garlic, minced;
6 green onions, finely chopped;
6-cup of water;
1 tbsp. cayenne pepper;
⅓ cup fresh parsley, finely chopped;
Sea salt and freshly ground black pepper;
Roux Ingredients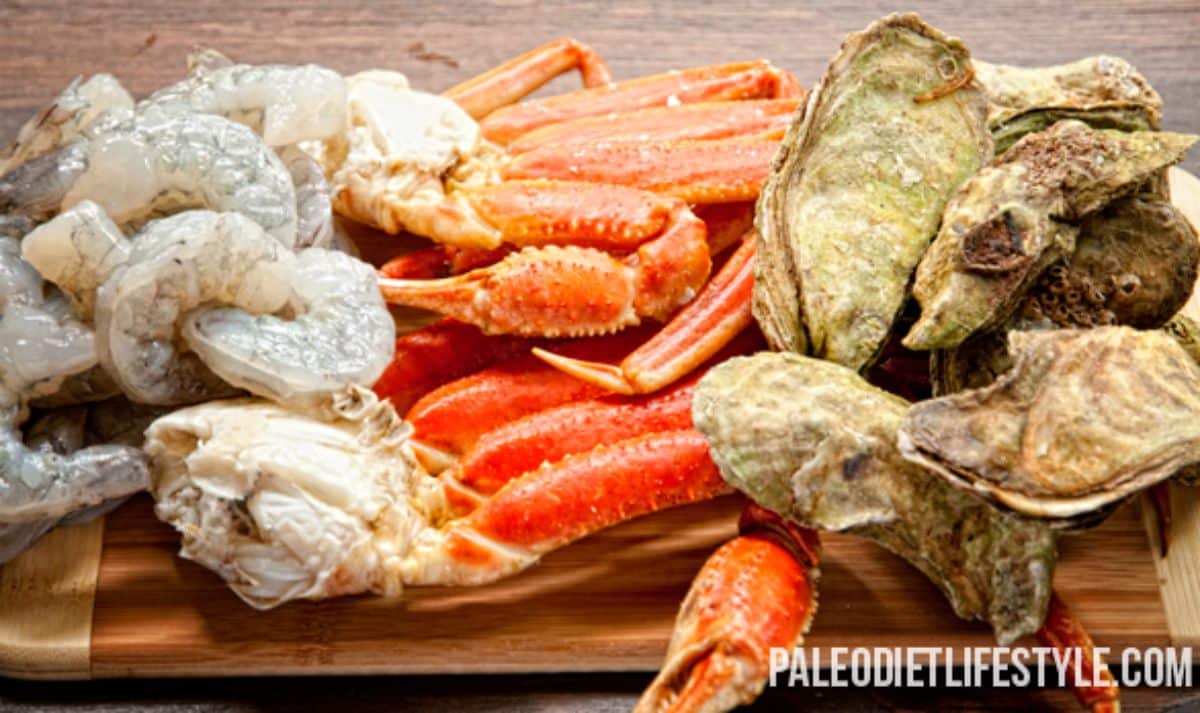 Preparation
Over medium-high heat, melt ½ cup of cooking fat. Whisk in the coconut and almond flour, and stir until you get a nice dark caramel color.
Add the shrimp to the mixture, cook for a few minutes, and then set aside.
In a big soup pot over medium-high, heat up the coconut oil. Toss in the onions and okra and cook for about 4 to 5 minutes or until the okra is done.
Once the okra is nicely browned, add the diced tomatoes and garlic. Cook for a minute or two, then add the water and season to taste.
Add the shrimp mixture to the soup and let it simmer for 10 minutes.
Add the crab meat, the oysters, and the crab claws, and simmer for another 15 minutes.
Add the parsley and green onions and simmer for 15 to 20 minutes or until everything is nicely cooked.
📖 Recipe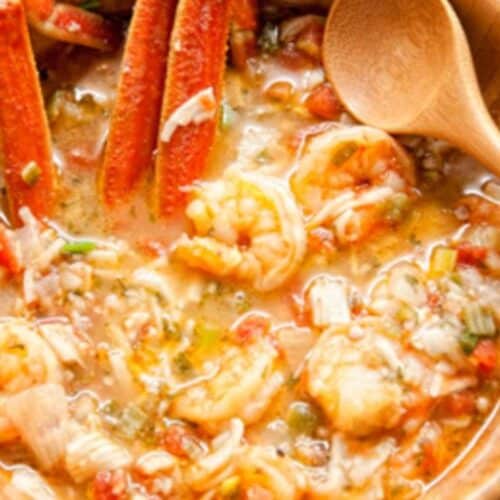 Seafood Gumbo Recipe
A rich and satisfying taste of the Louisiana bayou: seafood stewed up with a flexible combination of vegetables.
Instructions
Over medium-high heat, melt ½ cup of cooking fat. Whisk in the coconut and almond flour, and stir until you get a nice dark caramel color.

½ cup Paleo cooking fat,

5 tbsp. coconut flour,

5 tbsp. almond flour

Add the shrimp to the mixture, cook for a few minutes, and then set aside.

In a big soup pot over medium-high, heat up the coconut oil. Toss in the onions and okra and cook for about 4 to 5 minutes or until the okra is done.

2 onions,

2 cups okra,

2 tbsp. Coconut oil

Once the okra is nicely browned, add the diced tomatoes and garlic. Cook for a minute or two, then add the water and season to taste.

1 can,

3 cloves garlic,

6- cup of water,

Sea salt and freshly ground black pepper,

1 tbsp. cayenne pepper

Add the shrimp mixture to the soup and let it simmer for 10 minutes.

Add the crab meat, the oysters, and the crab claws, and simmer for another 15 minutes.

1 cup oysters,

Crab claws,

1 cup crab meat

Add the parsley and green onions and simmer for 15 to 20 minutes or until everything is nicely cooked.

6 green onions,

⅓ cup fresh parsley
Nutrition
Calories:
881
kcal
Carbohydrates:
18
g
Protein:
126
g
Fat:
39
g
Saturated Fat:
8
g
Polyunsaturated Fat:
6
g
Monounsaturated Fat:
13
g
Trans Fat:
0.1
g
Cholesterol:
1737
mg
Sodium:
5606
mg
Potassium:
318
mg
Fiber:
8
g
Sugar:
4
g
Vitamin A:
1673
IU
Vitamin C:
21
mg
Calcium:
706
mg
Iron:
13
mg