For the discerning takeout lover, life without pad Thai is not an option – something about that crunchy, spicy, nutty pile of thin-sliced vegetables and scrambled eggs is just too delicious to give up.
Unfortunately, restaurant pad Thai is usually cooked in some pretty cheap and low-quality oil, the peanut sauce is not Paleo, and the huge pile of noodles under the good stuff is definitely not a healthy choice.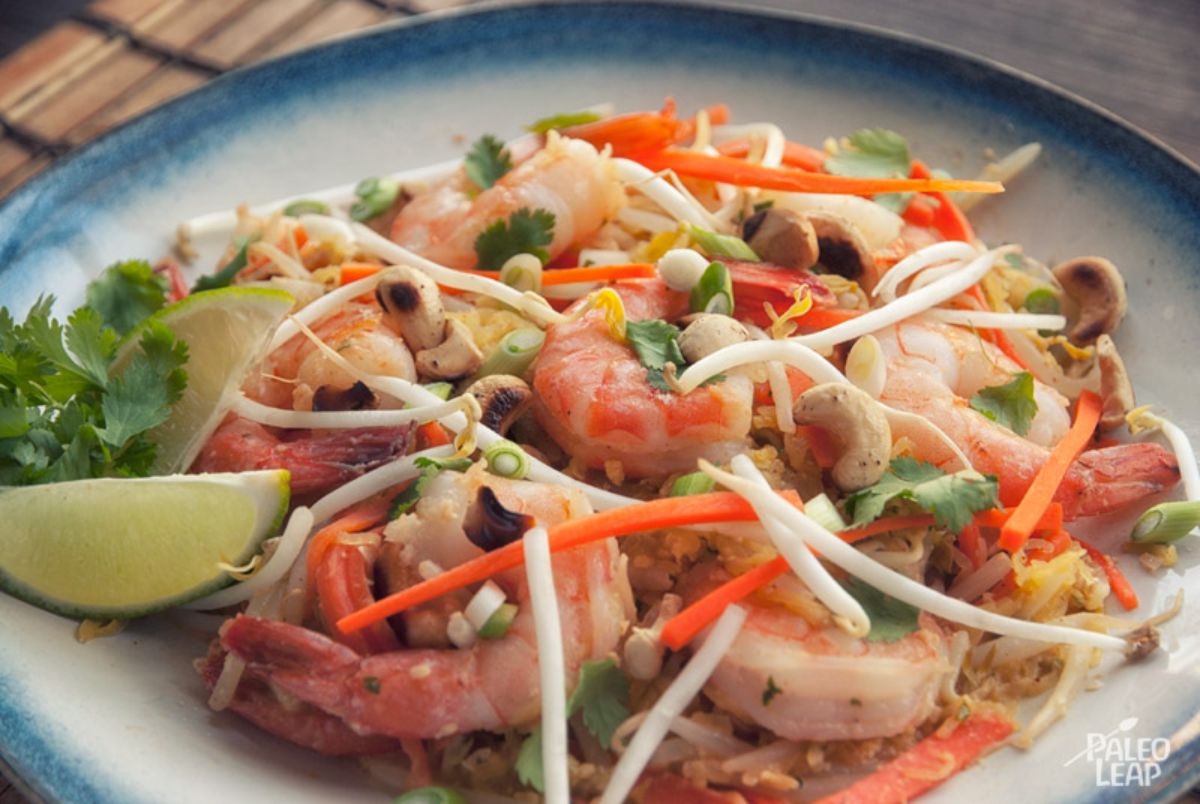 You don't have to abandon your favorite lunch treat when you go Paleo, though: here's a healthy recipe that's just as delicious but without the junk.
I used almond butter for the sauce instead of peanut butter, healthy cooking fat instead of recycled seed oils, and drained spaghetti squash for the "noodles."
A bold mixture of spices, ginger, and lime juice finishes everything off with a zing, and the result is a delicious one-pan meal that tastes even better than the takeout you remember!
I used roasted cashews to garnish the whole dish, but you could also use any other type of nuts you like or even leave them out entirely since the sauce already has almond butter.
The one other ingredient that might raise some eyebrows is the bean sprouts. Beans aren't Paleo, but the mung bean sprouts that you can buy in the supermarket are mostly water, with a vanishingly low amount of anti-nutrients.
They're a little like green beans: technically "beans," but practically, you can think of them as vegetables.
This pad Thai would be a cute and much-appreciated gift for someone struggling to find time to cook: whip up a batch, stuff it into some takeout containers (you can buy them online for almost nothing), and "deliver" it to their door.
It's a delicious and healthy way to brighten anyone's day. Just be sure to make enough for yourself as well – once you hear the shrimp hit the pan and smell the flavors coming together, you'll be sure to want a bowl too!
Shrimp Pad Thai Recipe
SERVES: 4 PREP: 10 min COOK: 50 min
Ingredients
1 spaghetti squash, cut in half, and seeds removed;
1 lb. raw shrimp, peeled and deveined;
2 shallots, minced;
3 cloves garlic, minced;
1 tsp. fresh ginger, minced or grated;
3 cups mung bean sprouts;
1 cup carrots, julienned;
2 eggs, lightly beaten;
4 green onions, sliced;
Juice of 1 lime;
2 tbsp. fish sauce or coconut aminos;
2 tbsp. raw honey; (optional)
1 tbsp. chili sauce; (optional)
2 tbsp. almond butter;
3 tbsp. coconut oil;
¼ cup chopped roasted nuts; (optional)
¼ cup fresh cilantro, chopped;
Sea salt and freshly ground black pepper to taste;
Preparation
Preheat your oven to 400 F.
Brush the inside flesh of the squash with 1 tbsp. of the melted coconut oil. Place both halves in the oven on a baking sheet, skin side up, and roast for about 40 min.
When cool enough the handle, break the flesh apart with a fork to get the spaghetti squash "noodles".
In a small saucepan placed over low heat, warm up the lime juice, fish sauce, honey, chili sauce, and almond butter. Mix everything together in the pan until smooth.
In a skillet, melt some coconut oil over medium-high heat. Add the shrimp, cook for 3 to 4 minutes, and set aside.
Add the shallots, garlic, and ginger, and sauté for two more minutes.
Add the bean sprouts and carrots, and cook for another minute.
Pour the eggs into the center of the skillet, scramble, and combine with the vegetables.
Add in the spaghetti squash, almond butter sauce, green onions, cilantro, and season with salt and pepper to taste. Give everything one last big stir, garnish with the roast nuts, if using, and serve hot.
📖 Recipe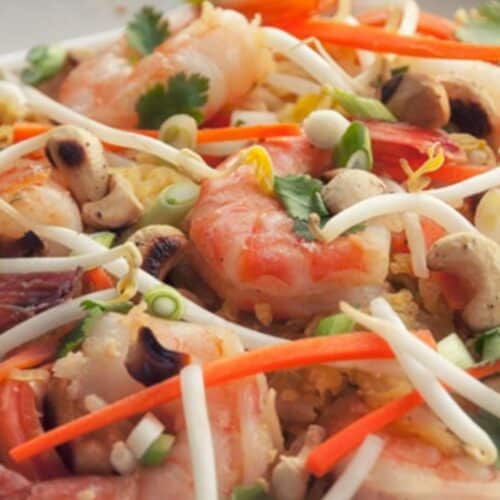 Shrimp Pad Thai Recipe
A dream come true for the pad Thai lovers: a Paleo variation that tastes just as irresistible as the original.
Ingredients
1

spaghetti squash

cut in half, and seeds removed

1

lb.

raw shrimp

peeled and deveined

2

shallots

minced

3

cloves

garlic

minced

1

tsp.

fresh ginger

minced or grated

3

cups

mung bean sprouts

1

cup

carrots

julienned

2

eggs

lightly beaten

4

green onions

sliced

Juice of 1 lime

2

tbsp.

fish sauce or coconut aminos

2

tbsp.

raw honey

optional

1

tbsp.

chili sauce

optional

2

tbsp.

almond butter

3

tbsp.

coconut oil

¼

cup

chopped roasted nuts

optional

¼

cup

fresh cilantro

chopped

Sea salt and freshly ground black pepper to taste
Instructions
Preheat your oven to 400 F.

Brush the inside flesh of the squash with 1 tbsp. of the melted coconut oil. Place both halves in the oven on a baking sheet, skin side up, and roast for about 40 min.

1 spaghetti squash,

3 tbsp. coconut oil

When cool enough the handle, break the flesh apart with a fork to get the spaghetti squash "noodles".

In a small saucepan placed over low heat, warm up the lime juice, fish sauce, honey, chili sauce, and almond butter. Mix everything together in the pan until smooth.

Juice of 1 lime,

2 tbsp. fish sauce or coconut aminos,

2 tbsp. raw honey,

1 tbsp. chili sauce,

2 tbsp. almond butter

In a skillet, melt some coconut oil over medium-high heat. Add the shrimp, cook for 3 to 4 minutes, and set aside.

Add the shallots, garlic, and ginger, and sauté for two more minutes.

2 shallots,

3 cloves garlic,

1 tsp. fresh ginger

Add the bean sprouts and carrots, and cook for another minute.

3 cups mung bean sprouts,

1 cup carrots

Pour the eggs into the center of the skillet, scramble, and combine with the vegetables.

Add in the spaghetti squash, almond butter sauce, green onions, cilantro, and season with salt and pepper to taste. Give everything one last big stir, garnish with the roast nuts, if using, and serve hot.

4 green onions,

¼ cup chopped roasted nuts,

¼ cup fresh cilantro,

Sea salt and freshly ground black pepper to taste
Nutrition
Calories:
461
kcal
Carbohydrates:
39
g
Protein:
27
g
Fat:
25
g
Saturated Fat:
11
g
Polyunsaturated Fat:
4
g
Monounsaturated Fat:
7
g
Trans Fat:
0.02
g
Cholesterol:
225
mg
Sodium:
1418
mg
Potassium:
861
mg
Fiber:
8
g
Sugar:
20
g
Vitamin A:
5255
IU
Vitamin C:
20
mg
Calcium:
203
mg
Iron:
3
mg