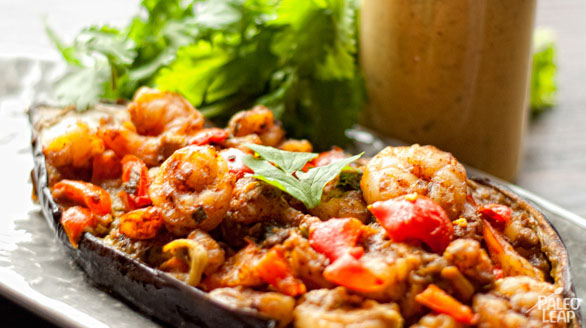 Who can resist the luxurious purple of a ripe eggplant? Set off by the bright red bell peppers and a garnish of fresh cilantro, the eggplant "shell" of this dish looks almost too good to eat – a perfect centerpiece for impressing a special guest. Shrimp and eggplant aren't a combination that comes readily to mind, but that's what makes this dish so impressive: the spicy, Thai-inspired flavor of the shrimp, paired with the rich smokiness of roasted eggplant, makes the meal taste as good as it looks.
As well as being a treat for your eyes and your taste buds, this recipe is extremely nutritious. Like other seafood, shrimp are high in iodine, one micronutrient that you might be missing out on if you don't eat fish regularly. And go ahead and dig into that gorgeous eggplant skin: it's packed with antioxidants and roasting goes a long way towards mellowing the trademark bitter taste. But there is one caveat to all this nutritional goodness. Anyone suffering from an autoimmune disease should probably avoid making this the centerpiece of their dinner, because both peppers and eggplant are nightshades. Nightshades are a commonly problematic class of vegetables for people struggling with autoimmunity, especially in such large doses, and even this meal isn't worth an autoimmune flare-up.
This recipe does take a little more preparation than simply roasting a chicken or grilling up a burger, but the results are delicious enough to justify the effort. If you're really pressed for time, you can save a few minutes in the final step by pre-cooking the shrimp. With such a fantastic centerpiece, it's also unnecessary to make a lot of complicated side dishes; keeping it simple with the rest of the meal can give you more time to spend on the eggplant. This would be a great dish to pair with one of these three simple Paleo sides or a fresh salad, to complement the main course without stealing the spotlight.
A few notes on the cooking process: to get the full effect, make sure to buy an eggplant that's a little hard to the touch; you don't want one that's too ripe. This is also a recipe that's simple to adjust to your own taste, because the red curry is optional. Add as much or as little as you like for your favorite level of spiciness. And it's easy to modify for a crowd; for more than four people, just double the ingredients.
Shrimp Stuffed Eggplant Recipe

SERVES: 4

Values are per portion. These are for information only & are not meant to be exact calculations.
Ingredients
1 eggplant;
12 oz. peeled raw shrimp;
1 red bell pepper, diced;
1 tbsp. fresh ginger, minced;
1 tbsp. fresh garlic, minced;
½ cup green onions, chopped;
¼ cup fresh cilantro, finely chopped; (save some leaves for presentation)
2 tbsp. red curry paste;
1 tbsp. fish sauce;
1 large egg, lightly beaten;
3 tbsp. olive oil;
Preparation
Preheat your oven to 400F.
Take the eggplant and cut it into 2 pieces lengthwise. Make a series of parallel cuts, taking care not to cut through the skin. Brush the eggplant (cut sides) with 1/2tbsp. of olive oil on each side.
Place the eggplants cut side down on a roasting pan and brush the skin with ½ tbsp. olive oil and bake for 15 minutes. Turn over after the initial 15 minutes and cook again 15 to 20 minutes or until the flesh is tender. Remove from oven and reduce the heat to 350 F.
In a small skillet, heat the remaining olive oil over a medium heat. Add the ginger, the garlic, and the red pepper, and cook for two minutes. Add the green onions and the cilantro and cook for another 2 to 3 minutes. Transfer to a medium bowl.
Once the eggplant is cool enough, scoop out the pulp leaving the skin intact and chop the eggplant pulp.
In the bowl containing the red bell pepper mixture; add the chopped eggplant, the shrimp, the beaten egg, the fish sauce and the 2 tbsp. curry paste and stir.
Insert the mixture evenly in the eggplant and place back in the oven for about 30 min until the stuffing is firm.
Garnish with cilantro leaves and serve.