Paleo quiz time: which do you think is the more nutritious of the pair: beef or broccoli?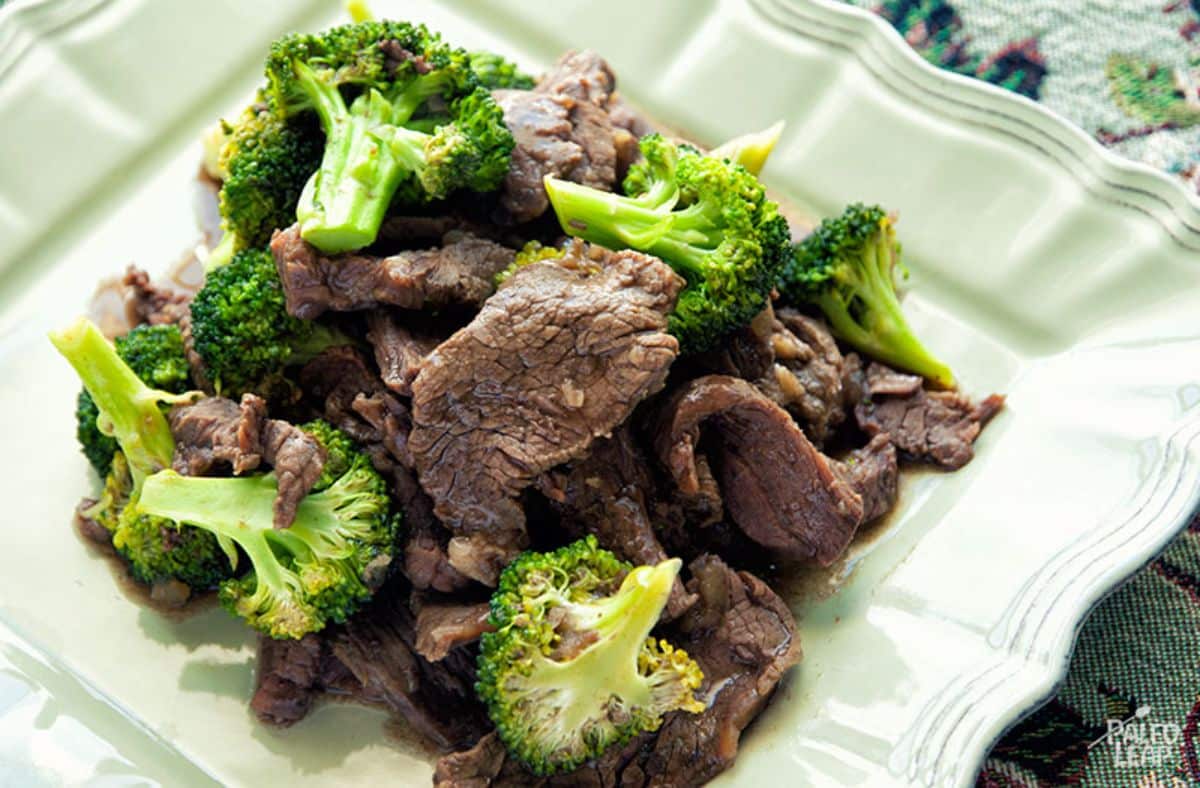 If you said "both," then congratulations! You're right on the money.
On the other hand, if you picked broccoli, take a look below. Comparing approximately one serving of beef (6 ounces, if you're keeping track) to one cup of broccoli, here are the winners for each nutrient:

[one_half boxed="true"]
Beef:
Riboflavin (B3)
Niacin (B5)
Vitamin B6
Vitamin B12
Iron
Phosphorus
Zinc
Copper
Selenium
[/one_half]
[one_half_last boxed="true"]
Broccoli:
Vitamin A
Vitamin C
Vitamin E
Vitamin K
Thiamin (B1)
Folate
Calcium
Magnesium
Potassium
Manganese
[/one_half_last]
So much for red meat being "empty calories"! What we really need is a balance of meat and vegetables: they fill in each other's gaps, and even better, they taste delicious together.
The broccoli in this recipe is added right at the end of cooking, so it's still crisp and bright green when you serve the dish: it's all the convenience of slow cooking, but without the fear of mushy or soggy vegetables.
The whole recipe picks up a rich flavor as the beef simmers away, and adding an apple at the beginning is a special touch that adds just a little something to the sauce.
As well as that background hint of sweetness from the fruit, this recipe calls for some tapioca starch to thicken the sauce. Tapioca starch is just pure carbohydrate refined out of the yucca plant.
It's perfectly Paleo-friendly, but it can also be a pain in the neck to buy a whole new bag of tapioca starch just for one recipe. So it's really up to you whether to include it or not: if you don't mind a thinner sauce, you can skip the starch.
With such an incredible nutrient profile – not to mention a family-friendly cooking method – this is a perfect recipe to pull out any time you need a true power meal.
Slow Cooker Beef and Broccoli Recipe
SERVES: 4 PREP: 15 min COOK: 5h30min
Ingredients
1 lb. boneless chuck roast, sliced into thin strips;
2 to 3 cups fresh broccoli florets;
1 apple, thinly sliced;
½ cup beef stock;
⅓ cup coconut aminos;
⅓ cup raw honey;
3 cloves garlic, minced;
1 tbsp. tapioca starch; (optional)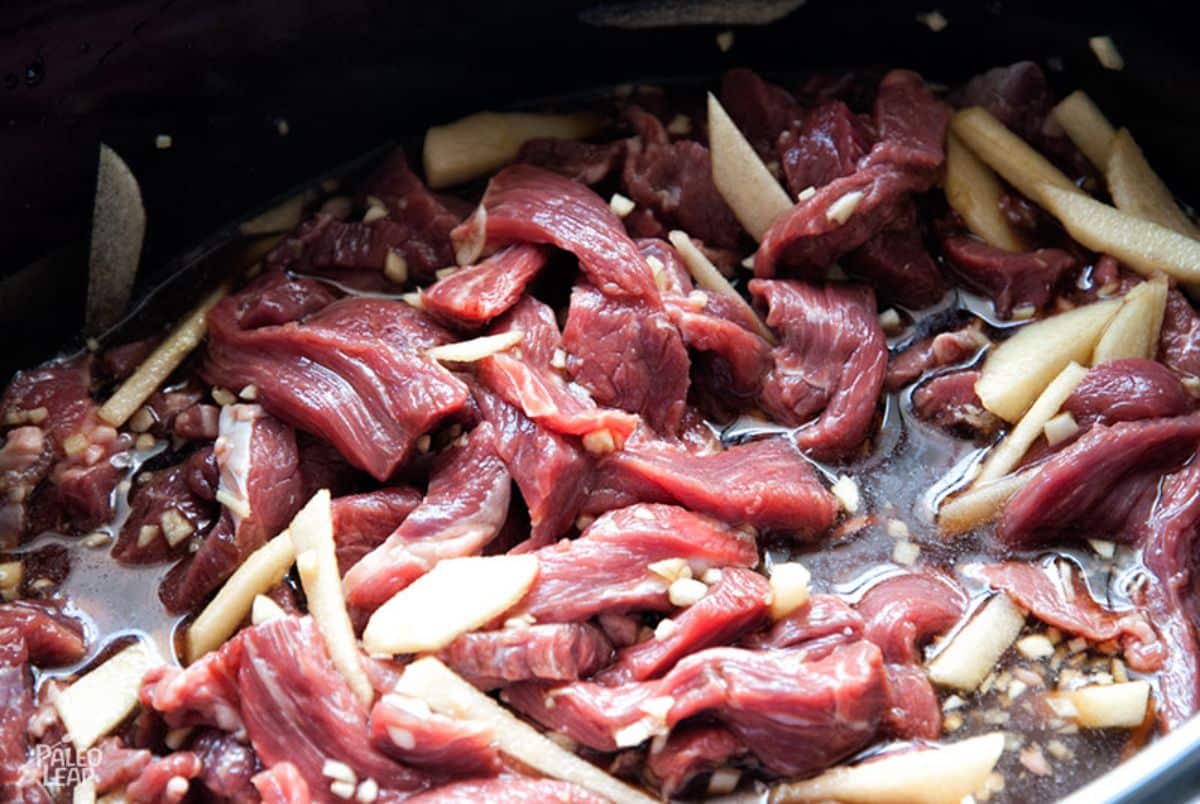 Preparation
In a slow cooker, combine together the beef stock, coconut aminos, honey, garlic, and sliced apple.
Add the beef to the slow cooker and stir.
Set the slow cooker to low and cook for 4 to 5 hours.
When the time is up, combine the tapioca starch with some of the liquid from the slow cooker in a small bowl. Pour it back into the slow cooker and stir well.
Add the broccoli and cook for another 30 min.
📖 Recipe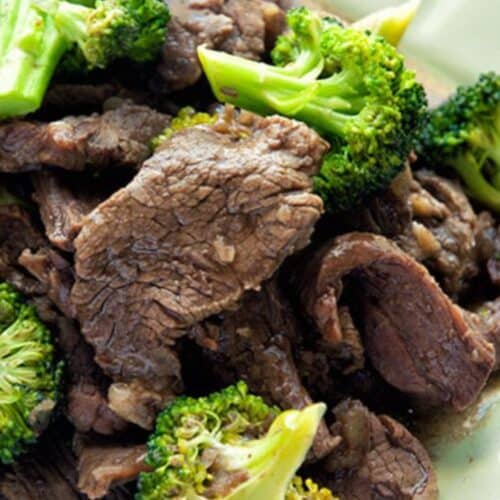 Slow Cooker Beef and Broccoli Recipe
Looking for a classic dinner without a lot of prep time? Check out this easy favorite adapted for the slow cooker.
Ingredients
1

lb.

boneless chuck roast

sliced into thin strips

2 to 3

cups

fresh broccoli florets

1

apple

thinly sliced

½

cup

beef stock

⅓

cup

coconut aminos

⅓

cup

raw honey

3

cloves

garlic

minced

1

tbsp.

tapioca starch

optional
Instructions
In a slow cooker, combine together the beef stock, coconut aminos, honey, garlic, and sliced apple.

½ cup beef stock,

⅓ cup coconut aminos,

⅓ cup raw honey,

3 cloves garlic,

1 apple

Add the beef to the slow cooker and stir.

1 lb. boneless chuck roast

Set the slow cooker to low and cook for 4 to 5 hours.

When the time is up, combine the tapioca starch with some of the liquid from the slow cooker in a small bowl. Pour it back into the slow cooker and stir well.

Add the broccoli and cook for another 30 min.

2 to 3 cups fresh broccoli florets
Nutrition
Calories:
372
kcal
Carbohydrates:
40
g
Protein:
24
g
Fat:
14
g
Saturated Fat:
6
g
Polyunsaturated Fat:
1
g
Monounsaturated Fat:
7
g
Trans Fat:
1
g
Cholesterol:
78
mg
Sodium:
620
mg
Potassium:
640
mg
Fiber:
2
g
Sugar:
29
g
Vitamin A:
323
IU
Vitamin C:
43
mg
Calcium:
47
mg
Iron:
3
mg