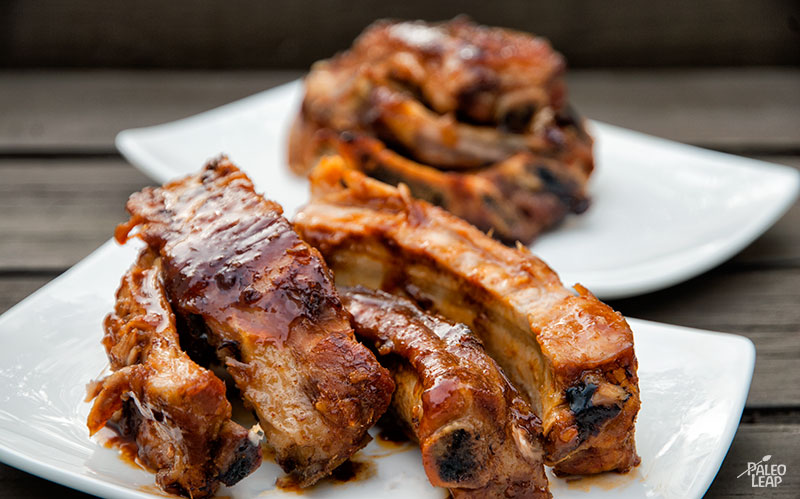 What do you do to cut the fattiness of some nice juicy spareribs? Bring on the heat! Adding a Korean-style hot pepper paste to the marinade in this recipe gives the meat a lip-tingling flavor, and leaving everything to sit overnight really gets that heat deep into the ribs without requiring a lot of extra ingredients or work.
To give the ribs a really spicy taste, the recipe calls for some gochujang – that's a type of fermented hot pepper paste from Korea. One caveat though: you almost certainly won't be able to find a brand of gochujang without soy. Some people will be fine with such a tiny amount of soy as a seasoning, but if you're very sensitive or doing a strict Paleo challenge, it's OK to find another brand of hot pepper paste to substitute. You should be able to find a Paleo-friendly brand that has just hot peppers and seasonings (and maybe some citric acid, which usually isn't anything to be afraid about).
With a meal as heavy as ribs, a great side dish would be some coleslaw: make a classic recipe or try it with fruit for a slightly sweeter twist. Alternately, plenty of salads would go nicely with the ginger and the gochujang: what about baby spinach, thin-sliced pears, and walnuts to add a bit of crunch? Or if it's still warm enough to grill, just toss some zucchini, eggplant, or other vegetables right onto the barbecue: they'll be done in just a few minutes and you can get on with enjoying your delicious ribs!
Spicy Spare Ribs Recipe

SERVES: 4

PREP: 10 min + 12 h.

COOK: 90 min.
Values are per portion. These are for information only & are not meant to be exact calculations.
Ingredients
2 lbs. pork spare ribs;
2 tbsp. gochujang or hot pepper paste;
2 garlic cloves, minced;
1 tbsp. raw honey;
1 medium onion, sliced;
3 tbsp. coconut aminos (a Paleo-friendly replacement for soy sauce);
2 tbsp. rice wine vinegar (yes, this is Paleo; there is no actual rice in it);
1 thumb fresh ginger, minced;
Sea salt and freshly ground black pepper;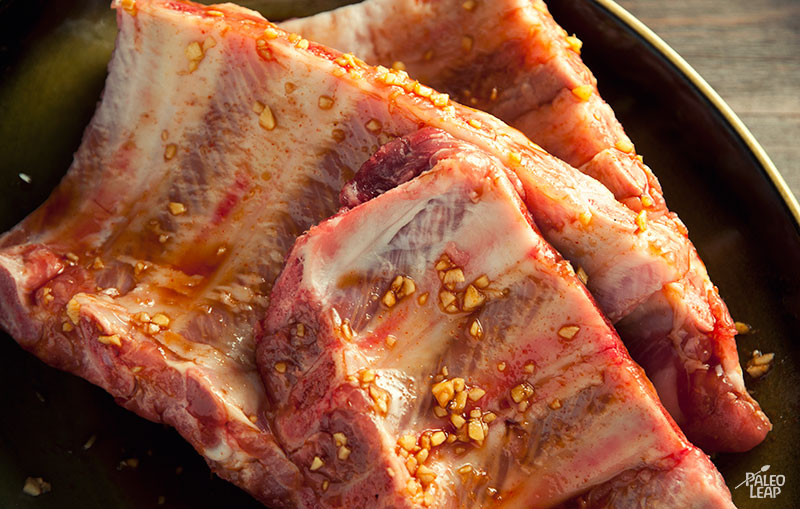 Preparation
In a bowl, combine the gochujang, vinegar, garlic, honey, onion, coconut aminos, and ginger. Give everything a good stir and season to taste with salt and pepper.
Rub the marinade all over the ribs and refrigerate overnight.
Preheat your oven to 350 F.
Remove the ribs from the marinade and set the marinade aside.
Place the ribs in a roasting pan and cover with foil.
Roast in the oven for 40 to 45 minutes.
Remove the foil covering the ribs and baste with the remaining marinade.
Cook the ribs for another 45 minutes, basting every 15 minutes.