If you're trying to eat Paleo without breaking the bank, cabbage should definitely be on your grocery list: it's often as cheap as 30 or 40 cents a pound, and it keeps for weeks in the fridge if you can't use it right away.
But after a certain amount of cabbage, it can start to seem pretty bland and boring – something you have to eat rather than something you want to eat. If you're stuck at that stage, this fresh twist on coleslaw is a juicy, fruity way to jazz up your cabbage a little and make it exciting again.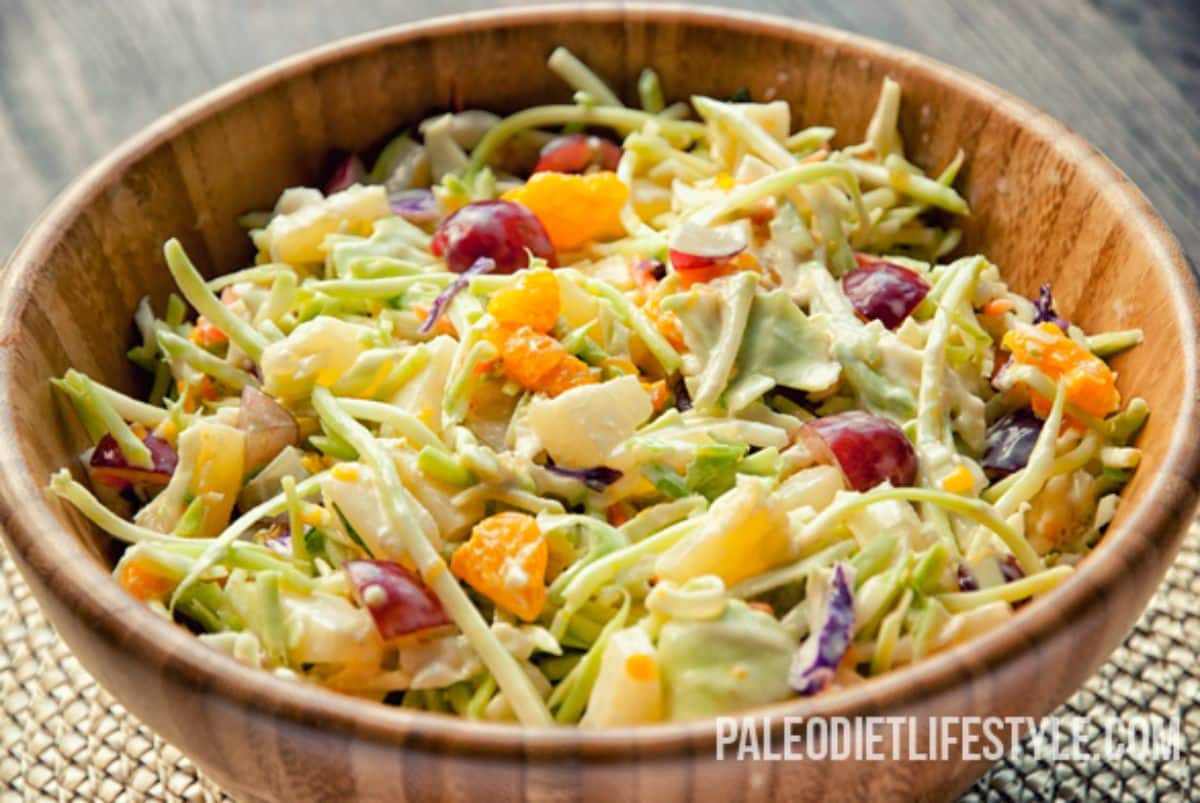 Cheap and tasty: what could be better? Try cheap, tasty, and nutritious. If you're serving this salad to approximately 6 people, then each lucky diner is getting almost half the optimal daily amount of Vitamin C, plus smaller amounts of manganese, potassium, Vitamin K, folate, and Vitamin B6.
Add the fat in the mayo to help you absorb it all, and you're looking at a delicious plate full of nutrients your body needs.
It doesn't get much easier to make than salad, but if you're so pressed for time that you can't even cut up your cabbage, you can cheat a little by buying prepackaged bags that are already shredded.
It won't be as cheap (since you're paying someone to cut it for you), but you'll get a side dish on the table in 5 minutes flat. And if you want even more color in the mix, don't be afraid to add in some red cabbage as well.
Top off "cheap, tasty, and nutritious" with "colorful" as well, and it's a surefire way to pull you out of a cabbage slump or make sure you never even get into one in the first place.
Fruity Coleslaw Recipe
Prep: 15min
Ingredients
1 head green cabbage, rinsed and sliced very thinly;
1 large carrot, shredded;
2 cups fresh pineapple, peeled, cored, and chopped;
1 cup mandarin oranges, chopped;
1 cup red grapes, chopped;
¼ cup homemade mayonnaise;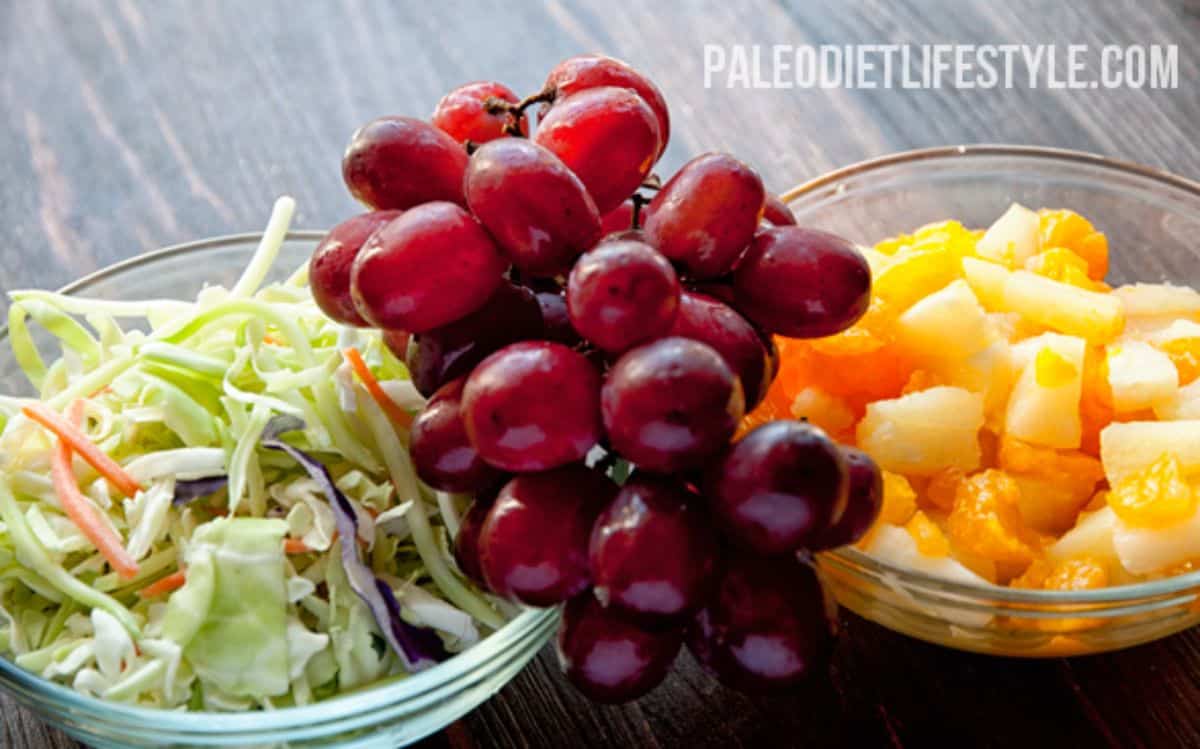 Preparation
In a large bowl, combine all of the ingredients together. Let the salad chill in the refrigerator for at least 1 hour before serving.
📖 Recipe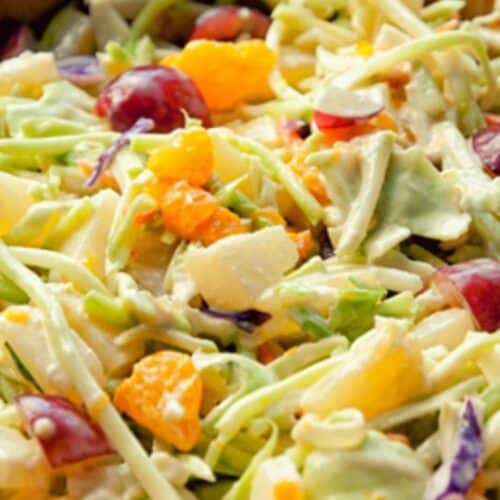 Fruity Coleslaw Recipe
An ultra-fast salad that adds a new dimension to the typical coleslaw recipe: perfect for dinner in a rush.
Ingredients
1

head green cabbage

rinsed and sliced very thinly

1

large carrot

shredded

2

cups

fresh pineapple

peeled, cored, and chopped

1

cup

mandarin oranges

chopped

1

cup

red grapes

chopped

¼

cup

homemade mayonnaise
Instructions
In a large bowl, combine all of the ingredients together. Let the salad chill in the refrigerator for at least 1 hour before serving.

1 head green cabbage,

1 large carrot,

2 cups fresh pineapple,

1 cup mandarin oranges,

1 cup red grapes,

¼ cup homemade mayonnaise
Nutrition
Calories:
251
kcal
Carbohydrates:
39
g
Protein:
4
g
Fat:
11
g
Saturated Fat:
2
g
Polyunsaturated Fat:
6
g
Monounsaturated Fat:
2
g
Trans Fat:
0.03
g
Cholesterol:
6
mg
Sodium:
143
mg
Potassium:
680
mg
Fiber:
8
g
Sugar:
27
g
Vitamin A:
3184
IU
Vitamin C:
138
mg
Calcium:
129
mg
Iron:
2
mg