With a vibrant array of colors, flavors, and textures, this salad is the perfect refreshing dish for a baking hot summer afternoon. The sharpness of the onions brings out the sweetness of the fruit, and the smooth, creamy texture of the avocado adds more substance with a healthy dose of fat.
I've included a recipe for baking some salmon to go with the salad; add it to the fruit and vegetables for a complete meal, or leave it off to keep the recipe as a snack or side dish.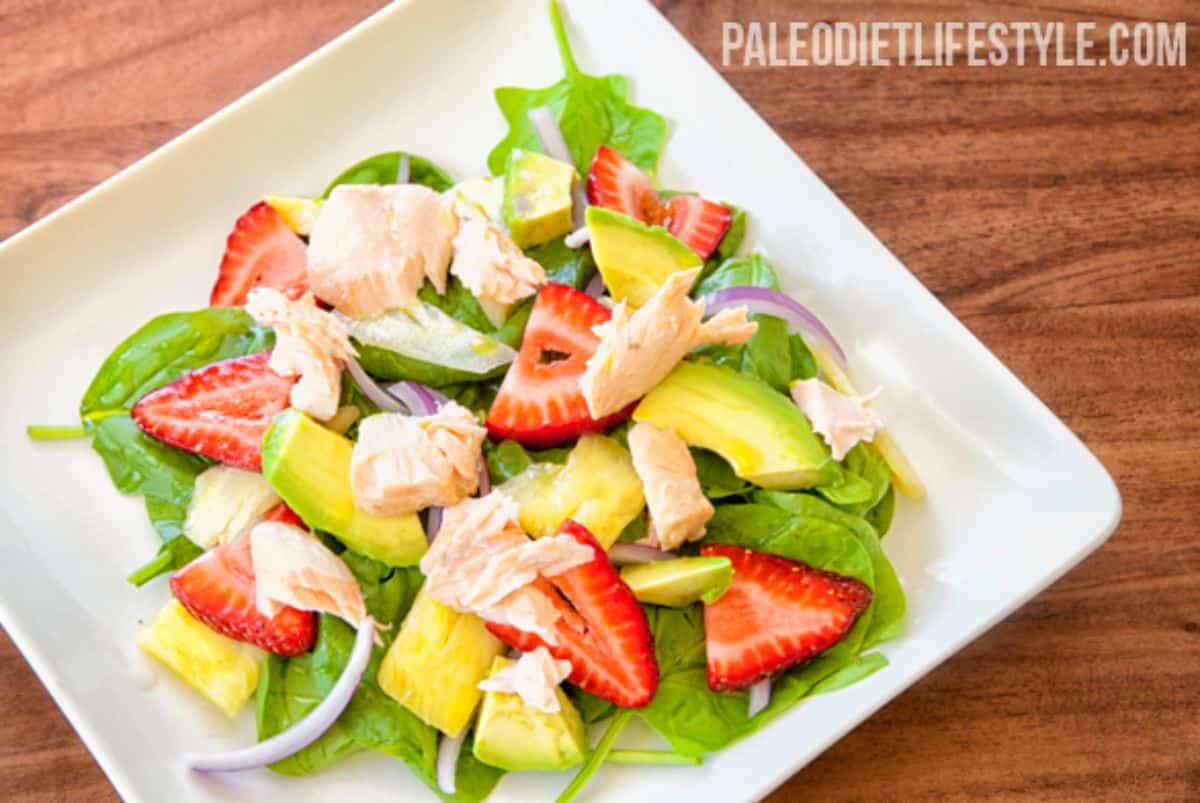 Needless to say, this salad is as nutritious as it is beautiful. A common rule of thumb for healthy meals is to "eat the rainbow," and a plate full of green, yellow, red, and purple certainly delivers.
Avocado in particular is a micronutrient superstar, and the dark green layer towards the outside of the flesh is especially valuable, so try to preserve this while you're peeling the fruit.
This is the perfect recipe for recovering from a nasty summer cold: between the avocado, the pineapple, and the strawberries, it's full of Vitamin C.
Avocado is also rich in B vitamins, minerals, and Vitamin E, and the fat in it helps you absorb the fat-soluble vitamins from the other parts of the salad.
Toss in some salmon, and the story gets even better; as well as one of the only food sources of Vitamin D, salmon is rich in Omega-3 fats, B vitamins, and minerals. If you use canned salmon with the bones, it's also an excellent source of calcium.
This is a wonderful meal to introduce a guest to the idea that fat is good for them since it's very high in fat, but almost all of it is the kind that everyone recognizes as "good fat."
Dish it up, and let your friends notice how much better they feel when they're not trying to ban every last molecule of fat from their forks – at worst, it's a delicious lunch, and at best, you might just plant the seed of a better diet.
Spinach, Strawberry and Avocado Salad Recipe
Serves: 4 Prep: 15min Cook: 20 min
Ingredients
2 cups fresh spinach or baby spinach;
1 cup cooked fresh salmon, cut into chunks, or canned salmon; (optional)
1 cup strawberries, thinly sliced;
1 avocado, cut into chunks;
1 cup pineapple, thinly sliced;
1 small red onion, thinly sliced;
½ cup fresh pineapple juice;
¼ cup white wine vinegar;
Simple lemony salmon ingredients
1 salmon filet, pin bones and skin removed;
1 lemon, thinly sliced;
2 sprigs of fresh rosemary;
1 tbsp. extra-virgin olive oil;
Sea salt and freshly ground black pepper to taste;
Preparation
Preheat your oven to 400 F.
In a baking dish, place half of the sliced lemon on the baking dish and top with a rosemary sprig. Lay the salmon filet on top of the lemon slices.
Season the salmon to taste with sea salt and black pepper; then place the remaining lemon slices and rosemary on top and drizzle with olive oil.
Bake until done (about 20 minutes) and let the salmon cool down.
In a small bowl, combine the pineapple juice and the white wine vinegar.
In a big salad bowl, combine the spinach, strawberries, avocado, pineapple, red onion, and cooked salmon chunks. Drizzle the pineapple dressing on top and toss gently to coat.
📖 Recipe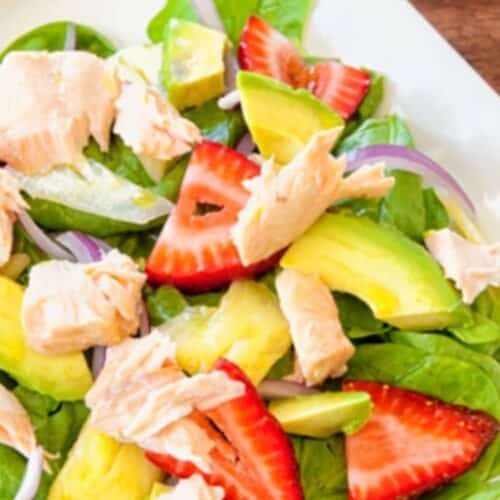 Spinach, Strawberry and Avocado Salad Recipe
Dig into a brilliant burst of colors on your plate with this eye-catching and extremely nutritious salad.
Ingredients
2

cups

fresh spinach or baby spinach

1

cup

cooked fresh salmon

cut into chunks, or canned salmon (optional)

1

cup

strawberries

thinly sliced

1

avocado

cut into chunks

1

cup

pineapple

thinly sliced

1

small red onion

thinly sliced

½

cup

fresh pineapple juice

¼

cup

white wine vinegar
Simple lemony salmon ingredients
1

salmon filet

pin bones and skin removed

1

lemon

thinly sliced

2

sprigs of fresh rosemary

1

tbsp.

extra-virgin olive oil

Sea salt and freshly ground black pepper to taste
Instructions
Preheat your oven to 400 F.

In a baking dish, place half of the sliced lemon on the baking dish and top with a rosemary sprig. Lay the salmon filet on top of the lemon slices.

1 lemon,

2 sprigs of fresh rosemary,

1 cup cooked fresh salmon

Season the salmon to taste with sea salt and black pepper then place the remaining lemon slices and rosemary on top and drizzle with olive oil.

1 salmon filet,

Sea salt and freshly ground black pepper to taste,

1 tbsp. extra-virgin olive oil

Bake until done (about 20 minutes) and let the salmon cool down.

In a small bowl, combine the pineapple juice and the white wine vinegar.

½ cup fresh pineapple juice,

¼ cup white wine vinegar

In a big salad bowl, combine the spinach, strawberries, avocado, pineapple, red onion, and cooked salmon chunks. Drizzle the pineapple dressing on top and toss gently to coat.

2 cups fresh spinach or baby spinach,

1 cup strawberries,

1 avocado,

1 cup pineapple,

1 small red onion
Nutrition
Calories:
287
kcal
Carbohydrates:
19
g
Protein:
17
g
Fat:
16
g
Saturated Fat:
2
g
Polyunsaturated Fat:
3
g
Monounsaturated Fat:
9
g
Cholesterol:
42
mg
Sodium:
53
mg
Potassium:
887
mg
Fiber:
6
g
Sugar:
10
g
Vitamin A:
1542
IU
Vitamin C:
55
mg
Calcium:
53
mg
Iron:
2
mg