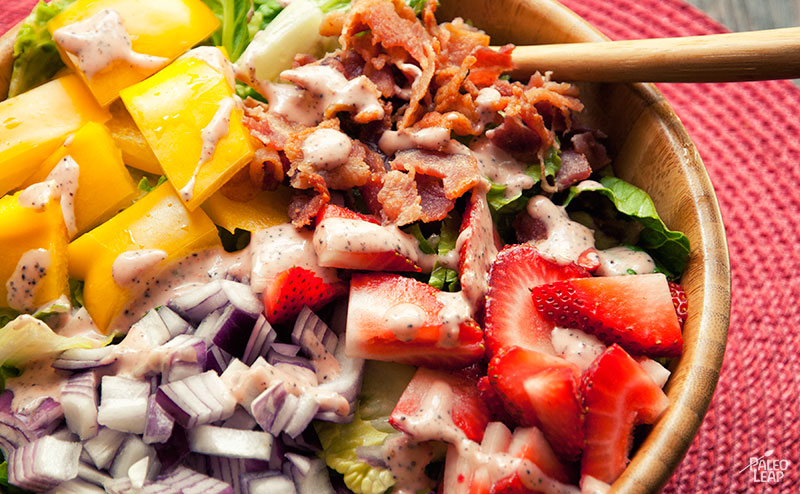 Fed up with the same old oil-and-vinegar dressing? Or looking for a way to add some early-summer sweetness to your plate? Here's your chance to make the most of strawberry season: a big pile of fresh fruit and vegetables, topped off with a sweet-tangy poppy seed dressing.
Poppy seeds are best known for their starring role in muffins and bagels, but there's no reason why they couldn't be used in a Paleo recipe: there's nothing bad about the seeds themselves. In fact, once you get out of the pastry shop, they're a traditional ingredient in all kinds of recipes from India, Southeast Asia, and Eastern Europe, not just dessert. They're also very nutritious: in just 1 tablespoon of poppy seeds, you're getting a notable amount of fiber, vitamin B1 (thiamin), calcium, magnesium, phosphorus, copper, and manganese: not bad for the size!
Like most other nuts and seeds, poppy seeds contain some Omega-6 fats, but since you're only using 1 tablespoon of poppy seeds in the entire dressing for flavor, you aren't getting enough to make a difference.
To make this salad into a meal, I suggest adding some bacon (it adds a nice salty crunch), but you can just as easily use chicken instead, or top it off with any other leftover meat. It's a great way to clean out the fridge without feeling like you're eating leftovers, or perk up a downer afternoon without straying into the candy aisle.
Strawberry Poppy Seed Salad Recipe

SERVES: 4

PREP: 15 min.

Values are per portion. These are for information only & are not meant to be exact calculations.
Ingredients
2 cups strawberries, chopped;
8 strips bacon, cooked and crumbled;
½ red onion, diced;
1 bell pepper, chopped;
6 cups chopped romaine lettuce;
Ingredients for the strawberry dressing
1/3 cup strawberries, chopped;
1 garlic clove;
⅓ cup raw honey; (optional)
⅓ cup white wine vinegar;
½ cup olive oil;
1 tablespoon poppy seeds;
Sea salt and freshly ground black pepper;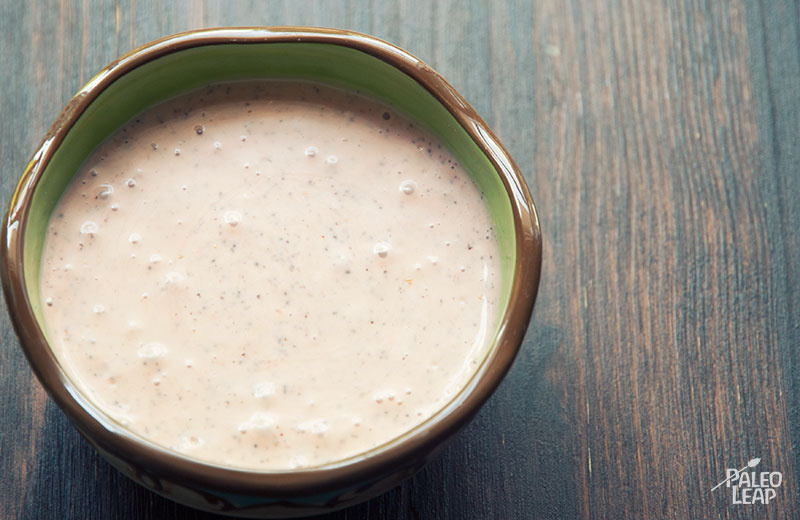 Preparation
In a food processor, combine all the ingredients for the dressing and pulse until smooth.
In a salad bowl, toss together the strawberries, bacon, red onion, and bell pepper.
Pour the dressing over the salad and serve.