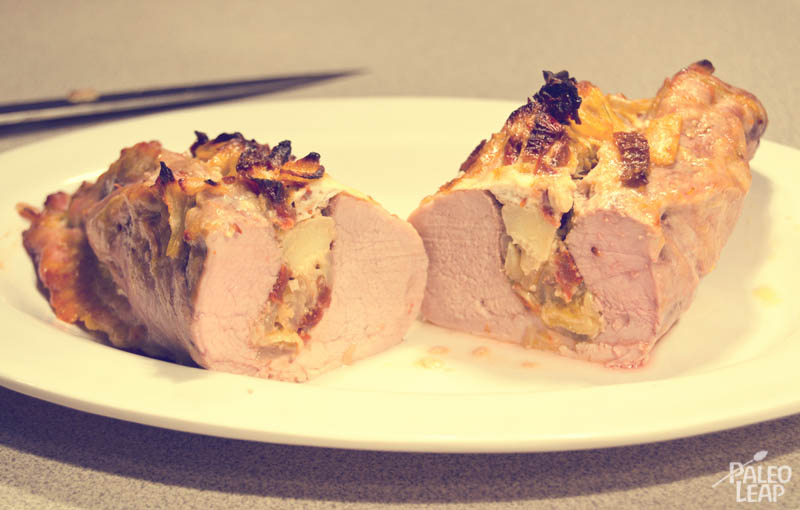 I have a confession to make: I don't always enjoy cooking pork. It is an extremely temper-mental meat to cook, mainly because it's so easy to ruin a dish by overcooking it. This results in very dry and tasteless meat. Pork, like chicken, can also be somewhat of a tasteless meat when enjoyed on its own. This is why I often prefer cooking with red meat from ruminants like beef, lamb or bison, which is not only much more tasty on its own, but which is also much more nutritious and higher in healthy saturated fat.
With that being said however, both chicken and pork can be absolutely delicious when prepared properly and with good care. This is easier to achieve of course if you source your meat from a local farmer who treats and feeds its animals in a proper way. Pasture-raised pigs produce a meat that's so much tastier, it's sometimes as if it's not even the same kind of meat.
Pork tenderloin is a very popular cut to prepare because it's very tender and quick to prepare. It's unfortunately also a cut that's pretty lean, which makes it easy to overcook.
Here I chose to prepare a stuffing for the tenderloin because this allows for the flavors to cook from the inside-out, with only half the thickness of the meat for the juices to travel through. This may be difficult to understand, but the pictures of the preparation work should help you get this a little better.
When I decided to cook this dish, I had no time at all for marinading, so I stuffed the pork with some really oily ingredients, like artichoke hearts and sun-dried tomatoes, which are most often sold packed in a mixture or spices and olive oil. Make sure though that both the sun-dried tomatoes and the artichokes hearts are packed only with good ingredients and without any vegetable seed oils. My hope was that this would help prevent the pork from drying out and it worked very well. Make sure that the butcher you see doesn't provide you with a cut of meat that's too lean either. The more fat left on the meat, the more flavor it will have in the end.
Stuffed pork tenderloin recipe
Serves 4

Values are per portion. These are for information only & are not meant to be exact calculations.
Ingredients
1 2lbs pork tenderloin;
1 egg;
½ medium onion, chopped;
6 sun-dried tomatoes, chopped;
2 large artichoke hearts, chopped;
½ tsp fresh sage, finely chopped;
1/8 tsp fresh thyme, finely chopped;
1/8 tsp nutmeg;
2 cloves garlic, minced;
A few tbsp paleo cooking fat like lard, coconut oil or clarified butter;
Sea salt and freshly ground black pepper to taste;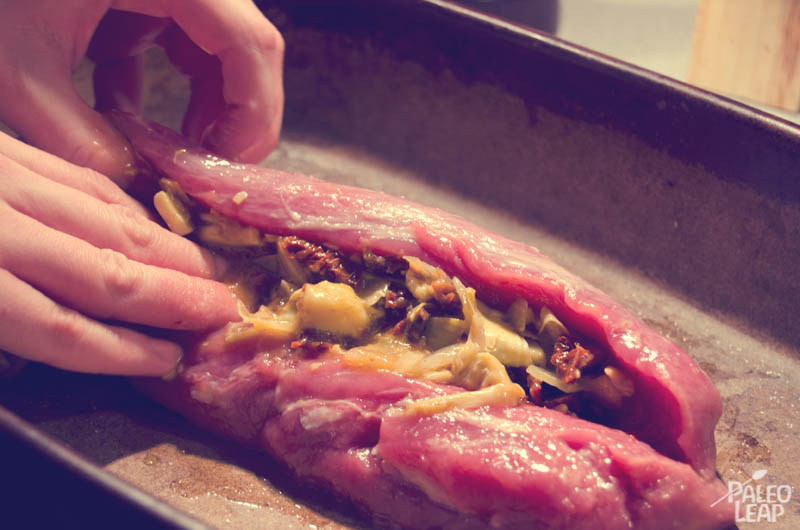 Preparation
In a medium skillet over a medium-high heat, saute the onion, sun-dried tomatoes, artichoke hearts, sage, thyme, nutmeg and garlic in a few tablespoons of paleo cooking fat. You can also add the olive oil that the sun-dried tomatoes come in if your are using jarred sun-dried tomatoes. This oil, provided it's only olive oil and not another vegetable seed oil, is healthy and full of delicious spices and flavor. Saute everything for about 3 to 4 minutes, just until the onions become slightly translucent and the tomatoes and artichokes begin to become tender. Remove the skillet from the heat and set aside for later use.
Place the pork tenderloin in a 9×13 baking dish, rub some cooking fat all over and sprinkle with salt and pepper to taste. In order to stuff the loin, create a seam in the meat by cutting it down the center lengthwise, essentially, you want to be able to unfold the meat. Set the meat aside until the stuffing has been prepared.
Preheat your oven to 450F.
Turn your attention back to the stuffing. Once the ingredients from the skillet have completely cooled, whisk in an egg. The egg is essential to the stuffing, as this is what replaces the usual "breadcrumbs" and works to hold everything together. However, to make this work best, the sun-dried tomato/artichoke mixture must be cool, otherwise it will cook the egg before it is even stuffed in the meat and the egg will no longer act as a glue, since it cannot be cooked twice.
Take the stuffing and begin spreading it across the seam of the meat. Avoid filling the meat too much, as you will not be able to fold the pork closed. Use some toothpicks to ensure the tenderloin does not pop open while cooking.
Cook, uncovered, at 450 F for 30 minutes. Once the first 30 minutes have passed, reduce the heat to 300 F and cook for another 20 minutes. When the time is up, turn off the oven, but allow the meat to remain in it for at least 15 minutes. This cooking method is perfect for keeping the meat from overcooking and becoming dry. Bon appétit!