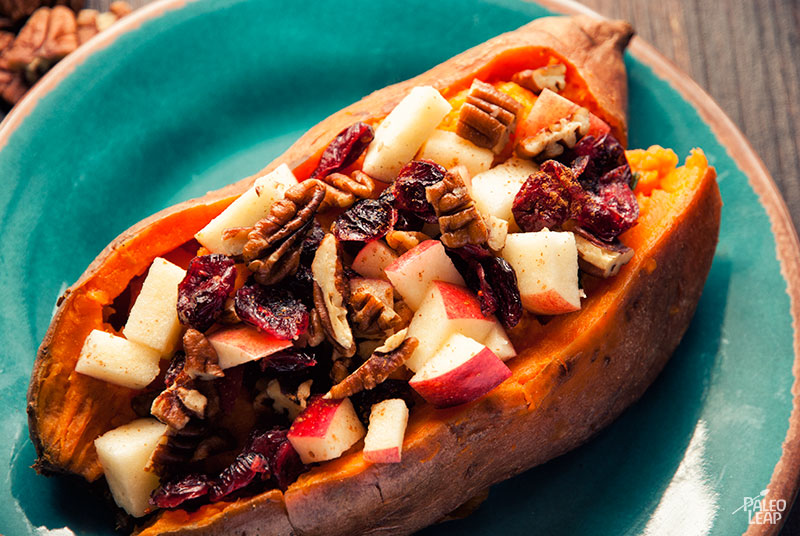 Savory-sweet baked sweet potatoes topped with sweet-tart apples, dried cranberries and crunchy pecans will cheer up any meal with a colorful, flavor-packed side dish packed with nutrition. If you want an even bigger flavor, you can add some bacon bits, but the potatoes are delicious even without them, proving once again that Paleo and vegan food isn't so far apart, after all!
The amount of cooking time for this recipe will vary a little depending on the size of your sweet potatoes; if you've got small potatoes, you might want to check after 40 minutes, and if you've got big ones, they might take closer to an hour. Just wait until they're fork-tender and smell delicious and you can't go wrong. If you don't feel like scooping out the flesh (or if you accidentally cut into the skin of the potatoes), you can also easily convert this to a mashed potato recipe by simply mixing everything together: not quite as impressive-looking, but it tastes just as good!
If you're pining for a bowl of oatmeal, this is a surprisingly delicious and much healthier option. It's hearty enough to stick to your ribs, topped with some tangy dried fruit and a nutty crunch: just like a big bowl of oats, except without the stomachache later. Bake up one of these potatoes with some eggs or another good source of protein, and you've got breakfast ready to go – or try them as sides for dinner when you're after something filling and delicious: they're sure to brighten up the table no matter when they're served.
Sweet Potatoes with Pecans, Apples, and Dried Cranberries Recipe

SERVES: 4

PREP: 10 min.

COOK: 50 min.

Values are per portion. These are for information only & are not meant to be exact calculations.
Ingredients
4 individual-sized sweet potatoes;
¼ cup full-fat coconut milk;
1/3 cup roasted pecans, crumbled;
1/3 cup dried cranberries;
1 large apple, cored and diced;
1 tbsp. fresh chives, minced;
¼ tsp. ground cinnamon; (optional);
Sea salt and freshly ground black pepper to taste;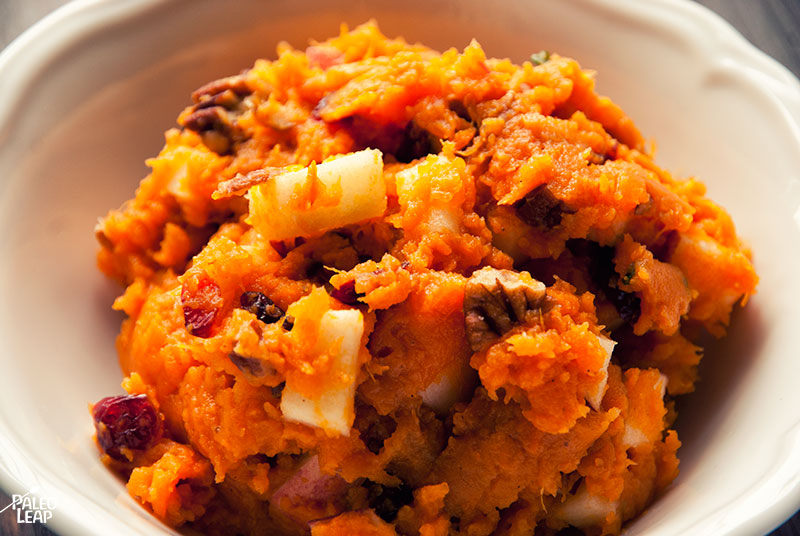 Preparation
Preheat your oven to 400 F.
Pierce each sweet potato all over with a fork or a knife and wrap tightly in foil.
Place the sweet potatoes in the oven and roast for 45 to 50 minutes; then take them out and let them cool down for about 15 min.
Cut open each potato from end to end lengthwise. Keeping the skins intact, remove the flesh carefully with a spoon, and place the flesh in a big bowl.
Mash the potato flesh with the coconut milk, the chives, and salt and pepper to taste.
Stuff back each potato with an equal amount of the mashed filling, and top with pecans, dried cranberries, and apples.
If you feel like it, sprinkle some cinnamon on top for extra flavor.