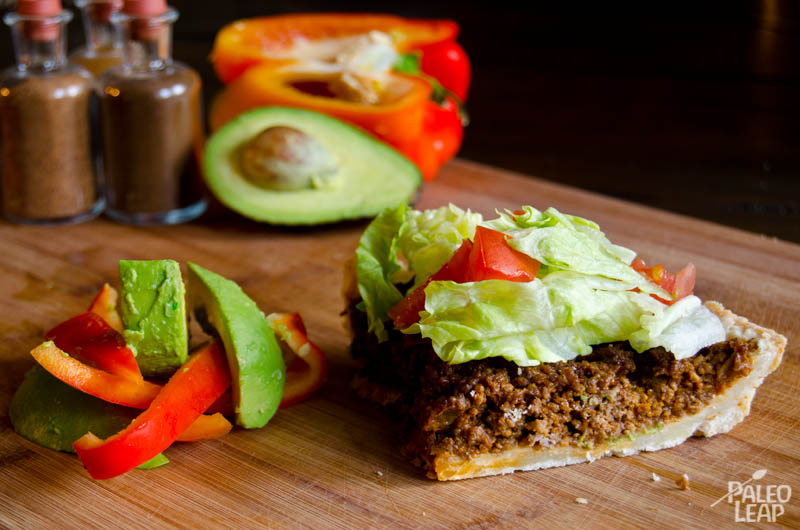 This recipe is the prime example of a cultural dish being "Americanized." I've certainly never heard of a Taco Pie being an authentic Mexican dish, but it's delicious nonetheless, which is what matters most here. Not to mention, it is also a very unique dish that takes no time to prepare. I actually made this dish out of the blue. I was craving a savoury pie, but wanted to try something new. This concept was certainly something different and it just so happened to hit the spot.
I enjoyed preparing this mainly because you can be very creative with this concept. I chose to take the Mexican route, but you could make some really unique variations of this. Imagine an Italian version, with lots of fresh tomatoes and herbs. You could also opt for a different meat filling. Ground turkey would work very well. Also throw in any veggies you happen to have stashed in your fridge, it's one of the best ways to use up what you have. Whatever you choose to do, it's bound to be great.
While this Paleo dish is absolutely delicious and will be popular with the whole family, especially children, it still calls for quite a bit of almond flour. This shouldn't be an issue at all if you prepare this dish on a sporadic basis and the article of nuts and seeds explains well why it's a better idea in general to keep the nut consumption low. Other than that, this recipe is pretty nutritious  with it's generous use of ground beef and vegetables such as avocados and red bell peppers. Of course, if you can get your hands on some grass-fed ground beef, the whole thing will be even better.
If you don't have any home made BBQ sauce handy and don't want to go through the trouble of preparing it, you can always use some of your favorite savory dried herbs and spices instead. Ground cloves, cinnamon, cumin, sage, thyme and rosemary are great options.
Taco Pie Recipe

SERVES: 4

Values are per portion. These are for information only & are not meant to be exact calculations.
Pie Crust Ingredients
1 1/2 cups almond flour;
1/4 cup butter, or clarified butter, melted;
1 tsp salt;
Pie Filling Ingredients
1 lb ground beef;
1 tbsp Paleo cooking fat;
1/2 onion, chopped;
1/2 cup homemade barbecue sauce;
1 cup lettuce, chopped;
1 red bell pepper, sliced;
1 avocado, chopped;
Sea salt and freshly cracked black pepper to taste;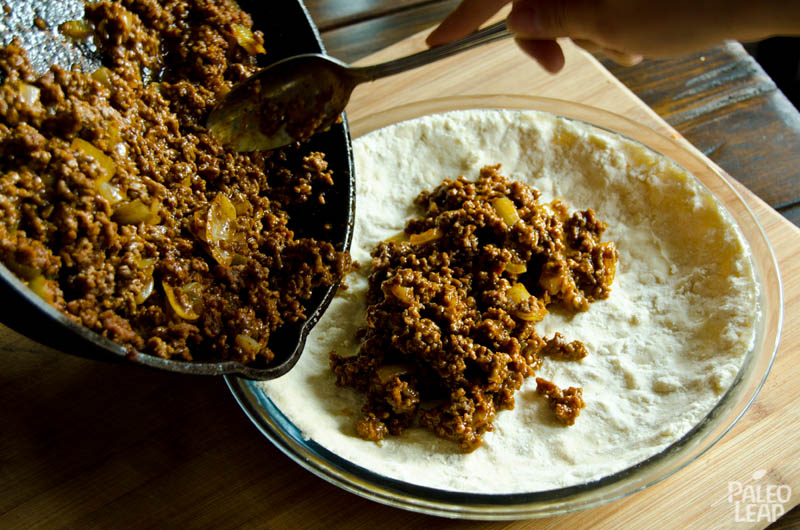 Pie Crust Preparation
In a large bowl, combine the almond flour, butter and salt. Blend until a doughy texture takes shape.
Transfer the dough into a 9 inch pie dish and press it out evenly into the dish so that the complete surface is covered.
Pie Filling Preparation
Preheat your oven to 350 F.
In a large skillet over a medium-high heat, melt the cooking fat and sauté the onions in the cooking fat until they become slightly translucent.
Add the ground beef to the skillet and cook until the beef has cooked through.
Mix the barbecue sauce in with the beef and season with salt and pepper to taste. Cook for about 2 more minutes and then remove from the heat.
Pour the beef into the pie crust and place in the oven for 30 to 35 minutes.
Prior to serving, cover the surface of the pie with chopped lettuce, red bell pepper and avocado.