Salmon and cabbage, by themselves, are very basic ingredients. Add a handful of spices, and incredible magic happens.
This dish here turns the ordinary into something special with the assistance of ginger, coconut milk, tandoori seasoning, and cashews. The nuts add an element of surprise, though if you are nut-free, go ahead and omit them, as this dish is also wonderful without them.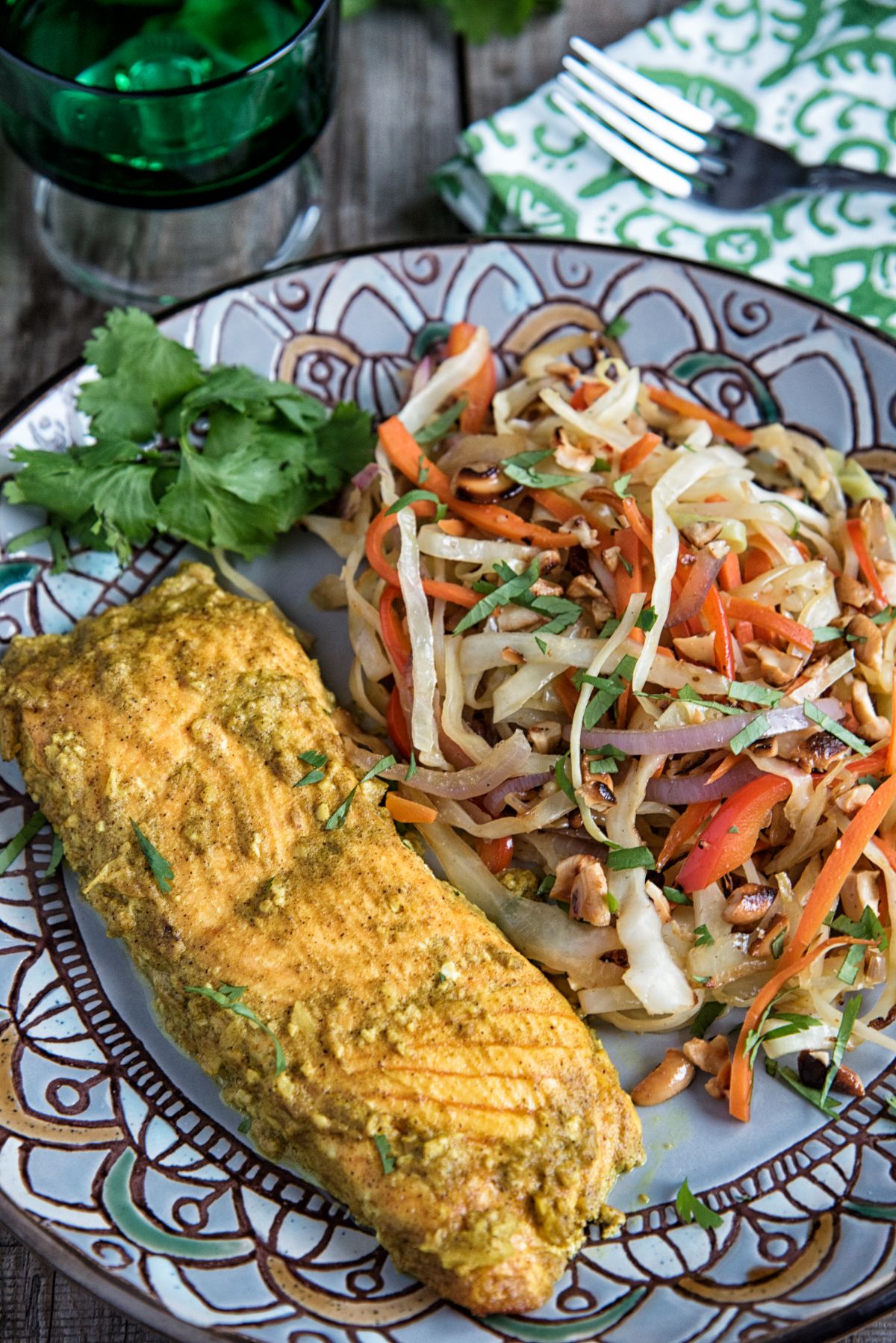 When eating, and serving, Paleo meals, it is always important to consider food (in)tolerances and preferences. Eat what feels great for your body, keeping in mind that we are all different, and we are all healing in our own time.
What is particularly nice about this dish, is the warm and spicy element of the gingery cabbage. It has been said that ginger is good for both the body and the brain, so grab a heart-warming rhizome and get grating!
As a supplement, ginger can often be found in capsule form; though consuming it fresh, you'll most likely get the most benefits which can include regulating blood sugar, reducing joint and muscle pain, and improving brain function. It's a wonderful spice that can be made in many preparations, like this ginger turmeric orange juice.
You may want to take this dish just one step further and indulge in a stack of cauliflower tortillas to satisfy the need to scoop up or wrap the sautéed cabbage in. It's a fantastic low-carb dish that always hits the spot.
Tandoori Salmon With Sautéed Cabbage Recipe
Serves: 4 Prep: 20 min Cook: 20 min
Ingredients
4 salmon fillets
½ cup coconut milk
1 tbsp. fresh ginger, minced
2 cloves garlic, minced
1 tbsp. tandoori seasoning
Sautéed Cabbage Ingredients
4 cups green cabbage, thinly sliced
1 carrot, grated
1 onion, thinly sliced
1 bell pepper, thinly sliced
1 tbsp. fresh ginger, minced
¼ cup cashews, roasted and chopped
¼ cup fresh cilantro, chopped
1 tbsp. coconut oil
1 tsp. ground cumin
Sea salt and freshly ground black pepper
Preparation
Preheat oven to 425 F.
In a bowl, combine the coconut milk, garlic, ginger, and tandoori spices.
Place the salmon fillets in a baking dish and cover them with the tandoori sauce.
Bake in the oven for 20 to 25 minutes, depending on the thickness of the fillets.
To prepare the sautéed cabbage, melt coconut oil in a skillet over medium heat.
Add the ginger and the onion, and cook until soft.
Next, add the cabbage, bell peppers, and carrot and cook until soft, 8 to 10 minutes.
Sprinkle with cumin, season with salt and pepper to taste, give everything a good stir, and remove from the heat.
Serve the salmon with the sautéed cabbage topped with chopped cashews and fresh cilantro.
📖 Recipe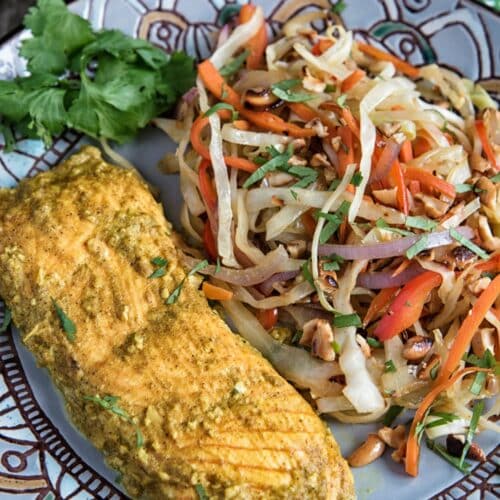 Tandoori Salmon With Sautéed Cabbage Recipe
If exotic flavors are requested on the menu for tonight, think about a satisfying dish of tandoori salmon with sautéed cabbage.
Ingredients
4

salmon fillets

½

cup

coconut milk

1

tbsp.

fresh ginger

minced

2

cloves

garlic

minced

1

tbsp.

tandoori seasoning
Sautéed Cabbage Ingredients
4

cups

green cabbage

thinly sliced

1

carrot

grated

1

onion

thinly sliced

1

bell pepper

thinly sliced

1

tbsp.

fresh ginger

minced

¼

cup

cashews

roasted and chopped

¼

cup

fresh cilantro

chopped

1

tbsp.

coconut oil

1

tsp.

ground cumin

Sea salt and freshly ground black pepper
Instructions
Preheat oven to 425 F.

In a bowl, combine the coconut milk, garlic, ginger, and tandoori spices.

½ cup coconut milk,

1 tbsp. fresh ginger,

2 cloves garlic,

1 tbsp. tandoori seasoning

Place the salmon fillets in a baking dish and cover them with the tandoori sauce.

Bake in the oven for 20 to 25 minutes, depending on the thickness of the fillets.

To prepare the sautéed cabbage, melt coconut oil in a skillet over medium heat.

Add the ginger and the onion, and cook until soft.

1 tbsp. fresh ginger,

1 onion

Next, add the cabbage, bell pepper, and carrot and cook until soft, 8 to 10 minutes.

4 cups green cabbage,

1 bell pepper,

1 carrot

Sprinkle with cumin, season with salt and pepper to taste, give everything a good stir, and remove from the heat.

1 tsp. ground cumin,

Sea salt and freshly ground black pepper

Serve the salmon with the sautéed cabbage topped with chopped cashews and fresh cilantro.

¼ cup cashews,

¼ cup fresh cilantro
Nutrition
Calories:
430
kcal
Carbohydrates:
15
g
Protein:
38
g
Fat:
25
g
Saturated Fat:
11
g
Polyunsaturated Fat:
5
g
Monounsaturated Fat:
7
g
Cholesterol:
94
mg
Sodium:
108
mg
Potassium:
1277
mg
Fiber:
4
g
Sugar:
6
g
Vitamin A:
3699
IU
Vitamin C:
68
mg
Calcium:
83
mg
Iron:
4
mg