Salads are the kind of dishes that we often take for granted – it's really easy to fall into the same patterns of greens, veggies, and dressing, which can be a bit of a bore. Salads have so much potential to serve as versatile and delicious dishes, so we say throw out your pre-conceived salad habits and try something new!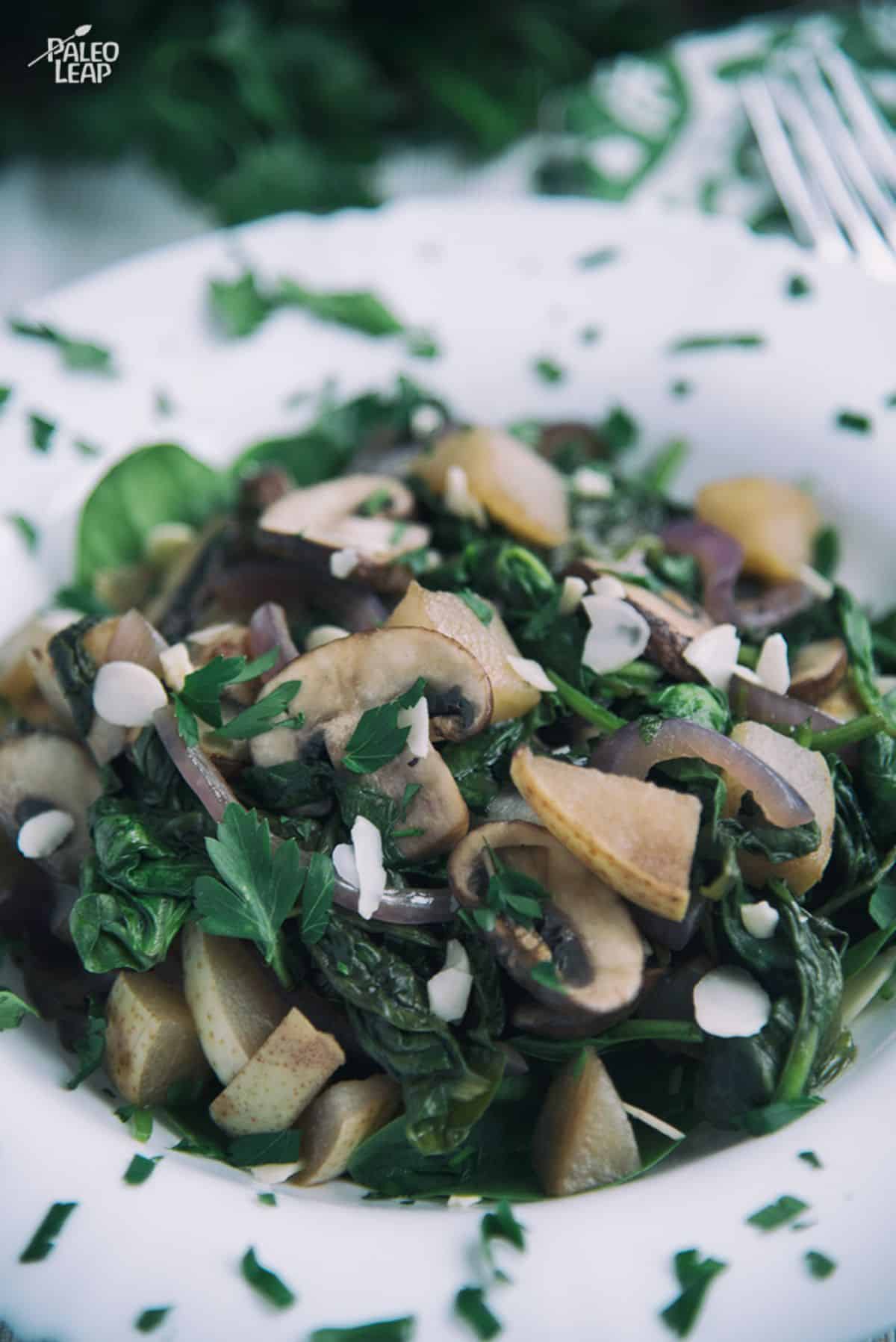 This salad dish differs from most for one important reason – we're going to serve this warm instead of cold. Besides that, this dish remains true to form in most ways – delicious greens layered with unique ingredients that make this dish a great accompaniment for dinner time or for a quick lunch.
As written, this salad calls for spinach as your main green. While it may seem like quite a bit, remember that as you cook the spinach, it will wilt just a bit before serving.
Don't have spinach on hand? Try substituting for another green (just keep in mind that depending on the green you choose, you might need some additional cook time to soften it up).
Feel free to add, remove, or substitute the other ingredients here to your preference. If you don't love mushrooms, try adding fresh peppers instead. If pears aren't quite in season, apples can work well too!
For a unique spin on lunchtime, try serving this dish with eggs cooked to your preference – you can hard-boil these and serve them chopped in the salad.
For a great dinnertime pairing, try making an easy-to-prep slow cooker main course. When you get home, you'll just need to quickly cook this salad, and you'll be ready to eat!
Warm Spinach And Pear Salad Recipe
Serves: 2 Prep: 15 min Cook: 12 min
Ingredients
2 pears, diced
10 mushrooms, sliced
½ red onion, sliced
5 to 6 cups of baby spinach
¼ cup balsamic vinegar
¼ cup sliced almonds
2 tbsp. olive oil
Fresh parsley (to garnish)
Sea salt and freshly ground black pepper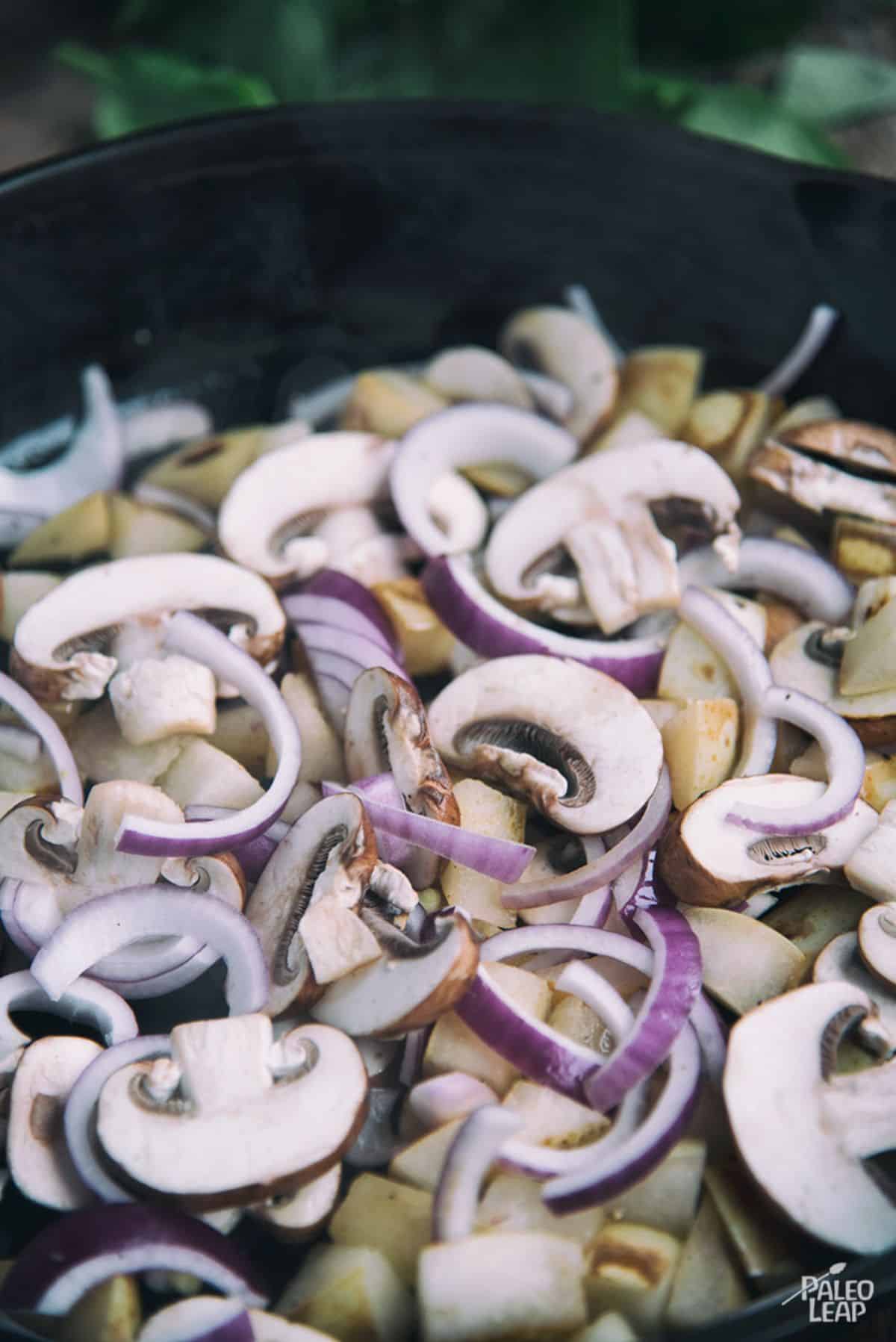 Preparation
Heat olive oil in a skillet over medium heat.
Add the peas, mushrooms, and red onion to the skillet and cook everything until soft, 4 to 5 minutes.
Pour in the balsamic vinegar, toss everything, and season with salt and pepper to taste.
Add the spinach and cook for 1 to 2 minutes until warm.
Serve topped with sliced almonds and parsley.
📖 Recipe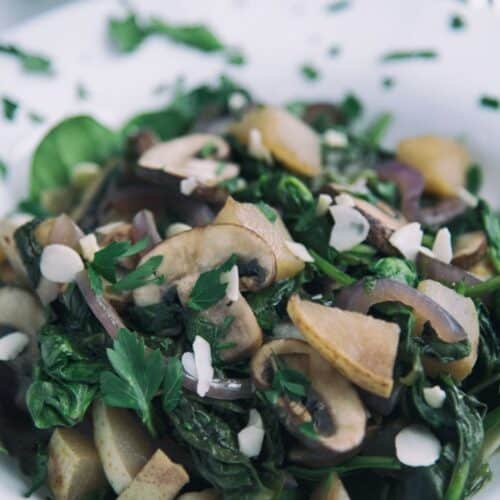 Warm Spinach And Pear Salad Recipe
Try something new for dinner tonight! This warm salad gives a unique twist on this traditional side course and works well with a ton of main course options.
Instructions
Heat olive oil in a skillet over medium heat.

Add the peas, mushrooms, and red onion to the skillet and cook everything until soft, 4 to 5 minutes.

2 pears,

10 mushrooms,

½ red onion

Pour in the balsamic vinegar, toss everything, and season with salt and pepper to taste.

¼ cup balsamic vinegar,

Sea salt and freshly ground black pepper

Add the spinach and cook for 1 to 2 minutes until warm.

5 to 6 cups of baby spinach

Serve topped with sliced almonds and parsley.

¼ cup sliced almonds,

Fresh parsley
Nutrition
Calories:
386
kcal
Carbohydrates:
43
g
Protein:
8
g
Fat:
21
g
Saturated Fat:
3
g
Polyunsaturated Fat:
3
g
Monounsaturated Fat:
14
g
Sodium:
83
mg
Potassium:
1024
mg
Fiber:
11
g
Sugar:
24
g
Vitamin A:
7083
IU
Vitamin C:
31
mg
Calcium:
164
mg
Iron:
11
mg