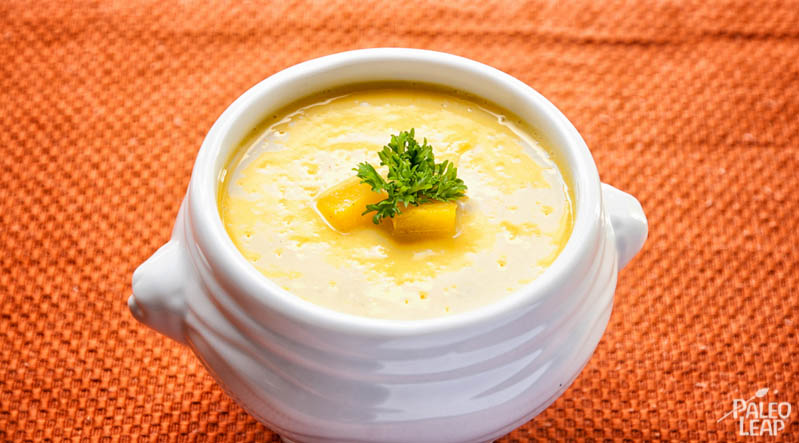 If you can't get enough of that crisp bite in the morning air, if you're eagerly waiting for the leaves to start falling, if you jumped for joy when pumpkins started appearing in the grocery store…this is the soup for you! Literally drink in the taste of fall with this rich, warming blend of sweet and savory seasonal vegetables. All the major ingredients – apples, acorn squash, and carrots – are beloved fall comfort foods, and the result has such an amazing flavor you barely need to use any spices or seasonings.
Another great aspect of this recipe is its versatility. If you don't like or can't get acorn squash, just substitute butternut or anything else you like; most winter squashes taste fairly similar, so the soup will still be delicious. All winter squashes are very nutritious (the darker orange their flesh, the better), so whatever you choose, the result will be just as good for your body as it is for your mood.
This is a great dish to bring to seasonal potlucks: everyone loves a hot bowl of soup, and it can even be made vegan by substituting vegetable broth for the chicken stock. You'll sacrifice a little flavor that way (not to mention the rich texture of the gelatin in homemade broth), but the other ingredients in the soup are flavorful enough to make it delicious anyway. Or if you don't have any special occasions to attend, celebrate a quiet evening at home with a hearty pot of soup, and enjoy a moment of rest and connection with the changing season.
Acorn Squash and Apple Soup Recipe

SERVES: 6

PREP: 20 min.

COOK: 40 min.

Values are per portion. These are for information only & are not meant to be exact calculations.
Ingredients
2 medium acorn squashes, peeled and cut into cubes;
2 cups apple, diced;
1 cup onion, diced;
1 cup celery, diced;
½ cup carrot, diced;
3 cups homemade chicken stock;
1 cup full-fat coconut milk;
Curry powder, to taste;
2 tbsp. cooking fat;
Sea salt and freshly ground black pepper to taste;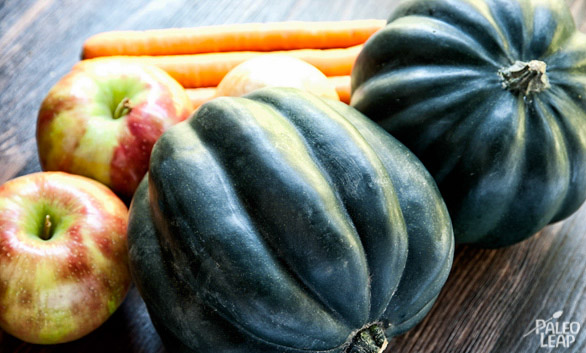 Preparation
Preheat your oven to 350 F.
Place the squash cubes on a baking sheet and roast for 30 to 40 minutes or until they easily break apart with a fork.
Place the cooked squash in a big bowl, mash them, and set aside.
In a large saucepan, melt the cooking fat over a medium heat. Add the apple, onion, celery, and carrot, and cook until tender (about 6 to 8 minutes).
Add the chicken stock. Cover and let simmer for another 6 to 8 minutes.
Add the mashed squash, coconut milk, and curry powder, and season to taste.
With a blender or food processor, puree the soup (it's easier to work in batches if you don't have an immersion blender). Be extra careful, hot liquid into a blender can create pressure. Hold the lid tight onto the blender with the help of a towel.
Place the soup back in the saucepan and on the heat until it's warm again, and serve hot.