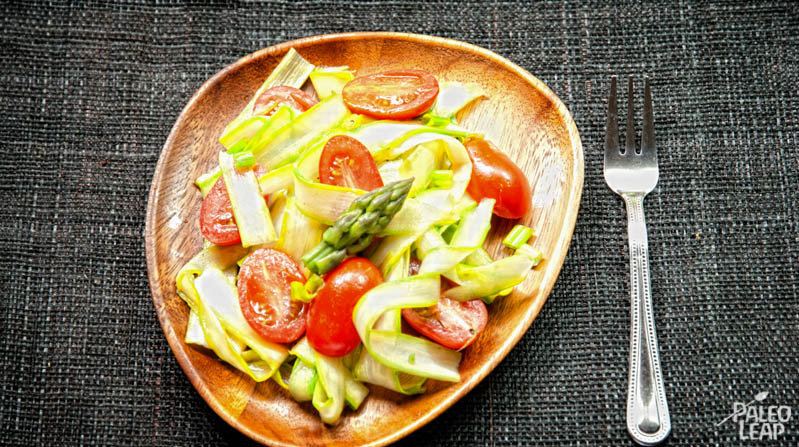 A lot of people claim they hate asparagus, but often what they really mean is that they don't like the wooden, tasteless asparagus they can find in grocery stores in February. The fresh version is another case altogether: it's tender and juicy, with a very pleasant mild flavor. A quick look around the farmer's market shows that asparagus is definitely in season right now, making this the perfect time to enjoy it straight from the field.
In this recipe, asparagus gets the fine-dining treatment: with a few quick slices of the vegetable peeler, a bunch of knobbly green stems are transformed into a plate of pasta-like ribbons. Serve it as a side dish or appetizer, or top it with chicken roasted with lemon and black pepper for a complete meal. If you don't tell your asparagus-hating friends what the "noodles" are, they might never even guess!
You can make the recipe even easier by not steaming the asparagus, but this leaves quite a strong, bitter taste that not everyone will like, especially not kids. It's very simple to steam the ribbons, though. If you don't have a real steamer, just use a colander balanced over the mouth of a pot for the same effect. It really is worth the extra few minutes to bring out the tenderness and mild flavor of cooked asparagus, especially since the recipe as a whole is so simple to make.
Asparagus Ribbons With Lemon Dressing
Values are per portion. These are for information only & are not meant to be exact calculations.
Ingredients
1 lb. asparagus (try to get ones with fairly substantial stalks);
1½ cup cherry tomatoes, halved;
2 tbsp. fresh chives, finely chopped;
Lemony Dressing Ingredients
2 tbsp. fresh lemon juice;
2 tsp. extra-virgin olive oil;
½ tsp. Dijon mustard;
Sea salt and freshly ground black pepper to taste;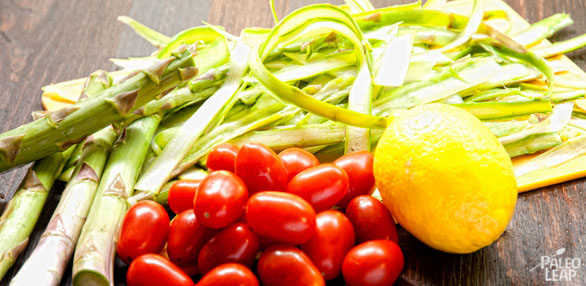 Preparation
Cut the heads and the ends off the asparagus.
Using a vegetable peeler, shave the asparagus into ribbons until you get about 3 cups.
Bring a pot of water equipped with a steamer to a boil. Steam the asparagus ribbons for about 3 to 4 minutes, then take them out and let them cool down.
Combine all the ingredients for the dressing in a small bowl, season to taste, and mix well.
Combine the asparagus, the tomatoes, and the chives in a medium bowl.
Drizzle the dressing over the asparagus and tomatoes, tossing gently to coat.