What are the 7 best reasons to enjoy your smoothie, spoonful by delicious spoonful in a bowl? Avocado, kale, banana, strawberries, raspberries, blueberries, and almonds. It is the ultimate "cereal" that you can make at home, and perhaps it will even give you superpowers too - after all, it is way up there with essential and nourishing fats, along with plenty of antioxidants from the berries.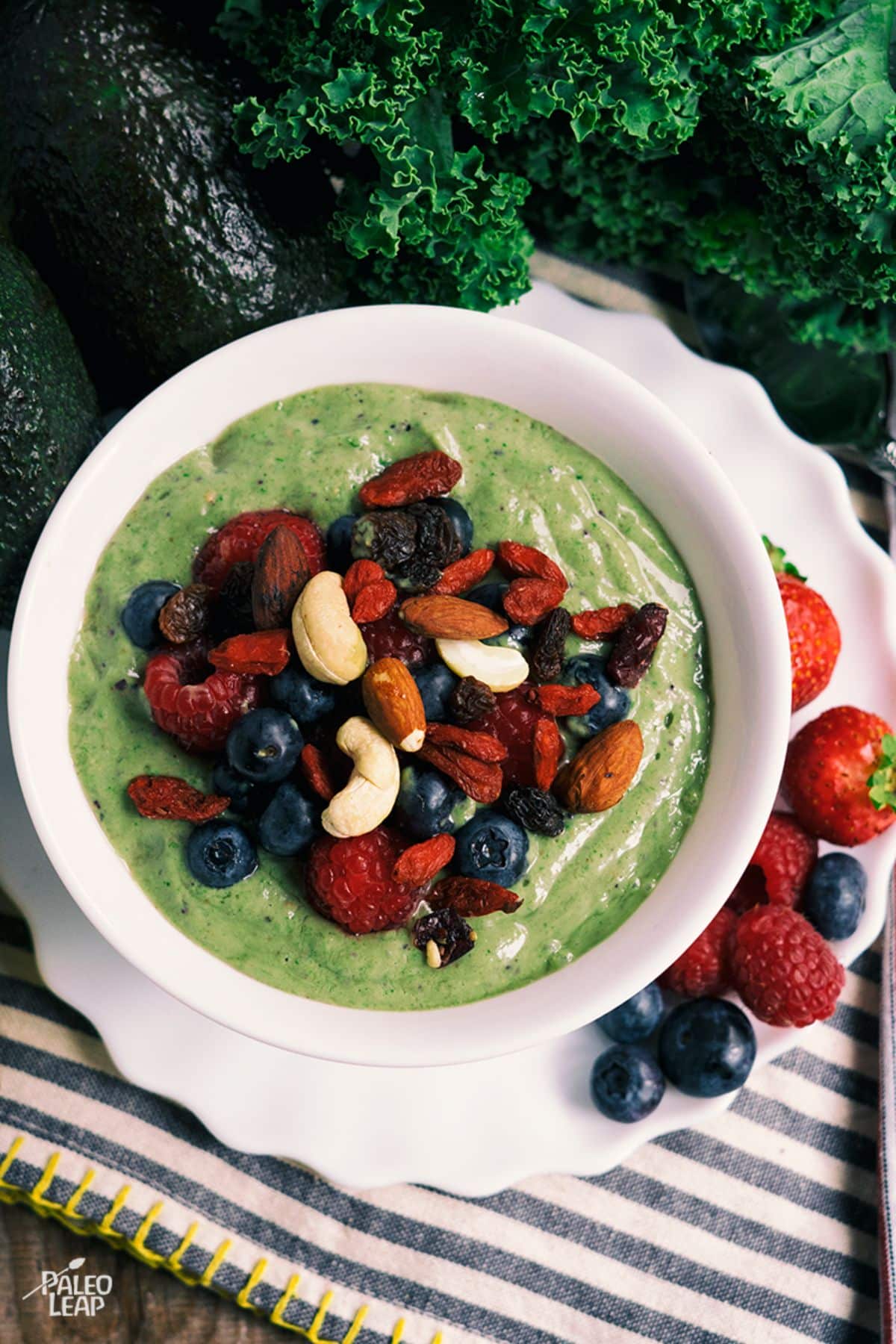 Not to mention the flavors that harmonize beautifully; it is truly a sing-song way to start the day. But we believe that one could, and should, serve it for dessert too. You could blend it up extra thick and call it a pudding...
The addition of kale is what makes this refreshing smoothie bowl particularly great, not to mention the fact: prep time is less than 15 minutes! With tremendous amounts of Vitamin C and K, it is a great addition to your diet, and when you can include any kind of leafy greens into breakfast, it is always a good thing.
And here you can let your imagination roam with all the topping ideas: hemp seeds, flax seeds, shredded coconut, a dollop more of nut butter, and a squeeze of fresh lemon juice.
Go crazy and have a different variation for every day of the week, and see just how energized your body feels after a smoothie bowl cure. If you are looking for something even more out of the ordinary, a tropical smoothie bowl will surely take your taste buds on a flavor adventure.
Avocado And Kale Smoothie Bowl Recipe
Serves: 2 Prep: 15 min
Ingredients
1 avocado, peeled and seeded
1 cup kale, roughly chopped
1 ripe banana
¼ cup strawberries
¼ cup raspberries
¼ cup blueberries
½ cup almond or coconut milk
2 tbsp. almond butter
Mixed berries (for serving)
Mixed nuts (for serving)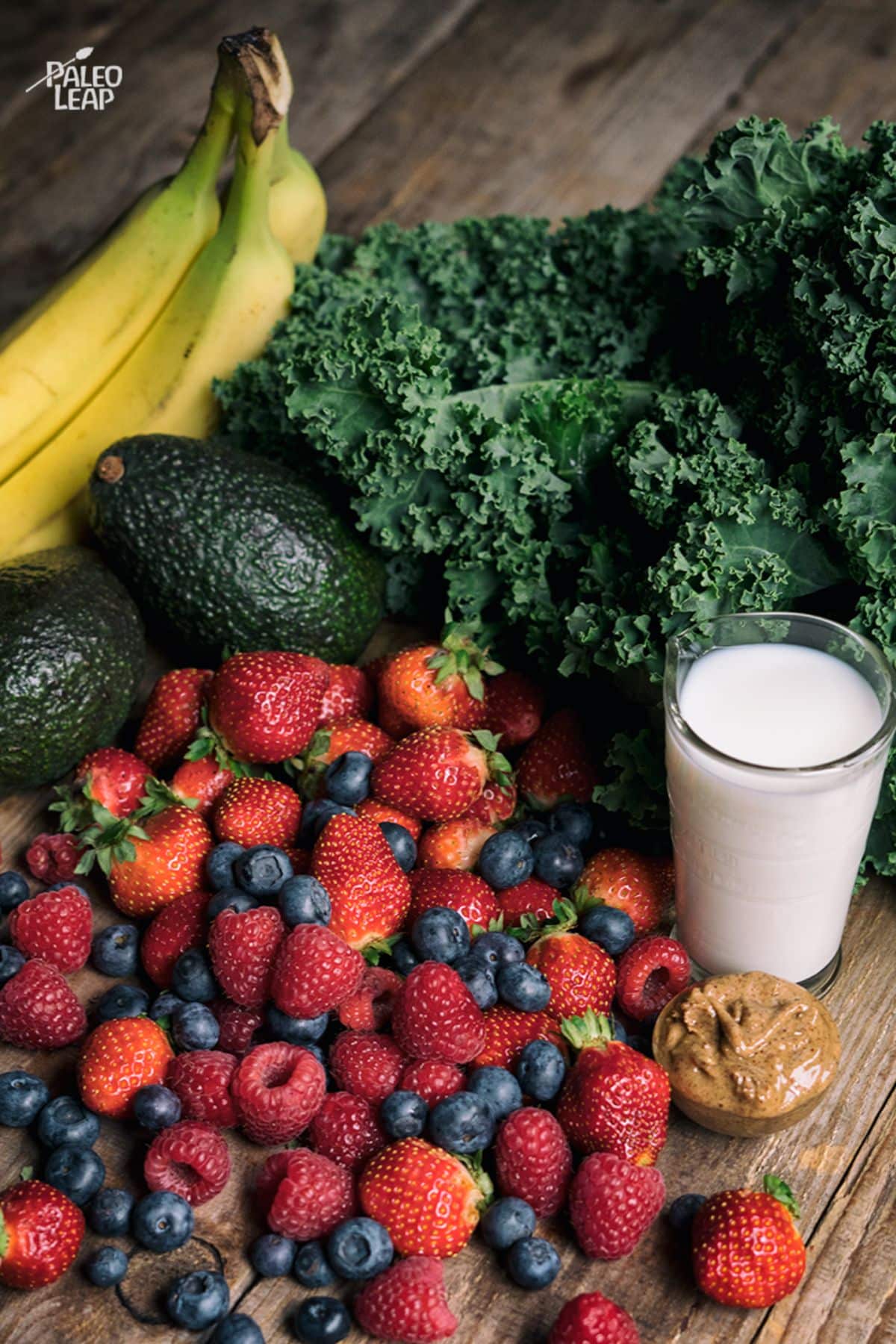 Preparation
Place all the ingredients in a blender except the berries and nuts for the topping, and pulse until everything is smooth.
If the smoothie is too thick, add more almond milk, ¼ cup at a time, and pulse with each addition.
Serve the smoothie in a bowl topped with fresh berries and nuts.
📖 Recipe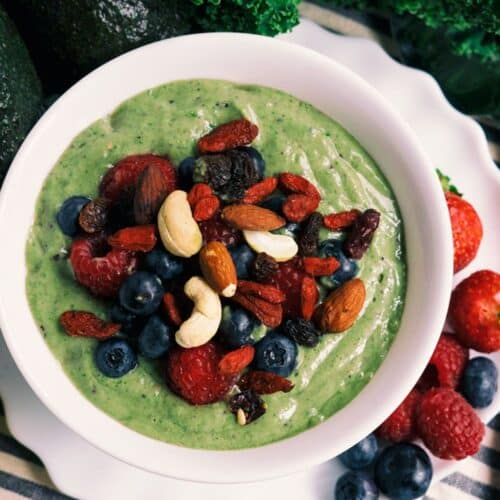 Avocado And Kale Smoothie Bowl Recipe
Spoon the green avocado and berry deliciousness direct from your smoothie bowl, and don't forget to go to town with various and exciting toppings!
Instructions
Place all the ingredients in a blender except the berries and nuts for the topping, and pulse until everything is smooth.

1 avocado,

1 cup kale,

1 ripe banana,

¼ cup strawberries,

¼ cup raspberries,

2 tbsp. almond butter,

¼ cup blueberries

If smoothie is too thick add more almond milk, ¼ cup at a time, and pulsing with each addition.

½ cup almond or coconut milk

Serve the smoothie in a bowl topped with fresh berries and nuts.

Mixed berries,

Mixed nuts
Nutrition
Calories:
451
kcal
Carbohydrates:
34
g
Protein:
8
g
Fat:
36
g
Saturated Fat:
14
g
Polyunsaturated Fat:
4
g
Monounsaturated Fat:
15
g
Sodium:
34
mg
Potassium:
1115
mg
Fiber:
13
g
Sugar:
12
g
Vitamin A:
3548
IU
Vitamin C:
63
mg
Calcium:
169
mg
Iron:
4
mg