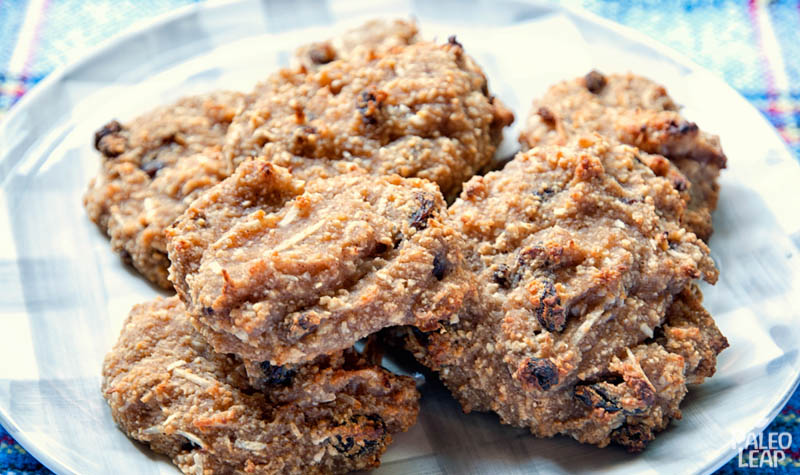 The hardest unhealthy foods to give up are always the ones with memories attached to them. Foods that mean nothing to you are easy to leave behind in favor of more nutritious options. But if you used to love baking with your family and friends, and you still remember the gleeful anticipation as the whole house started to smell warm and sweet, and then the sticky fingers and the giggles as you pried your new creations straight off the baking sheet – in that case, it's a little harder to let go.
For those times when you just want a cookie, this recipe delivers a soft, chewy bite of sweetness without most of the problems that make grain-based cookies so unhealthy. In the great battle over crispy vs. chewy, these are definitely cookies for the "chewy cookie" crowd; they're almost like a cross between cookies and banana bread. As treats like any other treats, they get all the usual Paleo dessert disclaimers: they're not something to eat every day, and they do contain a lot of nut flour which isn't the healthiest thing you could be eating. Paleo desserts should never replace more nutritious foods in your diet. But as a less-bad substitute for a favorite special treat, they're not so bad at all.
You can play around with the recipe if you like: I added some coconut flakes, but leave them out if you don't like them. If chocolate chip cookies are more your thing, you could also replace some or all of the raisins – just make sure to use a high-quality chocolate with a relatively low sugar content. Or play around with dried fruit, nuts, or whatever else you like in your cookies – after all, if you're going to have a cookie it better be delicious!
Banana Raisin Cookies Recipe

SERVES: 4

PREP: 5 min.

COOK: 30 min.

Values are per portion. These are for information only & are not meant to be exact calculations.
Ingredients
3 ripe bananas;
¼ cup applesauce;
3 cups almond meal;
½ cup coconut flour;
¼ cup coconut flakes;
¼ cup full-fat coconut milk;
½ cup raisins;
1 tsp. vanilla;
1 tsp. cinnamon;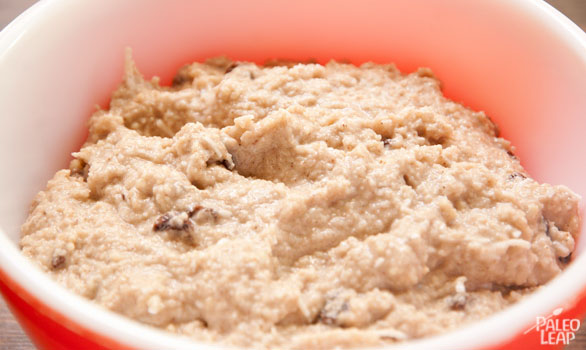 Preparation
Preheat your oven to 350 F.
In a large bowl, mash the bananas until you get a puree. Then add the remaining ingredients and combine until smooth.
On a parchment-covered or lightly greased cooking sheet, drop large spoonfuls of the cookie mixture.
Place the cookie sheet in the oven and bake 25 to 30 min or until golden.
Serve warm.