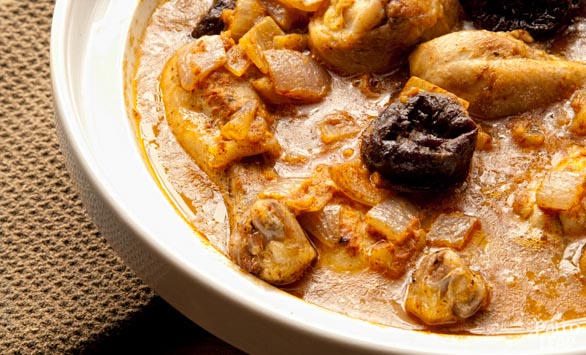 Are you always in search of inspiration for a new recipe? It's not always easy to find different ingredients or spices that will inspire you to prepare something new and different. When I'm in that situation and don't know what to cook, I usually refer to other ethnic recipes to find ideas. I often find that those recipes are different and interesting with their choice of spices and ingredients. They are not afraid to combine different ingredients that you would never have thought of.
Braising chicken in carrot juice in and of itself is quite unusual, but the resulting flavor and aroma are simply amazing. The combination of ingredients with the prunes and spice together creates something unique and very interesting.
This recipe is best enjoyed slow cooked especially in a tagine or a slow cooker. Both those cooking vessels bring much flavor to dishes because it traps the steam inside, creating a very moist cooking environment with an even heat throughout the cooking process. The tagine also makes a striking table presentation when you invite guests over. If you do cook with a tagine, it's not necessary to do the initial browning of the meat, but I always prefer to do it anyway. A regular dutch oven pot is also a really good option for a recipe like the following one.
In this recipe, I chose dried prunes, also sometime referred to as dried plums, but there are many different options to choose from, such as apricots or dates or even a combination of different dried fruits. Prunes are not something I personally use very often and that's why I liked the idea of using them for this recipe.
Prunes are a great source of fiber and potassium. In part because of their high-fiber content, but also because of a compound called dihydrophenylisatin, prunes can act as a mild laxative and are sometimes useful in the short-term treatment of constipation.
Enjoy this unique and bold-tasting Paleo dish with your family and guests!
Braised chicken in carrot juice and prunes recipe

SERVES: 4

PREP: 20 min.

COOK: 1h.
Values are per portion. These are for information only & are not meant to be exact calculations.
Add to Meal Plan
Ingredients
8 chicken drumsticks;
6 whole dried or fresh prunes;
1 ¼ cups carrot juice;
¾ cup homemade chicken stock;
1 large red onion, peeled and thinly sliced;
½ tsp. ground cumin;
1 tsp. ground cinnamon;
1 tsp. ground ginger;
2 Tbsp. extra-virgin olive oil;
2 Tbsp. fresh cilantro, chopped;
2 Tbsp. fresh lemon juice;
Sea salt and freshly ground black pepper;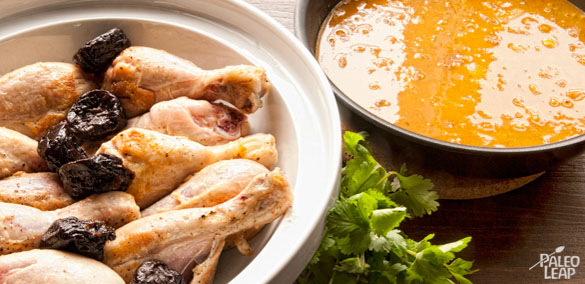 Preparation
Preheat your oven at 350 F.
In a skillet placed over a medium-high heat, add the olive oil.
Place the eight chicken drumsticks in the skillet, and cook for about 5 minutes, until browned on one side. Then turn the pieces and cook the same way for about 5 minutes again. During the cooking process, you might want to cover up the skillet with a splatter screen to save some cleaning time.
Transfer the drumsticks to either an oven-ready pot, a tagine or a slow cooker and set aside.
In the same skillet, without washing it, and on a medium heat, add the onions and cook for about 5 to 6 minutes until they soften.
Add the ginger, the cinnamon and the cumin to the onions and stir for about one minute.
Pour the carrot juice and the chicken broth over the onions and bring to a boil. Make sure to scrape the bottom of the skillet as you stir, to get all the bits of ingredients that may have stuck to the bottom of the skillet during the process.
Once it boils, pour the mixture into the oven pot with the drumsticks. Add the prunes and cover the pot.
Place in the oven and braise 40 to 50 minutes.
Serve with fresh cilantro sprinkled on top.