Every time I eat duck, I always ask myself, why don't I make this more often? I just love it so much; duck meat is so tasty and so tender when properly cooked.
The following recipe is one of those recipes where everything fits perfectly together; the delicious duck legs, the bacon, the vegetables, and the fresh herbs like thyme and parsley.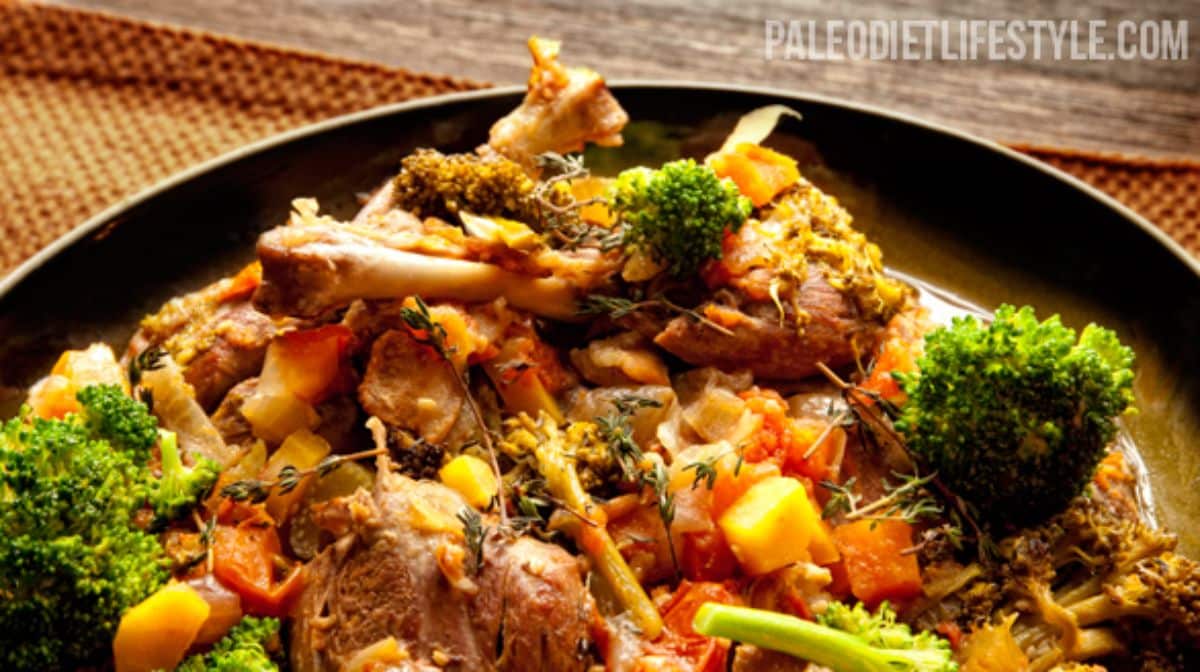 Everything is there to make this recipe a classic in any good Paleo household. I'm sure you'll come back to this recipe many times throughout the year.
When purchasing duck legs, they usually come with the drumstick and thigh still attached together and this is perfect for this recipe.
Of course, you can use chicken or turkey instead of duck for this recipe, but I find that we don't eat duck nearly often enough anyway so this is a great option to incorporate it in your diet.
Both the facts that it's duck and that it's braised make this recipe sound really fancy and sophisticated, but it's not any harder to prepare than most Paleo meat dishes.
It's a win-win situation if you prepare it for guests because it makes you look like a pro and you get to enjoy stress-free time with your guests because most of the cooking happens in the oven when you don't have to be involved.
Of course, it's always important to try to source some good quality duck from a local producer that takes care of feeding and treating their ducks properly. Most local butchers have a local duck supplier and your butcher should be able to tell you about the way that the ducks are raised.
Duck can take a long time to cook and easily becomes dry so that's why I prefer braising it. It's also a lot easier to either cook in a slow cooker or in the oven at a low temperature for a few hours than to be involved every step of the way. Any recipe using duck meat should be given some time rest after cooking to allow the juices to settle inside the meat.
Duck is also very versatile, most of the recipes using any type of red meat or poultry can easily be prepared with duck. It brings a totally different taste profile to any recipe you might be tired off.
Duck meat is an excellent source of high quality protein and it also contains many nutrients in good quantity like iron, phosphorus, copper and vitamin b12. After all, duck is often considered to be a red meat so when it comes to the nutrition profile, color and flavor, it's quite different than other birds like chicken or turkey.
Braised Duck Legs with Mix Vegetables Recipe
SERVES: 4 PREP: 30 min COOK: 2h
Ingredients
4 duck legs, skinless;
1 thick slice of bacon or 2 regular slices cut into cubes;
Some duck fat or other Paleo cooking fat;
3 cloves garlic, minced;
1 onion, diced;
1 celery stalk, diced;
2 carrots, diced;
6 small tomatoes, diced;
1 bunch of broccoli;
1 cup duck stock;
1 tablespoon of fresh thyme leaves;
2 tablespoon of fresh parsley;
The zest of one orange;
Sea salt and freshly ground black pepper to taste;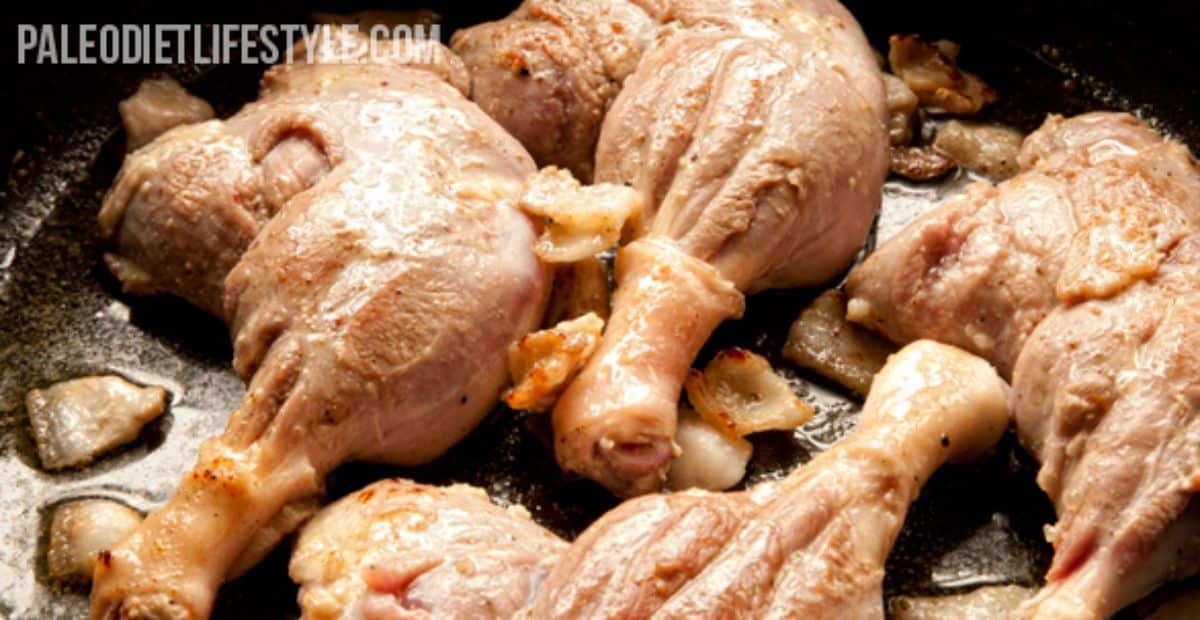 Preparation
Preheat your oven to 325 F.
On a medium-high heat, using the duck fat, cook the bacon and the duck legs until the legs are a nice and brown on each side.
Once the duck is brown on all sides, transfer everything in an oven ready pot that includes the 4 duck legs, the bacon and the duck fat and add half of the duck stock.
Place the pot in the preheated oven for 30 min.
Take the same skillet without washing and, using some more duck fat, cook the garlic, the onions, the celery and the carrots for 3 to 5 minutes.
Add the tomatoes to the skillet and cook again for 3 to 5 minutes before removing from the heat.
Once the duck legs have been in the oven for 30 minutes, take the pot out of the oven and add all the content of the skillet into the pot, also add the thyme and the remaining duck stock. Season with sea salt and black pepper to taste.
Place back in the oven for a little over 1 hour.
When the duck is almost done, on a medium-high heat, sauté the broccoli with more duck fat for 5 to 10 minutes. Don't overcook the broccoli you want to keep them somewhat crunchy.
Let the meat rest for about 10 minutes out of the oven and add in the broccoli with the other ingredients.
Serve with the orange zest and parsley sprinkled on top.
📖 Recipe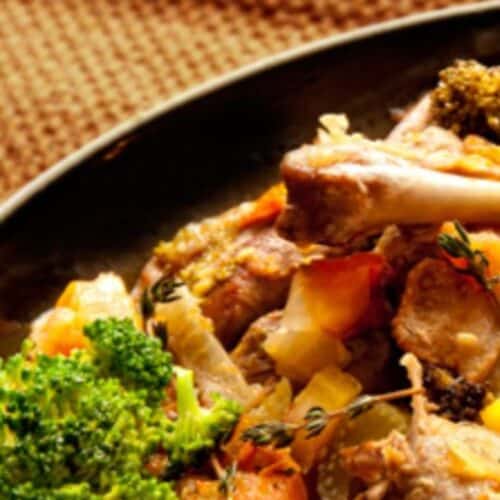 Braised Duck Legs with Mix Vegetables Recipe
Tender duck legs with the delicious flavors of bacon and vegetables like carrots and tomatoes. This braised duck looks fancy and is very easy to prepare.
Ingredients
4

duck legs

skinless

1

thick slice of bacon or 2 regular slices cut into cubes

Some duck fat or other Paleo cooking fat

3

cloves

garlic

minced

1

onion

diced

1

celery stalk

diced

2

carrots

diced

6

small tomatoes

diced

1

bunch of broccoli

1

cup

duck stock

1

tablespoon

of fresh thyme leaves

2

tablespoon

of fresh parsley

The zest of one orange

Sea salt and freshly ground black pepper to taste
Instructions
Preheat your oven to 325 F.

On a medium-high heat, using the duck fat, cook the bacon and the duck legs until the legs are a nice and brown on each side.

1 thick slice of bacon or 2 regular slices cut into cubes,

Some duck fat or other Paleo cooking fat,

4 duck legs

Once the duck is brown on all sides, transfer everything in an oven ready pot that includes the 4 duck legs, the bacon and the duck fat and add half of the duck stock.

Place the pot in the preheated oven for 30 min.

Take the same skillet without washing and, using some more duck fat, cook the garlic, the onions, the celery and the carrots for 3 to 5 minutes.

Some duck fat or other Paleo cooking fat,

3 cloves garlic,

1 onion,

2 carrots,

1 celery stalk

Add the tomatoes to the skillet and cook again for 3 to 5 minutes before removing from the heat.

Once the duck legs have been in the oven for 30 minutes, take the pot out of the oven and add all the content of the skillet into the pot, also add the thyme and the remaining duck stock. Season with sea salt and black pepper to taste.

1 cup duck stock,

Sea salt and freshly ground black pepper to taste,

1 tablespoon of fresh thyme leaves

Place back in the oven for a little over 1 hour.

When the duck is almost done, on a medium-high heat, sauté the broccoli with more duck fat for 5 to 10 minutes. Don't overcook the broccoli you want to keep them somewhat crunchy.

1 bunch of broccoli,

Some duck fat or other Paleo cooking fat

Let the meat rest for about 10 minutes out of the oven and add in the broccoli with the other ingredients.

Serve with the orange zest and parsley sprinkled on top.

The zest of one orange,

2 tablespoon of fresh parsley
Nutrition
Calories:
507
kcal
Carbohydrates:
22
g
Protein:
53
g
Fat:
24
g
Saturated Fat:
6
g
Polyunsaturated Fat:
4
g
Monounsaturated Fat:
11
g
Trans Fat:
0.01
g
Cholesterol:
200
mg
Sodium:
528
mg
Potassium:
1005
mg
Fiber:
7
g
Sugar:
9
g
Vitamin A:
3557
IU
Vitamin C:
171
mg
Calcium:
126
mg
Iron:
6
mg