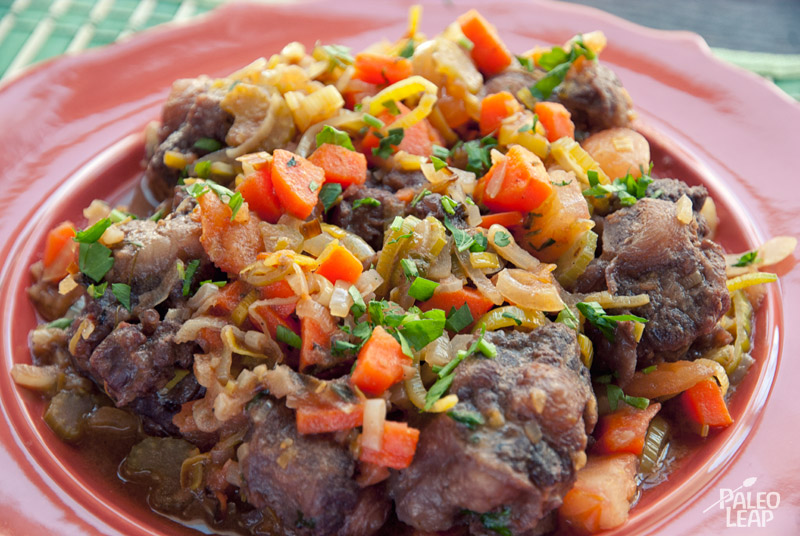 When is the last time you had braised oxtail? One of the first things someone eating a standard American diet will argue about with Paleo is lack of variety or choice. I never tasted cuts and organs like oxtail, marrow, homemade stock, tongue, kidneys or heart before switching to a Paleo diet and probably never would have. Neither did I eat such a variety of animals like elk, bison, wild boar, squid, and rabbit.
Oxtail is one of those items that very few people keep in their repertoire, even in the Paleo circles. We often talk about the most popular organs, but rarely hear about eating the tail of animals. Oxtail is the name commonly given the preparation of beef tail.  It's a tough meat so it's often stewed or braised and the bones will leave some of their great taste to the cooking liquid. You can ask your butcher to cut it appropriately or you can cut the tails yourself with a big knife. Try to get the tail ends so you can put them with the cooking liquid to give even more flavor and nutrients to the final dish.
The aromatic vegetables in the main braising ingredients are cut in large chunks so they don't disintegrate in the sauce. The same vegetables are cut much more finely in the garnishing preparation because they are only slightly cooked.
Braised Oxtail recipe
Values are per portion. These are for information only & are not meant to be exact calculations.
Ingredients
1 oxtail, cut into 4 sections;
1/2 cup chopped carrots;
1/2 cup diced onions;
1/2 cup chopped celery;
1/2 cup chopped leeks;
4 tbsp tallow, lard or butter;
1 lb tomatoes;
8 sprigs fresh thyme;
2 bay leaves;
4 crushed garlic cloves;
1 cup red wine (you can omit the wine if you want to);
4 1/2 cups chicken or beef stock.
Ingredients for the vegetable garnish
1 finely diced carrot;
1 finely diced onion;
2 finely diced celery stalks;
1/2 leek, finely diced;
4 small tomatoes, finely diced;
2 tbsp chopped parsley.
Preparation
Preheat your oven to 350 F.
Heat the lard, tallow or butter in a pan and brown the oxtail pieces on each side.
Remove the oxtail and brown the vegetables for the main braising liquid (carrots, celery, onions and leeks). Make sure you stir and scrape off any meat residue in the bottom of the pan.
Add the tomatoes, thyme, bay leaves and garlic and cooked for a couple of minutes.
Put the oxtail and browned vegetables in an ovenproof casserole and add the wine, if using.
Boil the wine at high heat until almost evaporated and add enough stock to cover the oxtail entirely.
Bring the whole preparation to a simmer then cover and put in the oven to braise for about 1.5 hours to 2 hours.
At this point, most chefs will strain the liquid to remove the small pieces of cooked and mushy vegetables so it looks better. I personally like to leave them in, but it's up to you. You should definitely remove the bay leaves though. Even cooking for several hours will not soften a bay leaf. We remove them because the edges can be sharp and can scratch your throat, stomach or intestines if inadvertently swallowed.
Blanch the garnishing vegetables other than the tomatoes in boiling water for about 4 minutes.
Put the blanched vegetables in the oxtail preparation and simmer for about 2 minutes.
Enjoy this sophisticated but simple dish with family and friends!