Try something unique with this delicious paleo braised rabbit with thyme. A perfect way to add protein to your menu that is anything but boring. You are sure to love the flavors this recipe brings to your dinner table!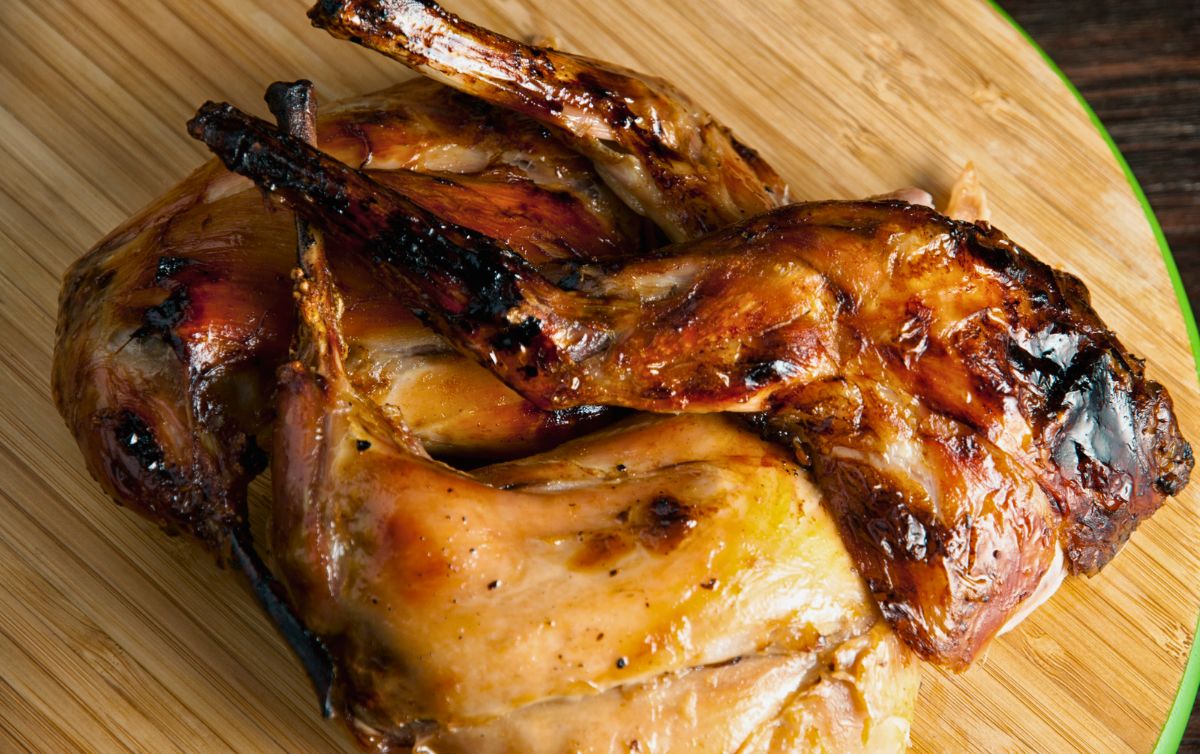 Jump to:
Braised Rabbit
Rabbit is a great source of protein and is low in fat, making it the perfect choice for those who are following a paleo or keto diet. However, cooking a braised rabbit can be a little tricky. If you're not careful, it can turn out tough and chewy. But don't worry, I've got some tips for you to keep your rabbit tender and delicious.
First, it's important to marinate your rabbit before cooking it. This helps to tenderize the meat and infuse it with flavor. A marinade with vinegar or citrus juice will help break down the fibers in the meat and make it more tender. This recipe recommends a 24 to 48-hour marinade for best results.
Another tip is to braise the rabbit slowly over low heat. This allows the meat to cook gently and become more tender. If you're in a rush, you can also use a pressure cooker or slow cooker to braise your rabbit.
Now, let's talk about the flavor of rabbits. It has a mild, delicate flavor that's similar to chicken, but with a slightly gamy taste. If you've ever tried lamb, the flavor is somewhat similar. This makes it the perfect canvas for bold herbs like thyme and rosemary.
Overall, braised rabbit with thyme is a delicious and healthy meal that's perfect for those who are following a paleo or keto diet. With a little bit of care, you can create a tender and flavorful dish that's sure to impress. If you still aren't sure, check out our guide to game meat for more tips!
Ingredients
Serves: 6 Prep Time: 20 minutes Rest Time: 24 to 48 hours Cook Time: 50 minutes.
3lb rabbit, cut into portions
4 sprigs of fresh thyme
¾ cup chicken broth
1 ¼ cups white wine
2 bay leaves
4 black peppercorns, slightly crushed
1 clove garlic, minced
2 strips of lemon peel
3 tablespoon cooking fat, beef tallow, lard, or bacon grease
Sea salt and freshly ground black pepper, to taste
How to Make Braised Rabbit with Thyme
In a large saucepan, add the chicken stock, wine, bay leaves, crushed peppercorns, minced garlic, and lemon peel. Bring this to a boil over medium heat. Once boiling, remove this from the heat source.
Add the rabbit and thyme to the saucepan of liquid. Cover and refrigerate for 24 to 48 hours.
When ready to cook, remove the rabbit from the marinade, and pat each portion dry. Do not discard the marinating liquid. Instead, strain the marinade to remove the peppercorns, thyme, and bay leaves.
Melt the cooking fat, in a Dutch oven, over medium-high heat, then brown the rabbit on all sides.
Now, pour the strained liquid back into the Dutch oven with the rabbit. Season with salt and black pepper, then bring the mixture to a simmer.
Cover, and cook for around 50 minutes, over medium heat, checking occasionally and turning the rabbit if desired for even cooking.
Serve the rabbit portions with a drizzle of the cooking liquid for added flavor.
What Goes with Braised Rabbit?
Not sure what to serve with this rabbit recipe? You can serve any of your favorite side dishes! Since it is a bit gamey, but most closely resembles the flavor of chicken, you can keep that in mind when preparing side dishes. Below are some of our favorite paleo sides for you to check out. Bookmark your favorites, print out the recipes, or pin them to Pinterest to make soon!
📖 Recipe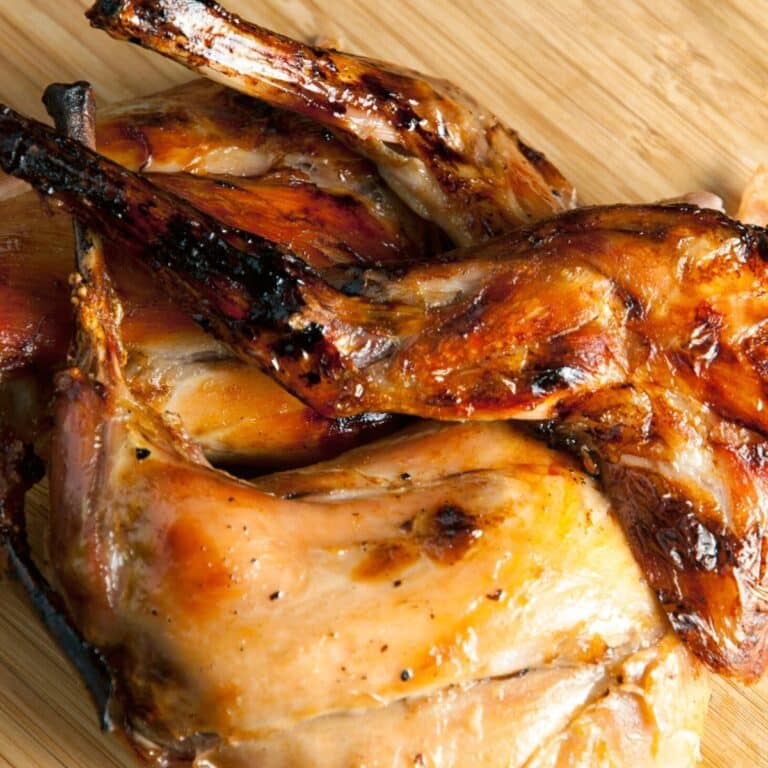 Braised Rabbit with Thyme
Try this delicious paleo recipe for braised rabbit with thyme! A hearty and healthy meal that's easy to make and full of flavor.
Ingredients
3

lb

rabbit

cut into portions

¾

cup

chicken broth

1 ¼

cups

white wine

4

black peppercorns

slightly crushed

1

clove

garlic

minced

2

strips of lemon peel

3

tablespoon

cooking fat

beef tallow, lard, or bacon grease
Instructions
Start by adding the bay leaves, garlic, peppercorns, and lemon peel to a pot or saucepan, then pour in the stock and wine. Heat the mixture to a boil, and quickly remove from the heat.

¾ cup chicken broth,

1 ¼ cups white wine,

2 bay leaves,

4 black peppercorns,

1 clove garlic,

2 strips of lemon peel

Add the rabbit pieces and thyme sprigs to the hot liquid, then place in the refrigerator for a full day or two to marinate. Once the time has passed, remove the rabbit pieces from the marinade and pat them dry.

3 lb rabbit,

4 sprigs fresh thyme

Next, melt some cooking fat in a large pot or dutch oven and brown the rabbit pieces on all sides. Strain the marinating liquid to remove the thyme sprigs, bay leaves, and peppercorns, then pour it back in with the rabbit.

Season the mixture with salt and pepper, bring it to a simmer, and continue cooking for about 50 minutes, or until the rabbit is fully cooked.

Sea salt and freshly ground black pepper

For an extra boost of flavor, try serving the rabbit with the cooking liquid on the side. Your guests are sure to love this delicious and tender dish.
Notes
Rabbit can be purchased at most butcher shops, but is also readily available online from a select set of distributors.  You can also hunt and butcher your own rabbit if you prefer. 
The remaining cooking liquid can also be thickened with cornstarch and turned into a thicker gravy to pour over the rabbit or side dishes. 
Nutrition
Serving:
6
g
Calories:
410
kcal
Carbohydrates:
6
g
Protein:
54
g
Fat:
16
g
Saturated Fat:
4
g
Polyunsaturated Fat:
6
g
Monounsaturated Fat:
5
g
Trans Fat:
0.05
g
Cholesterol:
188
mg
Sodium:
7178
mg
Potassium:
973
mg
Fiber:
0.1
g
Sugar:
5
g
Vitamin A:
35
IU
Vitamin C:
2
mg
Calcium:
89
mg
Iron:
8
mg