Fish cakes are a wonderfully delicious and nutritious meal for all ages, and they are a great way to use up leftover cooked salmon too.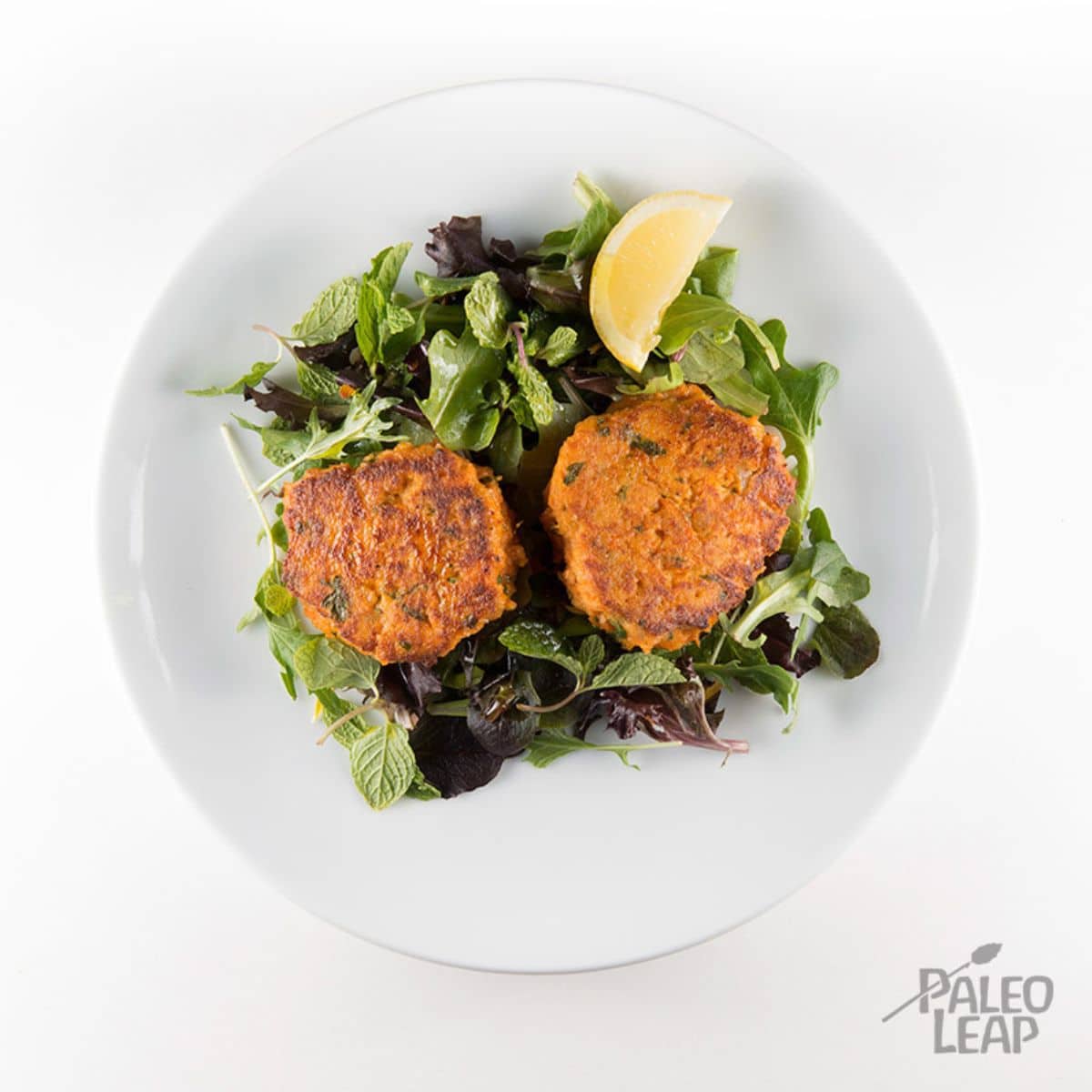 We have a tried and tested recipe for salmon cakes made with either sweet potatoes, or classic russets, depending on your non-gluten binder preference. But what if you don't have leftovers or the time to cook a salmon fillet from scratch?
Enter the canned salmon. It is a super convenient way to add nutrient-dense protein to your meals, at the same time providing you with essential B vitamins, Omega-3 fatty acids, selenium, and potassium.
Now that you know salmon cakes are mineral and vitamin-rich, what is to stop you from making a batch of scrumptious fish cakes? Let nothing stand in your way as you gather all the ingredients and make your way to the stove.
If you don't have a microwave, bake the sweet potatoes instead. And not just one, but two or three, to meal prep for lunch/dinner the next day. Do you say you can't use ghee? Coconut oil is wonderful for frying in too, and it is a staple in any Paleo pantry.
We've included cumin, paprika, and loads of fresh parsley in our fish cakes, all of which complement the delicate flavor of the salmon, but from time to time, we enjoy it on the spicy side and add a little finely chopped jalapeño. A homemade Paleo tartar sauce brings the meal full circle.
Canned Salmon Fish Cakes Recipe
Serves: 4 Prep: 25 min Cook: 45 min
Ingredients
1 large sweet potato, washed
⅔ cup almond meal
2 tbsp. finely chopped onion
¼ cup packed fresh parsley, finely chopped
1 tbsp. lemon juice
1 tsp. cumin
1 ¼ tsp. paprika
3 large eggs
10 oz. canned wild salmon, mashed with a fork
Lemon wedge + mixed greens for serving
Salt and pepper to taste
Ghee, for frying
Preparation
Prick the sweet potato all over with a fork, place in damp paper towels, and pop in the microwave on high for 8 minutes.
Let it cool before cutting it in half and scooping out the flesh.
Combine almond meal, onion, parsley, lemon juice, eggs, spices, and salmon.
Add the sweet potato flesh to the mixture. Make sure it's cool enough so that it won't start cooking the eggs.
Form evenly shaped patties, with about ⅓ cup of the mixture per patty.
Place them on a baking sheet and in the fridge for about 30 minutes.
Heat a large frying pan over medium-high heat and add a good amount of ghee.
Cook the patties for about 5 to 6 minutes on each side. Proceed in 2 or 3 batches.
📖 Recipe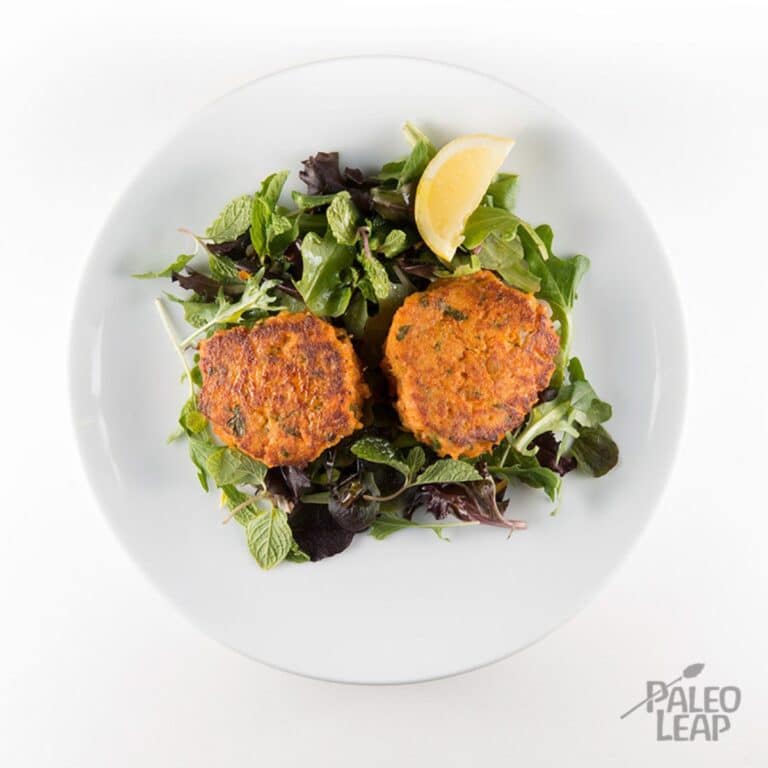 Canned Salmon Fish Cakes Recipe
No leftover cooked salmon to add to your fish cakes? Use canned salmon instead, with plenty of fresh parsley, cumin, paprika, and lemon juice.
Ingredients
1

large sweet potato

washed

⅔

cup

almond meal

2

tbsp.

finely chopped onion

¼

cup

packed fresh parsley

finely chopped

1

tbsp.

lemon juice

1

tsp.

cumin

1 ¼

tsp.

paprika

10

oz.

canned wild salmon

mashed with a fork

Lemon wedge + mixed greens for serving

Ghee

for frying
Instructions
Prick the sweet potato all over with a fork, place in damp paper towels, and pop in the microwave on high for 8 minutes.

Let it cool before cutting it in half and scooping out the flesh.

Combine almond meal, onion, parsley, lemon juice, eggs, spices, and salmon.

⅔ cup almond meal,

2 tbsp. finely chopped onion,

¼ cup packed fresh parsley,

1 tbsp. lemon juice,

1 tsp. cumin,

1 ¼ tsp. paprika,

3 large eggs,

10 oz. canned wild salmon,

Salt and pepper to taste

Add the sweet potato flesh to the mixture. Make sure it's cool enough so that it won't start cooking the eggs.

Form evenly shaped patties, with about ⅓ cup of the mixture per patty.

Place them on a baking sheet and in the fridge for about 30 minutes.

Heat a large frying pan over medium-high heat and add a good amount of ghee.

Cook the patties for about 5 to 6 minutes on each side. Proceed in 2 or 3 batches.

Lemon wedge + mixed greens for serving
Nutrition
Calories:
162
kcal
Carbohydrates:
6
g
Protein:
9
g
Fat:
13
g
Saturated Fat:
2
g
Polyunsaturated Fat:
1
g
Monounsaturated Fat:
1
g
Trans Fat:
0.01
g
Cholesterol:
123
mg
Sodium:
50
mg
Potassium:
106
mg
Fiber:
3
g
Sugar:
1
g
Vitamin A:
953
IU
Vitamin C:
2
mg
Calcium:
73
mg
Iron:
2
mg