You absolutely adore cherries, and chicken is a staple ingredient in your kitchen... If you nodded yes to this statement, then let us continue by telling you the honest truth: you must eat them together; if you don't, then you are missing out on a wonderfully unexpected flavor combination.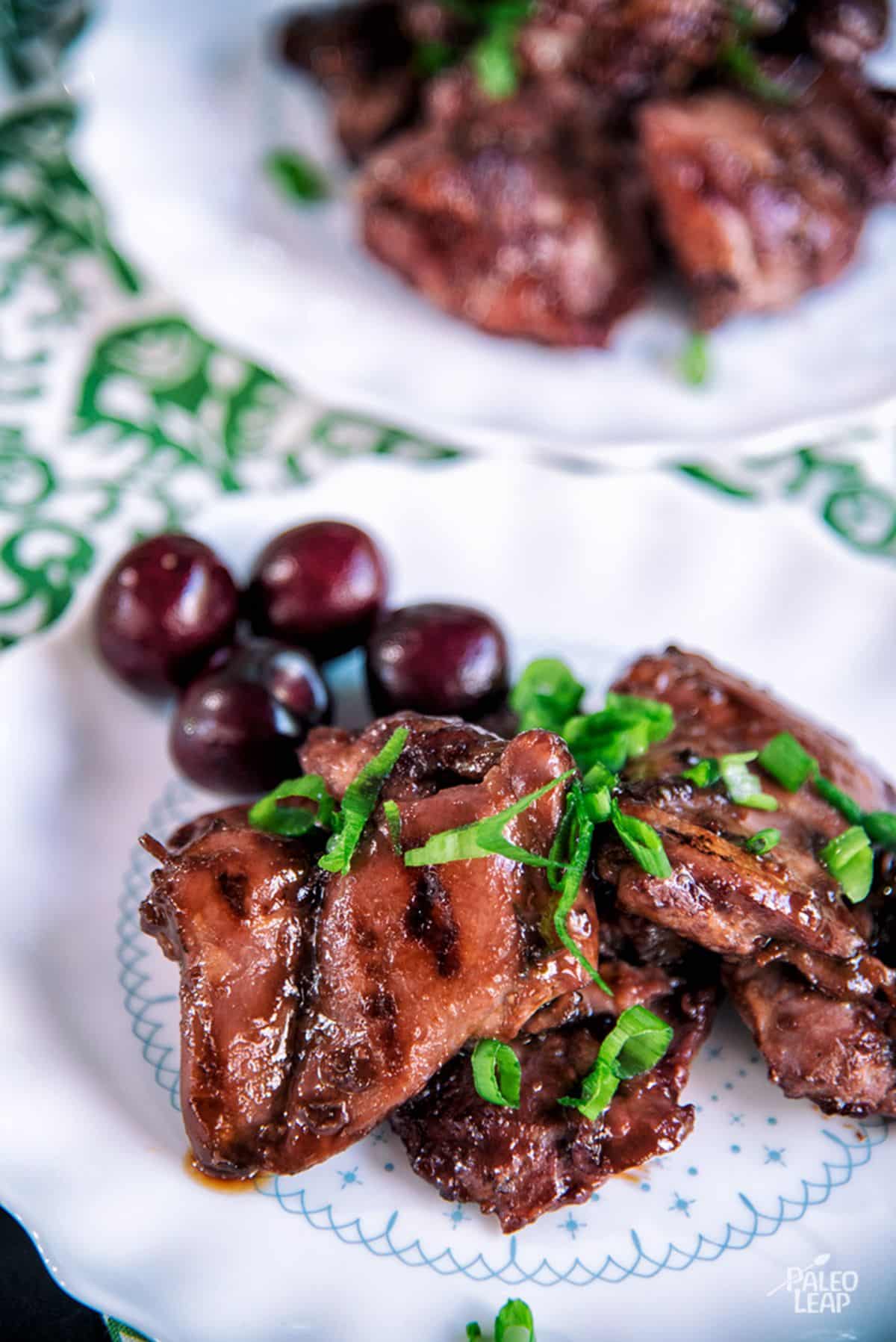 The sweet cherries are boiled down into the most luscious marinade with garlic and coconut aminos and the chicken is going to soak in that "sauce" for 2 to 12 hours, which means you can start dinner preparation the night before and be ready for grilling the next day.
Cherries are jam-packed with powerful antioxidants, and surprisingly, some of them can help you sleep better; the tart ones are a good source of melatonin. This can help you regulate the much-needed deep sleep that occurs in varying lengths from sundown to sunup.
So, if your mind and body require a good night's rest, this may be a good recipe to try. Whatever happens, at least your taste buds are going to be amazed, and if kids are in the picture, they will be complimenting your fine taste too.
Add a side of roasted butternut squash and turnips to your cherry chicken, and your table will be set with everything it needs.
Of course, if bright red cherries are in season and you are buying them in bulk, then you may want to try some skillet cherry jam while the fruit is fresh, as it tastes wondrous on flourless pancakes.
Cherry Chicken Recipe
Serves: 4 Prep: 10 min + 2h Cook: 16 min
Ingredients
8 to 10 chicken thighs, skinless and boneless
2 cups cherries, pitted
2 garlic cloves, minced
1 tbsp. fresh ginger, minced
¼ cup coconut aminos
2 tbsp. apple cider vinegar
1 tbsp. fresh lemon juice
1 tbsp. raw honey
Sea salt and freshly ground black pepper
Fresh green onion to garnish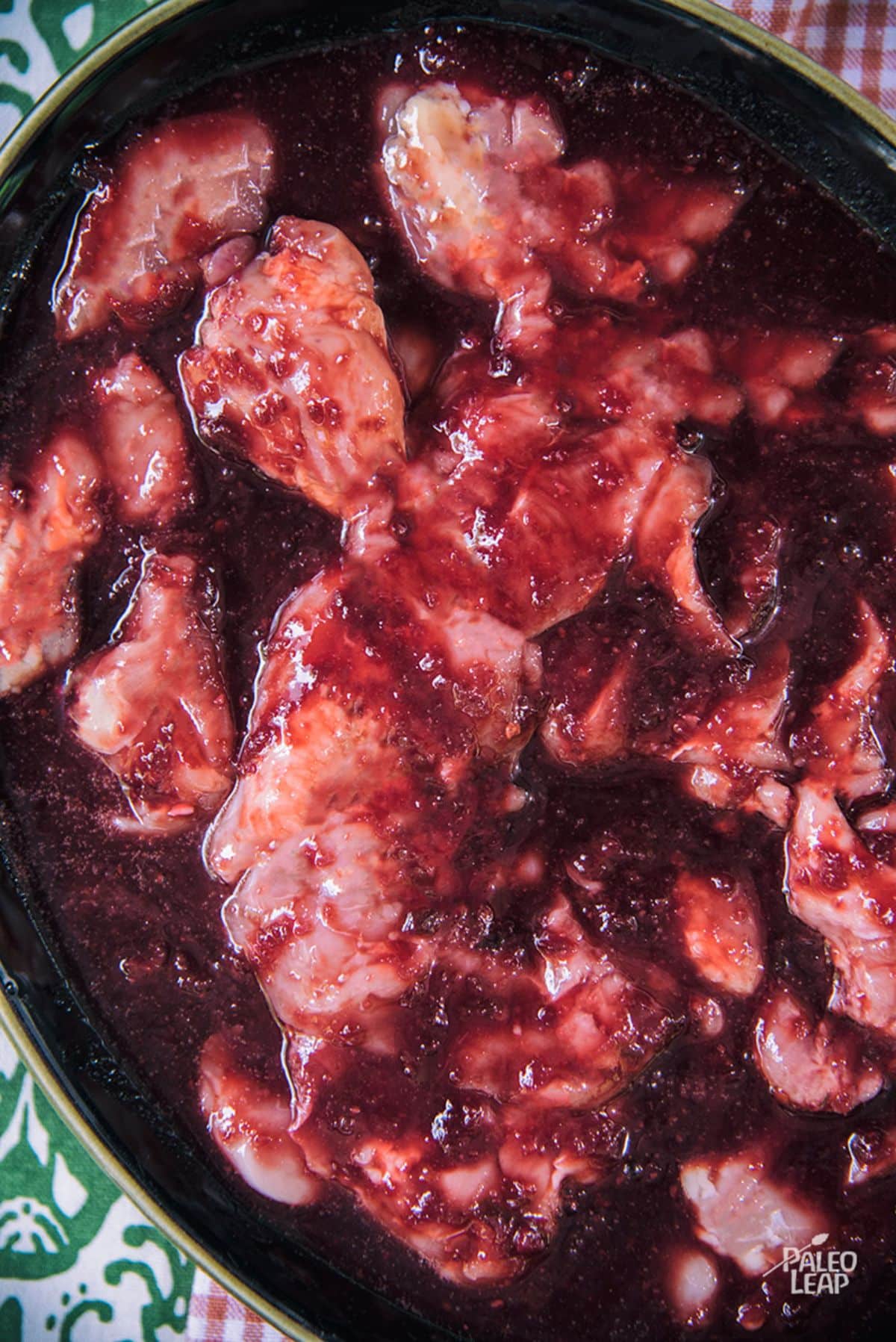 Preparation
Season the chicken thighs to taste with sea salt and freshly ground black pepper.
Place all the remaining ingredients in a saucepan and season to taste.
Bring the mixture to a light boil over medium heat.
Simmer the mixture for 15 to 20 minutes or until the cherries are soft and break apart.
Pulse the sauce until smooth using an immersion blender or regular blender.
If needed, return the sauce to heat and let it cook down further.
Pour the cherry sauce over the chicken thighs and let the chicken marinate for 2 to 12 hours.
Preheat the grill to medium-high heat.
Grill the chicken for 6 to 8 minutes per side, basting with the remaining sauce every 2 minutes.
Let the chicken rest for 4 to 5 minutes, and serve with chopped green onions.
📖 Recipe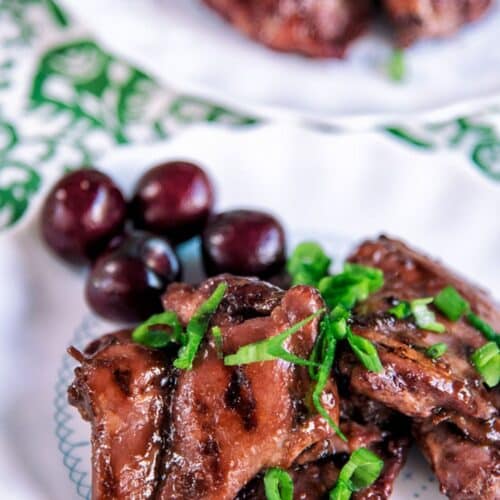 Cherry Chicken Recipe
Just imagine a bowl full of chicken thighs soaking in a cherry and coconut amino marinade for 12 hours... How sweet would that be?
Instructions
Season the chicken thighs to taste with sea salt and freshly ground black pepper.

Sea salt and freshly ground black pepper,

8 to 10 chicken thighs

Place all the remaining ingredients in a saucepan and season to taste.

2 garlic cloves,

1 tbsp. fresh ginger,

¼ cup coconut aminos,

2 tbsp. apple cider vinegar,

1 tbsp. fresh lemon juice,

1 tbsp. raw honey

Bring the mixture to a light boil over medium heat.

Simmer the mixture for 15 to 20 minutes or until the cherries are soft and break apart.

Pulse the sauce until smooth using an immersion blender or regular blender.

If needed, return the sauce to heat and let it cook down further.

Pour the cherry sauce over the chicken thighs and let the chicken marinate for 2 to 12 hours.

Preheat the grill to medium-high heat.

Grill the chicken for 6 to 8 minutes per side, basting with the remaining sauce every 2 minutes.

Let the chicken rest for 4 to 5 minutes, and serve with chopped green onions.

Fresh green onion to garnish
Nutrition
Calories:
574
kcal
Carbohydrates:
19
g
Protein:
44
g
Fat:
35
g
Saturated Fat:
10
g
Polyunsaturated Fat:
8
g
Monounsaturated Fat:
14
g
Trans Fat:
0.2
g
Cholesterol:
173
mg
Sodium:
502
mg
Potassium:
623
mg
Fiber:
2
g
Sugar:
12
g
Vitamin A:
368
IU
Vitamin C:
11
mg
Calcium:
39
mg
Iron:
2
mg