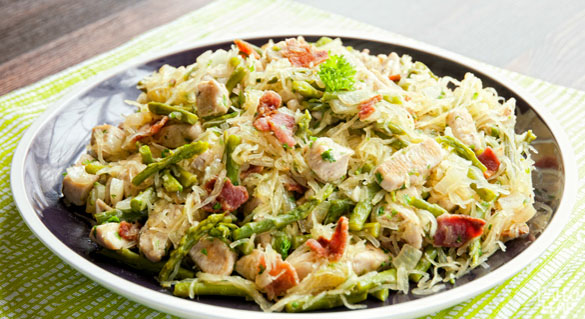 Paleo pasta? Not quite, but close! That's not rice or tapioca noodles in the picture; it's spaghetti squash, an unassuming yellow gourd that yields a savory, noodle-y flesh when you roast it. Spaghetti squash is a wonderful alternative to regular pasta: it doesn't have any wheat, and it also doesn't get gloopy and clumpy like the rice pasta or other gluten-free pasta substitutes you can buy in the grocery store. Some of those noodles are so unappetizing that it's almost preferable to eat nothing at all!
To retrieve the "noodles" from your spaghetti squash, start by cutting it the long way. This can be surprisingly hard, depending on the size of your squash and the power of your knife; if you're really struggling with it, try the following trick:
Step 1: Score a shallow line from the stem to the bottom of the squash, to mark where you want to cut it.
Step 2: Settle your knife in the first section of that line, and push it down as much as you can with your hand.
Step 3: Grab a hammer, and hammer the knife all the way into the squash. This is much easier and also safer than trying to force it in with just your hands.
Step 4: Wiggle the knife out of the squash, and settle the knife into the other section of the line you made in Step 1. Repeat the hammering.
Step 5: Flip the squash over and repeat steps 1-4 on the other side.
Now you may be able to just pull the squash apart, or hold it upright on the table and cut cleanly through the remaining flesh. This sounds complicated but it really only takes a few minutes, and it's definitely one of the most entertainingly macho things you can do in a kitchen! Next comes roasting the squash in the oven, which takes 30-40 minutes, depending on its size. It's done when the flesh is tender and easy to scrape away from the sides. If you're pressed for time, you can save a few minutes by starting it off in the microwave – just make sure to poke a few holes in the skin to avoid any microwave explosions.
Of course, the best part of any pasta dish is really not the pasta, but the sauce. Carbonara is a recipe from the region around Rome – American cooks usually add cream even though Italian versions don't use it. There is a time and a place for dairy on Paleo, but this recipe doesn't have any, so everyone can enjoy it. What it does have is a lot of flavor – salty bacon, fresh asparagus, and spicy black pepper. It's great comfort food after a long day, or just as dinner on a busy weeknight when you want something tasty without spending too long cooking it up.
Chicken Asparagus Carbonara Recipe

SERVES: 4

PREP: 15 min.

COOK: 45 min.
Values are per portion. These are for information only & are not meant to be exact calculations.
Ingredients
1 large spaghetti squash;
2 chicken breasts cut into small cubes;
2 cups of asparagus cut into 1-inch pieces;
5 slices bacon, cooked and crumbled;
1 medium onion, minced;
2 cloves garlic, minced;
3 tbsp. fresh parsley, finely chopped;
2 tbsp. extra-virgin olive oil;
2 tbsp. Paleo cooking fat;
Sea salt and freshly ground black pepper to taste;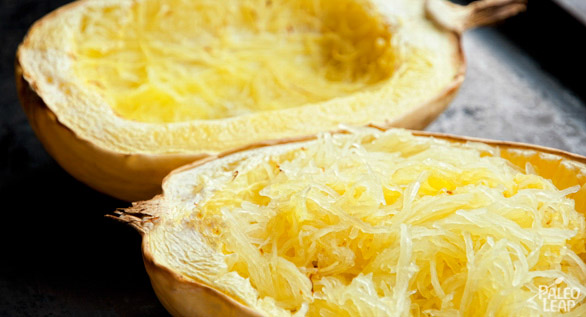 Preparation
Preheat your oven to 375 F.
Cut the spaghetti squash in two and, using a spoon, remove the seeds and stringy bits until the middle part is clean. Place in the oven, cut side down and on a baking sheet, 30 to 40 minutes or until the flesh of the squash is easily scraped off.
While the squash is cooking, preheat the cooking fat in a skillet over a medium-high heat. Cook the chicken cubes for 5 to 8 minutes, until just cooked through, and set aside.
Steam the asparagus for 5 to 10 minutes depending how crunchy you like them. If you don't have a steamer, cook them in salted boiling water for 5 to 8 minutes and set aside.
Once the squash is ready, let it cool a few minutes just so it's cool enough to handle and then use a fork to scrape out the flesh and set it aside.
Preheat 1 tbsp. of cooking fat in a large skillet over a medium high heat. Add the onions and garlic and sauté until the onions soften, about 4 minutes.
Stir in the spaghetti squash flesh, the cooked bacon, the chicken, the asparagus, 2 tbsp. of the chopped parsley, and the olive oil. Season to taste with sea salt and ground pepper. Combine everything well together until it's all warmed up. Don't by shy on the black pepper here, it really ads some punch to the final dish.
Garnish with the remaining parsley to serve.