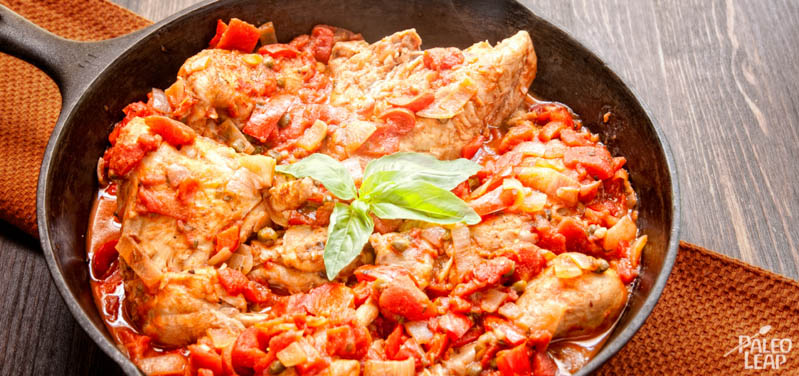 For a quick dinner on a busy weeknight, this recipe can't be beat: it's quick to make, only gets one pan dirty, and doesn't use any complicated or unusual ingredients. The flavor is sophisticated enough for adults, but most kids will also like it, since it's essentially chicken in tomato sauce. Even kids who aren't used to Paleo food can't find much to object to here!
Cacciatore is also easy on the cook because it's very adaptable to whatever pieces of meat you have in the fridge: legs, drumsticks, breasts, or even a whole bird, cut into smaller pieces. You can leave the skin on, or remove it to let the tomato flavor really soak into the meat. For the absolutely best-tasting results, homemade chicken stock can't be beat, but store-bought broth is also fine if you don't have any bone broth on hand.
A word about the wine: I used some red wine in this recipe for extra flavor – some people give up alcohol entirely on Paleo, but remember that it's about heath, not imitating cavemen, and there's no evidence that moderate alcohol consumption is unhealthy. Cooking with wine is even less controversial, because the cooking process significantly reduces the alcohol content. That said, the wine isn't necessary at all. If you don't feel comfortable cooking with it, just leave it out.
Chicken Cacciatore Recipe

SERVES: 4

PREP: 15 min.

COOK: 40 min.
Values are per portion. These are for information only & are not meant to be exact calculations.
Add to Meal Plan
Ingredients
4 chicken thighs;
2 chicken breasts with skin and backbone;
1  can diced tomatoes with juice;
1 large red bell pepper, chopped;
1 onion, chopped;
3 garlic cloves, finely chopped;
1/2 cup red wine; (optional)
3/4 cup chicken stock;
2 tbsp. drained capers;
2 tsp. fresh oregano leaves, minced;
1/4 cup fresh basil leaves, coarsely chopped;
3 tbsp. extra-virgin olive oil;
Sea salt and freshly ground black pepper to taste;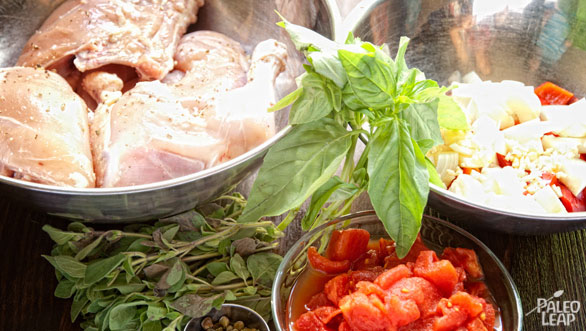 Preparation
In a large frying pan, warm up the olive oil over a medium-high heat.
Add the pieces of chicken and sauté until brown, about 5 minutes on each side.
Transfer the chicken to a plate and let it rest.
In the same pan, still over a medium high heat, add the red bell peppers, onions, and garlic, and sauté until the onions are soft, about 5 minutes.
Add the red wine and cook until reduced by half.
Add the diced tomatoes with the juice, the chicken stock, the capers, the oregano, and the basil, and season to taste.
Add the pieces of chicken to the pan. Make sure they're all coated with the sauce and bring to a simmer.
Cover the saucepan and simmer on a medium-low heat for 30 minutes, or until the chicken is well cooked.
Garnish with fresh basil to serve.