With 17 ingredients, you would expect this meal to be time-consuming to prepare and cook, yet it can be accomplished from start to plate in three-quarters of an hour.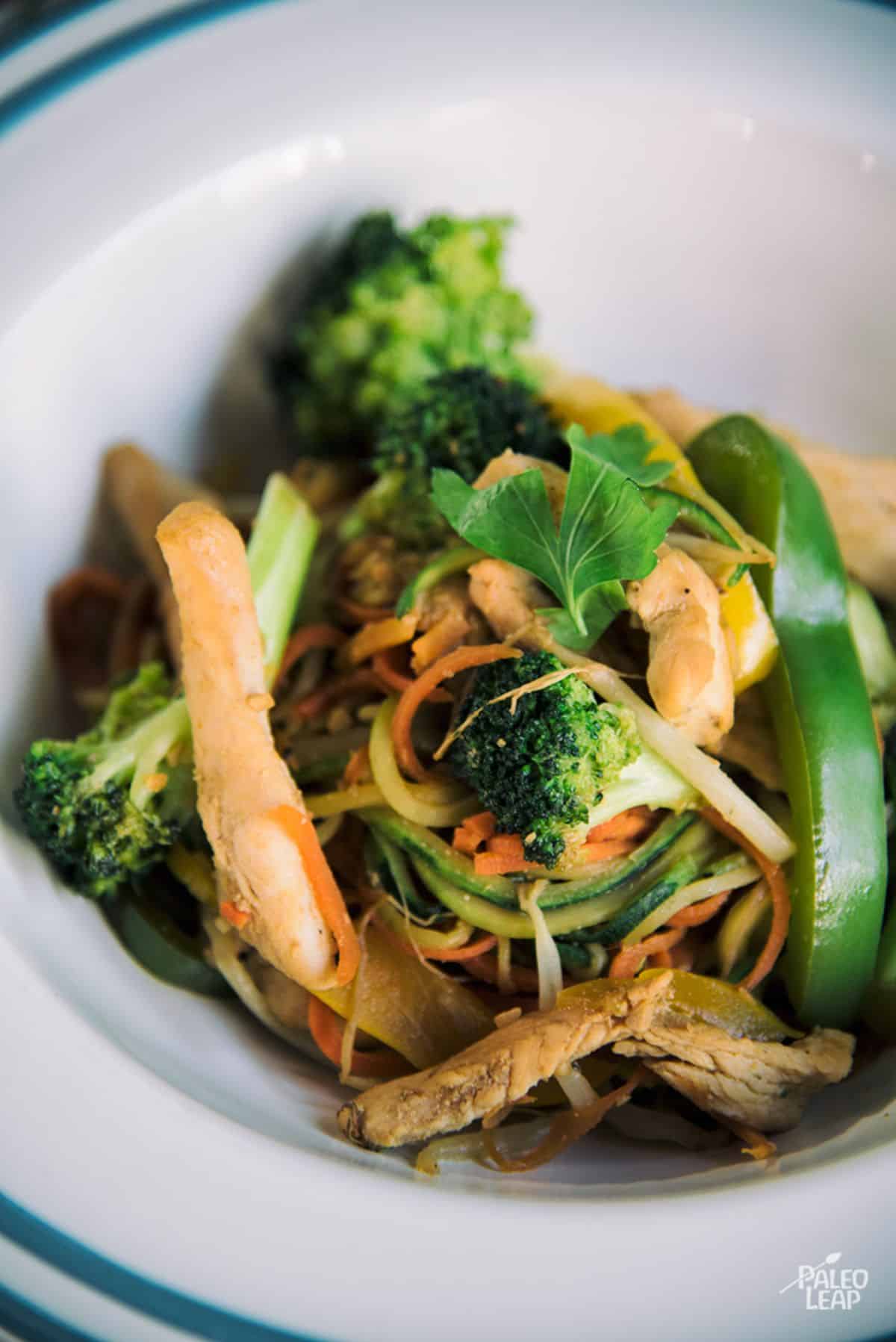 In the case of chicken chow mein, a bundle of small ingredients means exciting diversity, yet the recipe is not so strict that you have to include every single item - if you plan your meals ahead, chances are good that you will be buying plenty of vegetables anyhow, and broccoli, peppers, carrots, onion or ginger are always healthy foods to have close at hand.
Chow mein is a classic Chinese dish with fried egg noodles, meat (usually chicken), onions, and celery. It can be crispy or soft, and soy sauce is always present, though you can use coconut aminos instead to keep the meal free from gluten and soy.
In this Paleo-style chicken chow mein, you can leave out the egg noodles and bring in a nutritious spiralized zucchini in its place. After all, the more veggies you eat, the better your food tastes and the healthier you will be.
While you are at it, you could also whip up a generous amount of egg foo young to use up any leftover bean sprouts or take your trusty food processor out of hiding and slice up a bunch of cabbage for a tantalizing Chinese chicken salad to refrigerate and take to work the following day.
Now you can make your own organic, grain-free, Chinese take-out food at home and eat it all up too!
Chicken Chow Mein Recipe
Serves: 4 Prep: 25 min Cook: 20 min
Ingredients
2 chicken breasts, sliced
1 cup broccoli, cut into small florets
1 bell pepper, sliced
½ cup carrots, shredded
1 cup bean sprouts
2 zucchinis, spiralized
2 celery stalks, diced
1 onion, sliced
2 garlic cloves, minced
1 tbsp. fresh ginger, minced
¼ cup coconut aminos
½ cup chicken stock
1 tbsp. rice wine vinegar
1 tbsp. raw honey
2 tbsp. coconut oil
Fresh cilantro
1 green onion, thinly sliced
Sea salt and freshly ground black pepper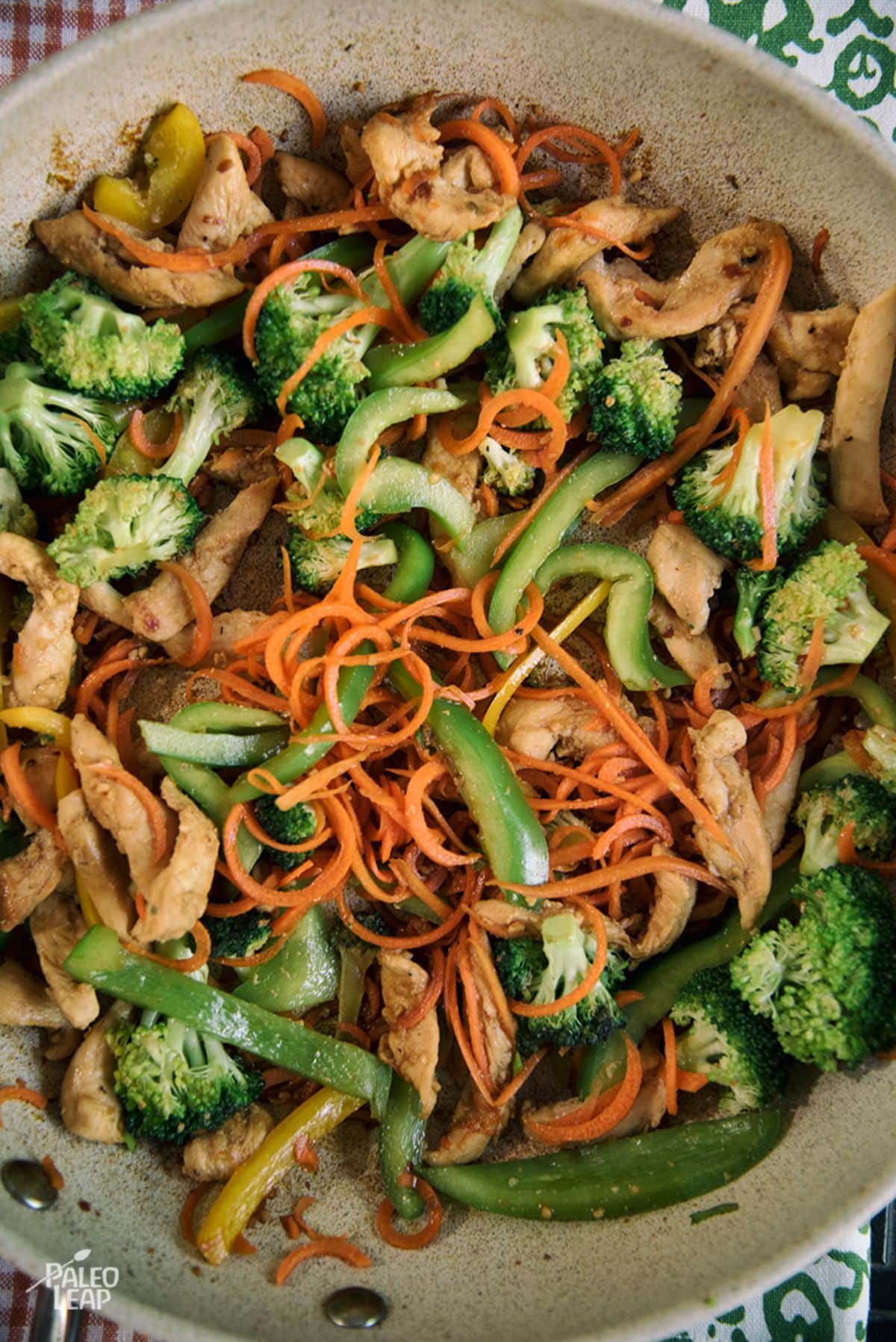 Preparation
In a bowl, combine the coconut aminos, chicken stock, vinegar, and honey - set aside.
Melt coconut oil in a large skillet over medium-high heat.
Season the chicken breasts to taste with salt and pepper.
Cook the chicken for 2 to 3 minutes per side - then set aside.
Add the garlic, onion, and ginger to the same skillet used for the chicken and cook for 1 to 2 minutes or until soft.
Add the carrot, bell pepper, broccoli, and celery, and cook another 4 to 5 minutes.
Pour in the coconut amino sauce, and toss everything until well combined.
Bring the chicken back to the skillet, and top with the zucchini and bean sprouts.
Cook until zucchini noodles soften, 3 to 5 minutes.
Serve topped with green onions and fresh cilantro.
📖 Recipe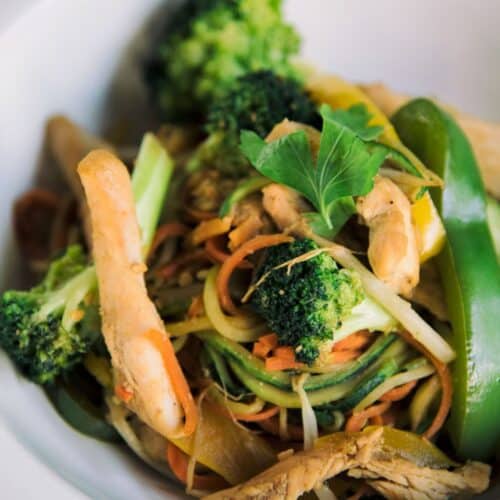 Chicken Chow Mein Recipe
Chinese take-out has never tasted so good - make chicken chow mein at home with Paleo-approved ingredients and neighbors will be ordering from you!
Instructions
In a bowl, combine the coconut aminos, chicken stock, vinegar, and honey – set aside.

¼ cup coconut aminos,

½ cup chicken stock,

1 tbsp. rice wine vinegar,

1 tbsp. raw honey

Melt coconut oil in a large skillet over medium-high heat.

Season the chicken breasts to taste with salt and pepper.

Sea salt and freshly ground black pepper,

2 chicken breasts

Cook the chicken for 2 to 3 minutes per side – then set aside.

Add the garlic, onion, and ginger to the same skillet used for the chicken and cook for 1 to 2 minutes or until soft.

1 onion,

1 tbsp. fresh ginger,

2 garlic cloves

Add the carrot, bell pepper, broccoli, and celery, and cook another 4 to 5 minutes.

1 cup broccoli,

1 bell pepper,

½ cup carrots,

2 celery stalks

Pour in the coconut amino sauce, and toss everything until well combined.

Bring the chicken back to the skillet, and top with the zucchini and bean sprouts.

1 cup bean sprouts,

2 zucchinis

Cook until zucchini noodles soften, 3 to 5 minutes.

Serve topped with green onions and fresh cilantro.

1 green onion,

Fresh cilantro
Nutrition
Calories:
304
kcal
Carbohydrates:
20
g
Protein:
31
g
Fat:
11
g
Saturated Fat:
7
g
Polyunsaturated Fat:
1
g
Monounsaturated Fat:
2
g
Cholesterol:
74
mg
Sodium:
480
mg
Potassium:
796
mg
Fiber:
4
g
Sugar:
11
g
Vitamin A:
3540
IU
Vitamin C:
83
mg
Calcium:
64
mg
Iron:
2
mg