It's not every day that you get to eat a recipe first recorded in cuneiform (one of the world's earliest-known scripts), but curry is as close to a real Stone Age recipe as we're likely to get.
This spicy dish became popular in the West when British officers stationed in India realized how delicious it was and brought the recipes home for their families to try.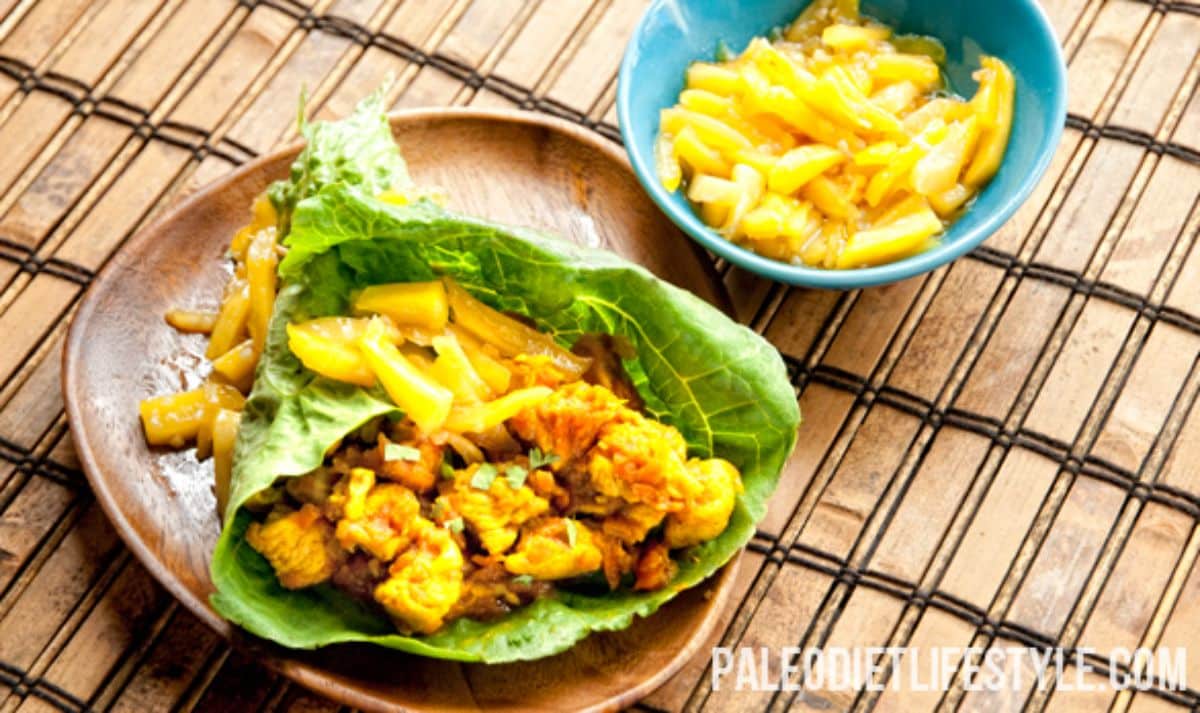 A culinary tradition with an astonishing amount of variety, curry isn't just one thing; it's any recipe that uses a spicy sauce to flavor meat, lentils, or vegetables. There are thousands of different recipes in India alone, not to mention the curries of Thailand, Indonesia, and other food cultures of Southeast Asia.
The incredible regional variety makes curry a perfect dish for Paleo food lovers to experiment with. You can change the flavor of the whole dish just by altering the spices, so it's a simple way to try something new without having to learn all kinds of complicated techniques.
The recipe here uses pre-mixed curry powder instead of many different spices, so it's easy to pull together for a quick lunch or dinner; if you like it, try expanding your repertoire with different kinds of meat (lamb and beef both work well), vegetables, or spices.
In India, curry is traditionally served with rice or bread because the curry itself is spicy enough that it goes better with a mild base. This recipe uses leaves of Romaine lettuce, but you could also use any other type of salad, boiled potatoes, or even some homemade Paleo flatbread.
For an extra flavor kick, this curry is also accompanied by a simplified version of chutney, a traditional Indian sauce. The sweetness of the chutney complements the spiciness of the curry, and it's a good way to beat cravings by integrating sweetness into your meals.
If you're jonesing for something sweet but don't want to get derailed by snacking on fruit or chocolate, it's often better to have your sweet taste as part of a full meal, so you won't be tempted into wanting more "dessert-type" foods like cookies or ice cream.
Chicken curry rolls recipe
SERVES: 4 PREP: 20 min COOK: 30 min
Ingredients
4 chicken breasts, cut into small cubes;
1 onion, minced;
3 carrots, shredded;
2 garlic cloves, minced;
15 Romaine lettuce leaves;
2 tbsp. curry powder;
2 cups of chicken stock (or bone broth);
Fresh coriander;
2 tbsp. clarified butter or other Paleo cooking fat;
Sea salt and freshly ground black pepper to taste;
Ingredients for the mango chutney (Yields 1 ½ cups)
2 garlic cloves, minced;
1 large mango, cut into small slices;
2 tbsp. coconut oil;
Juice from 1 lime;
1 tbsp. raw honey; (optional)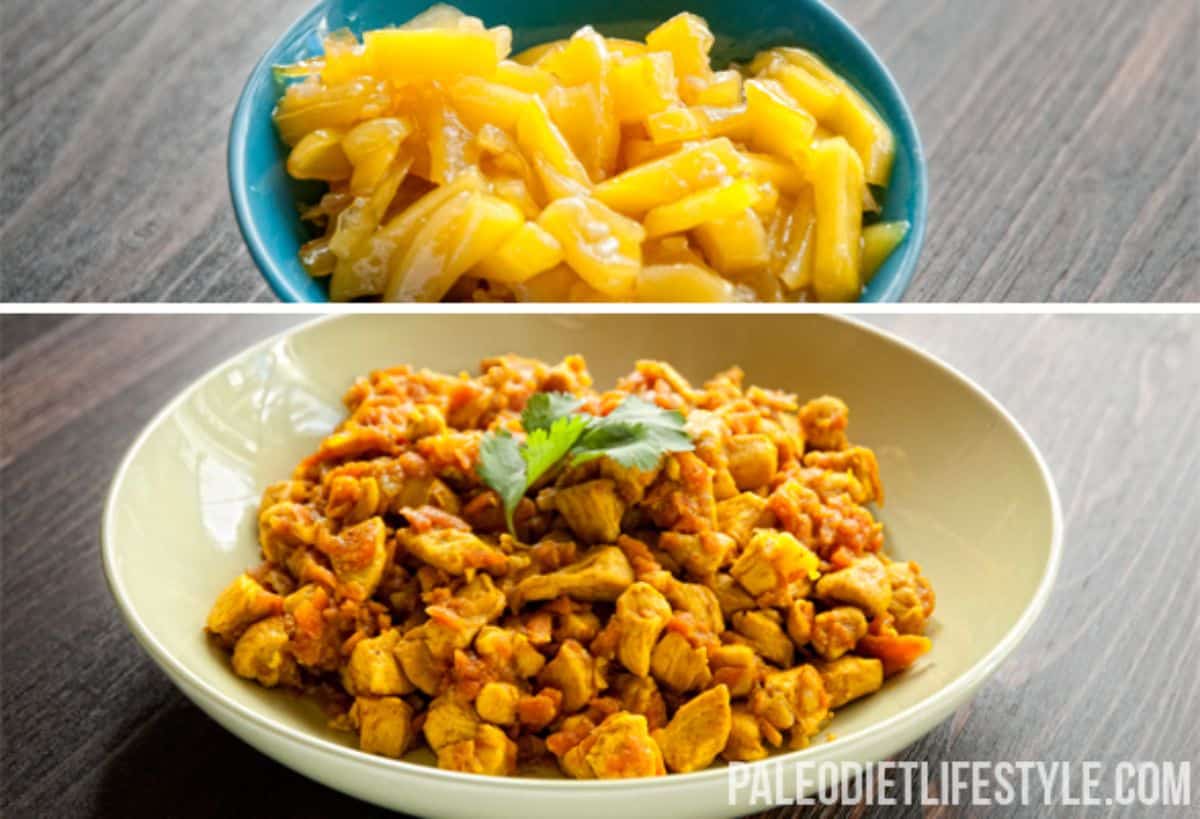 Preparation
Cook the chicken until brown in a skillet over medium-high heat using the Paleo cooking fat. Also, add the onions and garlic around the same time, and cook until the onions are soft.
Once the onions are soft, add the carrots and curry powder, combine everything well together, and cook for about 2 minutes.
Add the chicken stock and season to taste. Cover the skillet and let simmer for about 20 minutes.
While the chicken cooks heat up the coconut oil in a small pot over medium heat. Cook the garlic until brown, then add the mango, the lime, and the honey (optional), and cook for 10 minutes.
Once everything is done, place the meat on a leaf of lettuce, add some mango chutney, roll, and serve. Garnish with fresh cilantro if you like.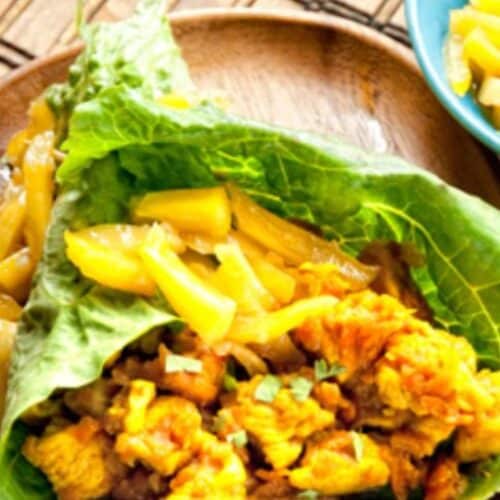 Chicken curry rolls recipe
Hankering for Indian food? This Paleo curry recipe is a quick and simple dinner with some serious flavor.
Ingredients
4

chicken breasts

cut into small cubes

1

onion

minced

3

carrots

shredded

2

garlic cloves

minced

15

Romaine lettuce leaves

2

tbsp.

curry powder

2

cups

of chicken stock

or bone broth

Fresh coriander

2

tbsp.

clarified butter or other Paleo cooking fat

Sea salt and freshly ground black pepper to taste
Ingredients for the mango chutney (Yields 1 ½ cups)
2

garlic cloves

minced

1

large mango

cut into small slices

2

tbsp.

coconut oil

Juice from 1 lime

1

tbsp.

raw honey

optional
Instructions
Cook the chicken until brown in a skillet over medium-high heat using the Paleo cooking fat. Also, add the onions and garlic around the same time, and cook until the onions are soft.

4 chicken breasts,

1 onion,

2 garlic cloves,

Fresh coriander,

2 tbsp. clarified butter or other Paleo cooking fat,

2 garlic cloves

Once the onions are soft, add the carrots and curry powder, combine everything well together, and cook for about 2 minutes.

3 carrots,

2 tbsp. curry powder

Add the chicken stock and season to taste. Cover the skillet and let simmer for about 20 minutes.

2 cups of chicken stock,

Sea salt and freshly ground black pepper to taste

While the chicken cooks heat up the coconut oil in a small pot over medium heat. Cook the garlic until brown, then add the mango, the lime, and the honey (optional), and cook for 10 minutes.

1 large mango,

Juice from 1 lime,

1 tbsp. raw honey,

2 tbsp. coconut oil

Once everything is done, place the meat on a leaf of lettuce, add some mango chutney, roll, and serve. Garnish with fresh cilantro if you like.

15 Romaine lettuce leaves
Nutrition
Calories:
491
kcal
Carbohydrates:
27
g
Protein:
60
g
Fat:
16
g
Saturated Fat:
8
g
Polyunsaturated Fat:
2
g
Monounsaturated Fat:
4
g
Cholesterol:
150
mg
Sodium:
319
mg
Potassium:
1099
mg
Fiber:
6
g
Sugar:
15
g
Vitamin A:
10853
IU
Vitamin C:
27
mg
Calcium:
120
mg
Iron:
6
mg