If you thought spaghetti squash pasta was easy, get ready for something even easier: here, you don't even have to scoop out the flesh. This Mexican-inspired recipe takes the insides of an enchilada from a tortilla to roasted spaghetti squash, with the squash doubling as a serving bowl.
Don't be fooled by the relatively long cooking time – most of that is just waiting for the squash to cook while you do whatever else you want.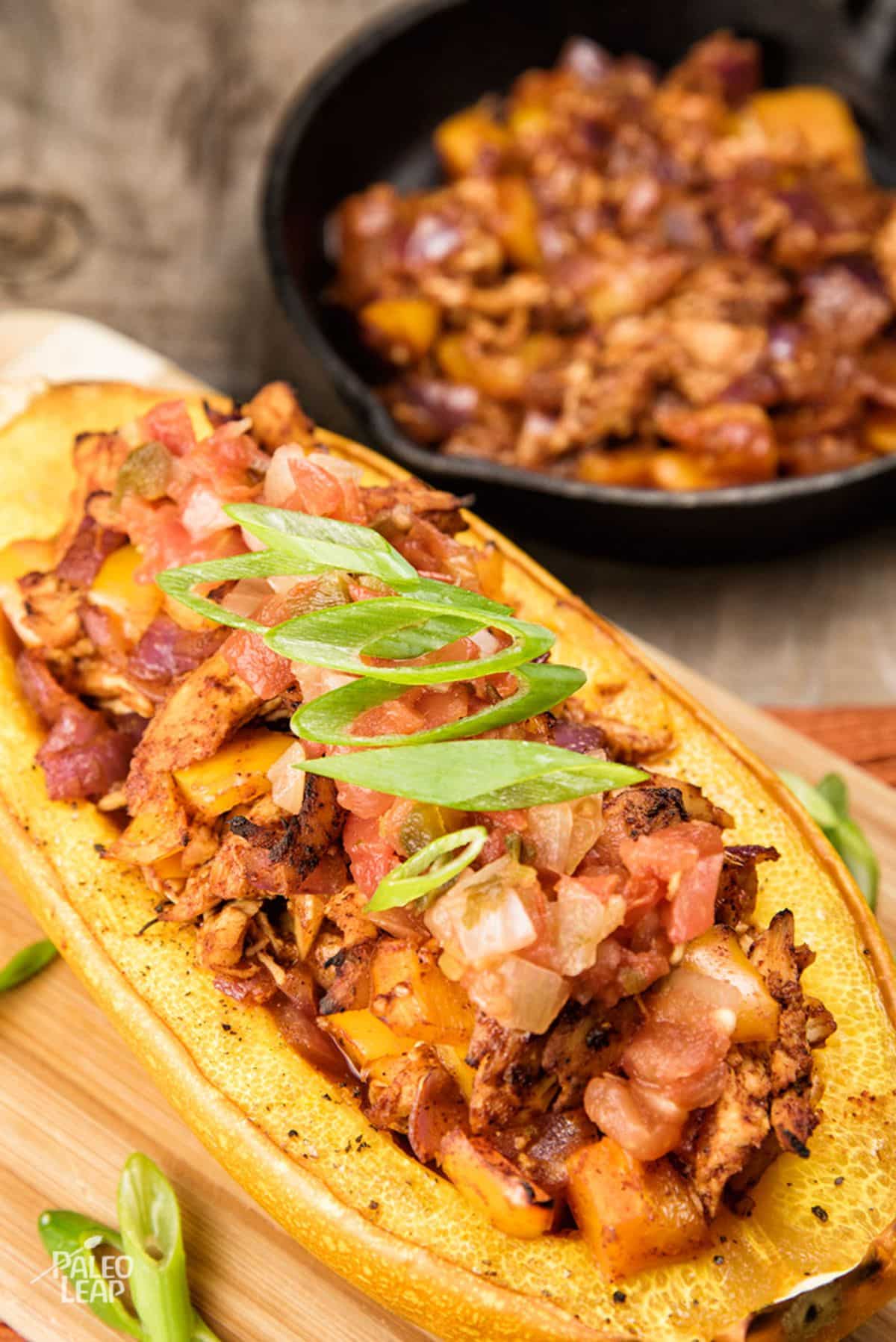 Once the squash halves are done roasting, fill them with a homemade enchilada sauce and a quick mixture of chicken and vegetables, and you're good to go.
You can even use leftover chicken – it's a great way to finish off a roasted bird or just make your leftovers into something that isn't chicken salad.
To finish it all off with something fresh, the stuffed squash halves get a topping of salsa and crunchy green onions. It's surprisingly easy to find junk-free store-bought salsa if you can get one without corn in it (corn is a grain; it isn't Paleo).
Or use your favorite recipe to make your own. Serve this to kids and watch it disappear, or just make it when you're in need of something fast and simple.
Chicken Enchilada Stuffed Squash Recipe
SERVES: 4 PREP: 20 min COOK: 45 min
Ingredients
2 small spaghetti squash, cut in half and seeded;
4 cups cooked chicken, shredded;
2 bell peppers, diced;
1 red onion, diced;
1 garlic clove, minced;
Homemade fresh salsa;
Green onions, sliced;
Cooking fat (either more olive oil or another Paleo cooking fat);
Sea salt and freshly ground black pepper;
Simple Enchilada Sauce Ingredients
8 oz. tomato sauce;
1 cup water;
¼ cup chili powder;
¼ tsp. ground cumin;
¼ tsp. garlic powder;
¼ tsp. onion powder;
Sea salt and freshly ground black pepper;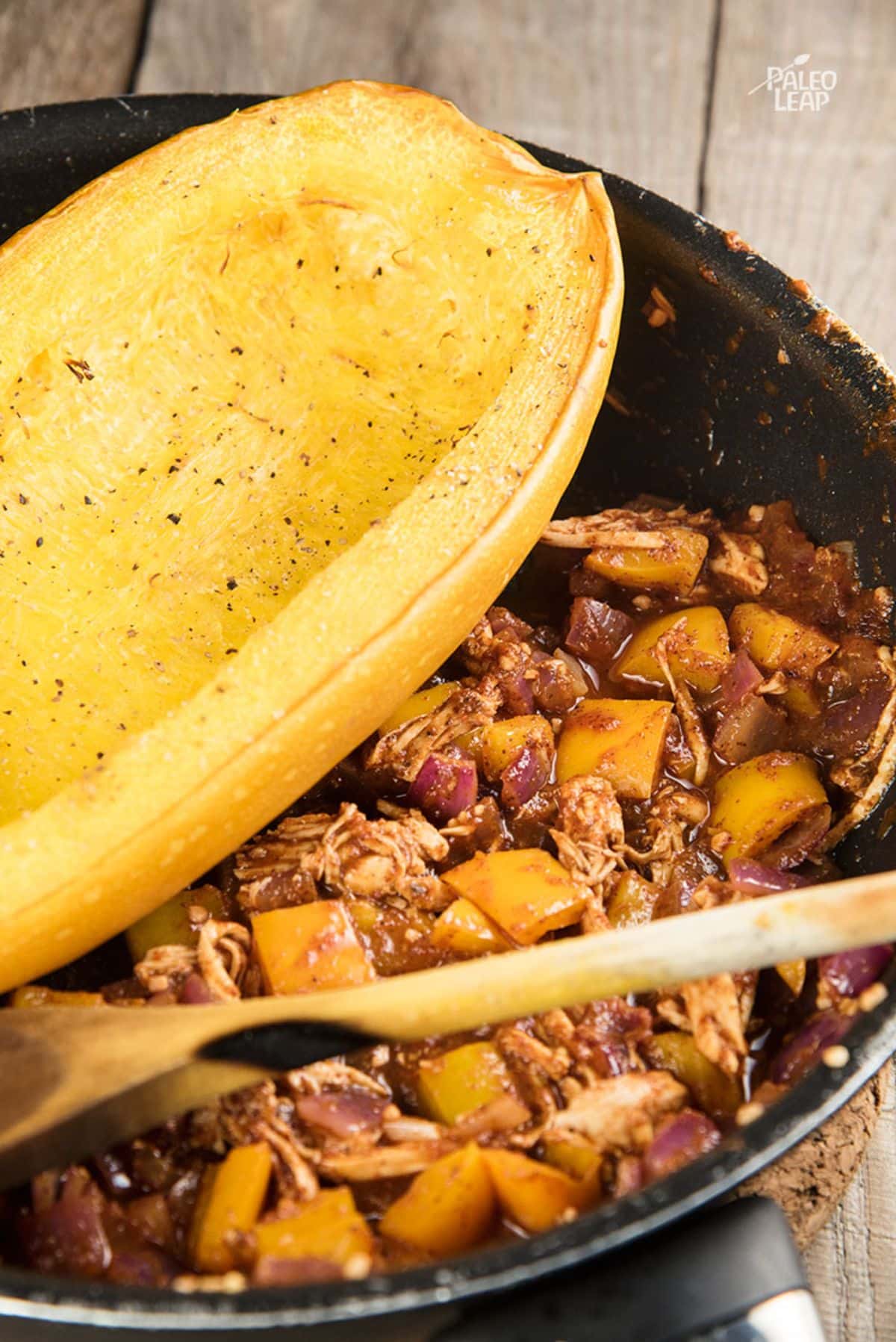 Preparation
Preheat oven to 400 F.
Brush the inner flesh of the spaghetti squash with olive oil and season to taste with salt and pepper.
Place in the oven and roast, skin side up, for 30 to 40 minutes.
Next, make the sauce. In a saucepan placed over medium heat, stir together the tomato sauce, water, chili powder, cumin, garlic powder, onion powder, and salt and pepper to taste.
Cook, occasionally stirring, for approximately 10 minutes.
During the last few minutes of cooking the sauce, melt some cooking fat in a skillet over medium-high heat.
Cook the garlic and onion for 2 to 3 minutes.
Add the bell pepper and cook for another 2 minutes.
Combine the chicken, enchilada sauce, peppers, and onions. Mix everything together, and cook until everything is warmed through.
Divide the mixture equally between the spaghetti squash. Place the stuffed squash in the oven and broil for 3 to 5 minutes.
Served topped with fresh salsa and green onions.
📖 Recipe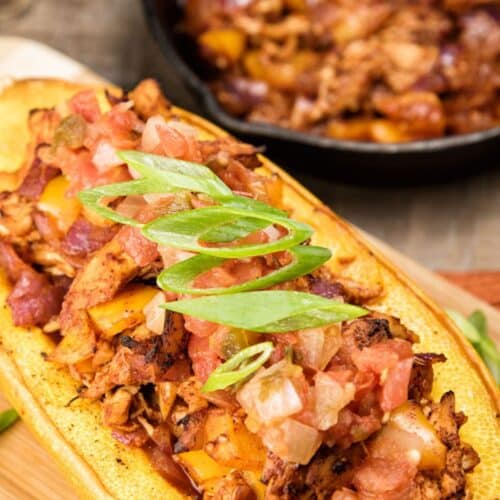 Chicken Enchilada Stuffed Squash Recipe
This recipe is sure to be a family favorite: shredded chicken in a flavor-packed tomato sauce served inside roasted spaghetti squash.
Instructions
Preheat oven to 400 F.

Brush the inner flesh of the spaghetti squash with olive oil and season to taste with salt and pepper.

2 small spaghetti squash,

Olive oil,

Sea salt and freshly ground black pepper

Place in the oven and roast, skin side up, for 30 to 40 minutes.

Next, make the sauce. In a saucepan placed over medium heat, stir together the tomato sauce, water, chili powder, cumin, garlic powder, onion powder, and salt and pepper to taste.

8 oz. tomato sauce,

1 cup water,

¼ cup chili powder,

¼ tsp. ground cumin,

¼ tsp. garlic powder,

¼ tsp. onion powder,

Sea salt and freshly ground black pepper

Cook, occasionally stirring, for approximately 10 minutes.

During the last few minutes of cooking the sauce, melt some cooking fat in a skillet over medium-high heat.

Cook the garlic and onion for 2 to 3 minutes.

Add the bell pepper and cook for another 2 minutes.

Combine the chicken, enchilada sauce, peppers, and onions. Mix everything together, and cook until everything is warmed through.

4 cups cooked chicken,

2 bell peppers,

1 red onion

Divide the mixture equally between the spaghetti squash. Place the stuffed squash in the oven and broil for 3 to 5 minutes.

Served topped with fresh salsa and green onions.

Green onions,

Homemade fresh salsa
Nutrition
Calories:
481
kcal
Carbohydrates:
54
g
Protein:
42
g
Fat:
15
g
Saturated Fat:
4
g
Polyunsaturated Fat:
5
g
Monounsaturated Fat:
4
g
Cholesterol:
105
mg
Sodium:
703
mg
Potassium:
1522
mg
Fiber:
15
g
Sugar:
22
g
Vitamin A:
7350
IU
Vitamin C:
96
mg
Calcium:
203
mg
Iron:
7
mg