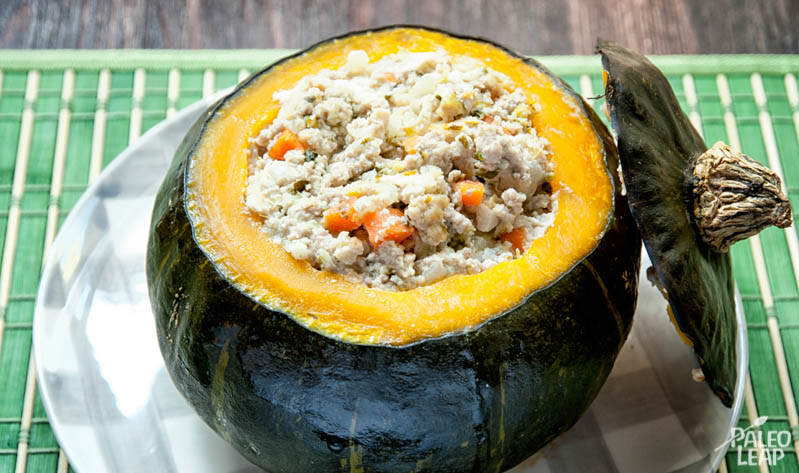 It's officially squash season right now, so it's time to make the most of the autumn bounty while it lasts: can you taste all the varieties in the grocery store before they disappear to make way for Christmas-themed food? This recipe will give you a leg up in doing just that, since it's versatile enough to use a wide variety of squash. Buttercup, kabocha, or carnival squash would all work well, or you could even use one of the little pie pumpkins (don't use the big Jack-O-Lanterns, though; those are stringy and tasteless, and only good for decorating).
As usual with squash, you can even get a meal and a snack out of this recipe: most winter squash also have edible seeds. So when you scoop out the seeds, save them to roast later when you're hunting for something crunchy to nibble on. While nuts and seeds aren't the best staple foods, they're perfectly fine as a snack, and most squash seeds are quite high in nutrients, especially magnesium and zinc.
Where most squash recipes bring out the sweetness of the squash with cinnamon or nutmeg, this one focuses more on the savory flavor of the meat, so it's perfect if the typical squash recipes taste a little too much like dessert to you. One squash should be enough to feed two people; depending on how big your squash is, you might even get some leftovers to freeze for another day. Alternately, you could replace one big squash with several smaller ones (like the tiny Sweet Dumpling Squash, which are sized almost perfectly for a single serving). Adjust the amount of meat up or down depending on how many people you have to feed, and voila: a simple, filling, and nutritious dinner ready to go.
Chicken and Pork Stuffed Squash Recipe

SERVES: 2

PREP: 20 min.

COOK: 1h45 min.
Values are per portion. These are for information only & are not meant to be exact calculations.
Ingredients
1 Buttercup squash;
½ lb. boneless skinless chicken breasts cut into cubes;
¾ lb. ground pork;
½ cup full-fat coconut milk;
½ cup carrots, diced;
½ cup leek, thinly sliced;
1 onion, diced;
3 cloves garlic, minced;
½ cup green zucchini, minced;
2 tsp. ground coriander;
2 tbsp. fresh basil, minced;
2 tbsp. fresh parsley, minced;
2 tbsp. Paleo cooking fat;
Sea salt and freshly ground black pepper to taste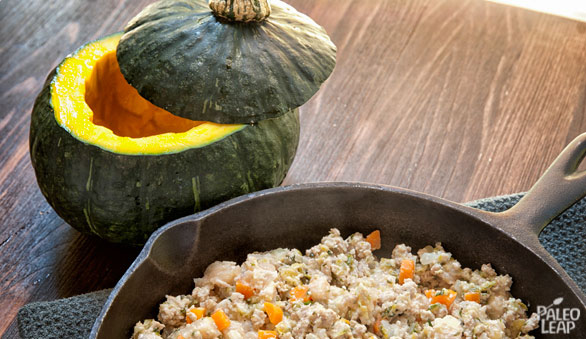 Preparation
Preheat your oven to 375 F.
Cut off and remove the top of the squash and remove the seeds.
Melt the cooking fat on a skillet placed over a medium heat and add the carrots, leek, onion, zucchini and garlic. Cook until soft (about 4 minutes).
Add the pork to the skillet and cook, stirring occasionally, until the meat is done (about 5 minutes).
Add the coconut milk, coriander, basil, parsley, and salt and pepper to taste, then remove from heat.
Add the chicken cubes to the mix. Stir everything well, then pour the mixture in the squash and cover it all with the top of the squash.
Place in the oven on a baking dish and cook for an hour and a half, or until the chicken is cooked.