If you've been stuck in a salad rut lately, one way to mix it up and keep things exciting is to change the dressing – vinaigrette is great, but you also have a wealth of other options that deserve some time and attention.
In this salad, you'll replace the oil + vinegar formula with a slightly heartier almond-butter dressing with just a hint of mustard. The nutty flavor and earthier texture really adds substance to the chicken breasts and makes the salad an interesting and much more satisfying meal.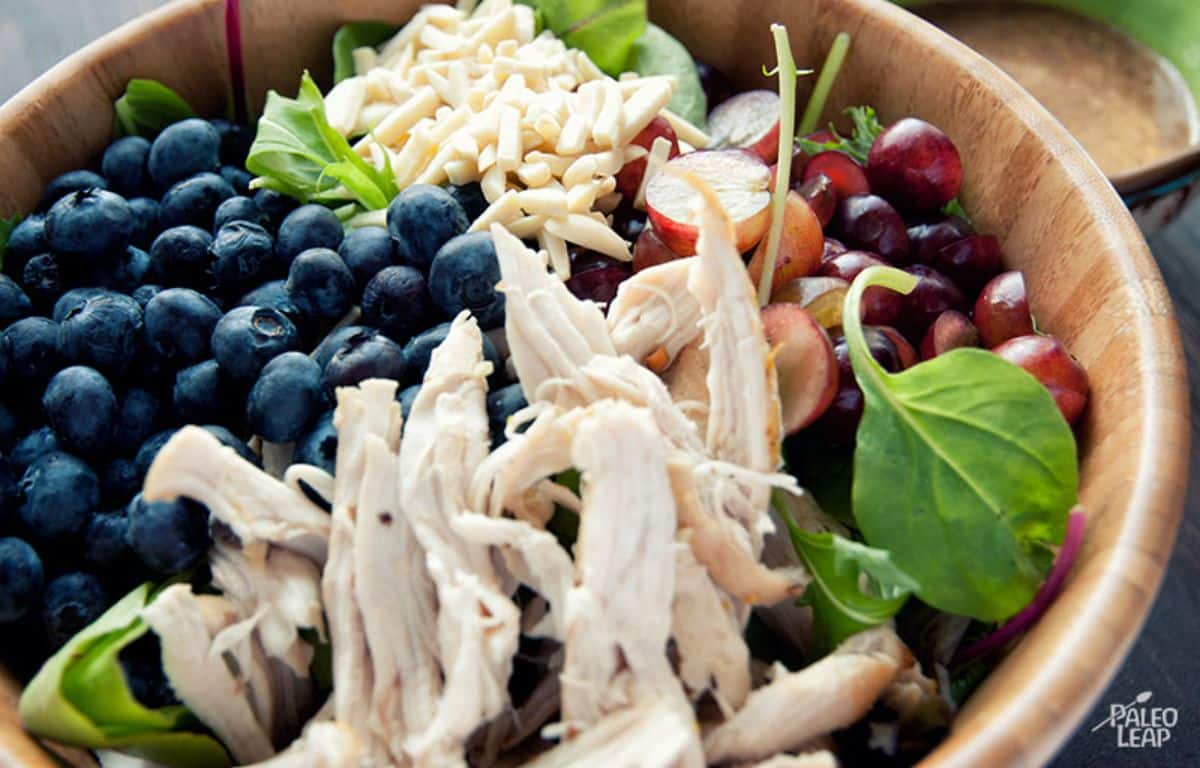 As well as the dressing, this salad is perked up with some juicy berries and grapes, a crunchy sprinkling of almonds, and just enough chili powder to keep the chicken breast interesting. It's not mouth-burningly spicy; it's just enough to add some pep to the meat.
You can also pick which greens you like for the bed: lettuce gives you a blank slate for the rest of the ingredients, while spinach ramps up the nutrient content, and a more assertive green like arugula will add its own unique flavor into the mix.
For a heartier meal, serve this salad with a bowl of soup, or just increase the amount of chicken per person. It's even easier if you have some leftover chicken already cooked; then, you don't even have to worry about turning on the stove.
Even if you're cooking the chicken from scratch, though, it doesn't take much time, and you can always make extras while you're at it so that the next time you want a salad, you can just grab your pre-cooked chicken out of the fridge and dig in.
Chicken Salad With Almond Dressing Recipe
SERVES: 4 PREP: 15 min COOK: 10 min
Ingredients
8 oz. boneless skinless chicken breast, cut into slices;
1 tsp. chili powder;
2 cups grapes, cut in half;
1 cup fresh blueberries;
3 cups mixed greens;
½ cup almonds, chopped or crushed;
Sea salt and freshly ground black pepper to taste;
Ingredients for the almond dressing
3 tbsp. almond butter;
1 tbsp. olive oil;
2 tbsp. freshly squeezed orange juice;
3 tbsp. water;
1 tbsp. stone-ground mustard;
½ tbsp. raw honey;
½ garlic clove, minced;
Sea salt and freshly ground black pepper to taste;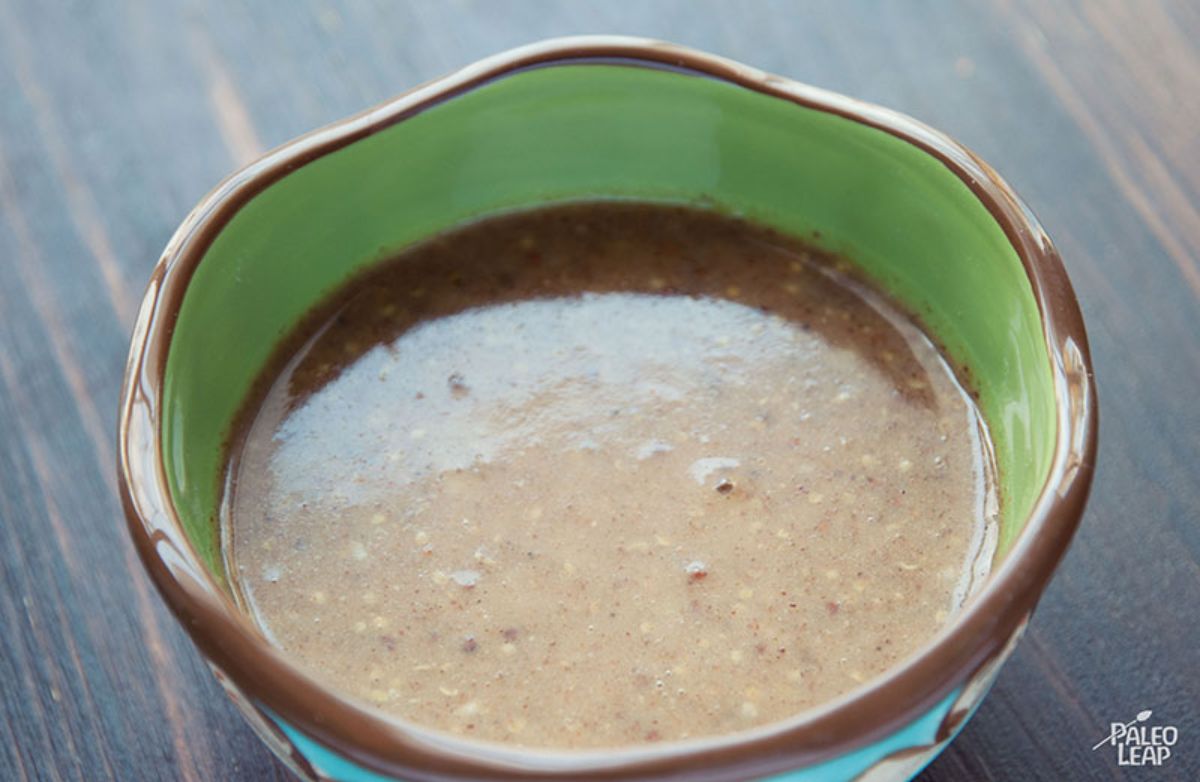 Preparation
Sprinkle the chili powder over the chicken and season to taste with salt and pepper.
Heat some cooking fat in a large skillet placed over medium-high heat.
Add the chicken to the skillet and cook until golden (about 8 to 10 minutes), turning every few minutes to make sure it cooks evenly.
When the chicken is done, remove it from the heat and wait for it to cool down before shredding it by hand.
combine all the ingredients for the dressing in a bowl, stir everything well, and season to taste.
In a salad bowl, combine the salad greens, grapes, blueberries, almonds, and chicken. Pour the dressing on top and serve.
📖 Recipe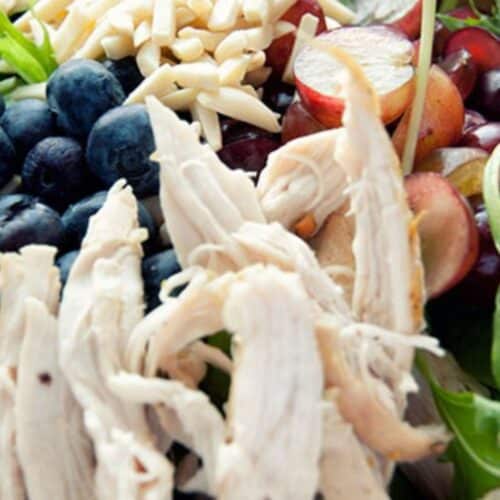 Chicken Salad With Almond Dressing Recipe
Keep your salads exciting with some juicy fresh fruit and a drizzle of this creamy almond dressing.
Ingredients
8

oz.

boneless skinless chicken breast

cut into slices

1

tsp.

chili powder

2

cups

grapes

cut in half

1

cup

fresh blueberries

3

cups

mixed greens

½

cup

almonds

chopped or crushed

Cooking fat

Sea salt and freshly ground black pepper to taste
Ingredients for the almond dressing
3

tbsp.

almond butter

1

tbsp.

olive oil

2

tbsp.

freshly squeezed orange juice

3

tbsp.

water

1

tbsp.

stone-ground mustard

½

tbsp.

raw honey

½

garlic clove

minced

Sea salt and freshly ground black pepper to taste
Instructions
Sprinkle the chili powder over the chicken and season to taste with salt and pepper.

8 oz. boneless skinless chicken breast,

1 tsp. chili powder,

Sea salt and freshly ground black pepper to taste

Heat some cooking fat in a large skillet placed over medium-high heat.

Add the chicken to the skillet and cook until golden (about 8 to 10 minutes), turning every few minutes to make sure it cooks evenly.

8 oz. boneless skinless chicken breast

When the chicken is done, remove it from the heat and wait for it to cool down before shredding it by hand.

combine all the ingredients for the dressing in a bowl, stir everything well, and season to taste.

3 tbsp. almond butter,

1 tbsp. olive oil,

2 tbsp. freshly squeezed orange juice,

3 tbsp. water,

1 tbsp. stone-ground mustard,

½ tbsp. raw honey,

½ garlic clove,

Sea salt and freshly ground black pepper to taste

In a salad bowl, combine the salad greens, grapes, blueberries, almonds, and chicken. Pour the dressing on top and serve.

2 cups grapes,

1 cup fresh blueberries,

3 cups mixed greens,

½ cup almonds
Nutrition
Calories:
342
kcal
Carbohydrates:
29
g
Protein:
19
g
Fat:
19
g
Saturated Fat:
2
g
Polyunsaturated Fat:
4
g
Monounsaturated Fat:
11
g
Trans Fat:
0.01
g
Cholesterol:
36
mg
Sodium:
140
mg
Potassium:
665
mg
Fiber:
5
g
Sugar:
19
g
Vitamin A:
875
IU
Vitamin C:
18
mg
Calcium:
96
mg
Iron:
2
mg